2008 Upper Deck X
Description
2008 Upper Deck X is a 100-card set released in September 16th, 2008. Each pack contains one die-cut parallel and one XPonential insert.
Distribution
Hobby: 20 packs per box, 8 cards per pack (MSRP: $1.99)
Retail:
Reviews
Insertion Ratios
| Cards | Total Cards | Numbered To | Hobby Odds | Retail Odds |
| --- | --- | --- | --- | --- |
| Base | 100 | - | ? | ? |
| Die-Cuts | 100 | - | one-per-pack | one-per-pack |
| Gold Die-Cuts | 100 | - | N/A | 1:8 |
| Xponential | 90 | - | 1:2 | 1:2 |
| Xponential2 | 75 | - | 1:3 | 1:3 |
| Xponential3 | 25 | - | 1:10 | 1:10 |
| Xponential4 | 10 | - | 1:10 | 1:10 |
| Printing Plates | 300* | four for each | ? | ? |
| Memorabilia | 99 | - | ? | ? |
| Signatures | 30 | - | 1:10 | N/A |
* A set of four Printing Plates are available for the 100-card base set and all Xponential inserts.
Checklist
Promo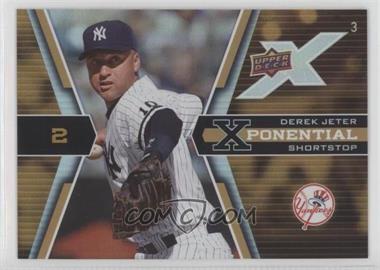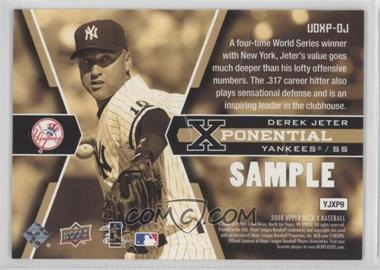 A card of Derek Jeter's XPonential 3 insert was distributed to promote the upcoming Upper Deck X brand. The card is marked "SAMPLE" on the back.
Base Set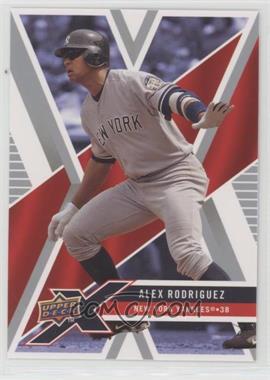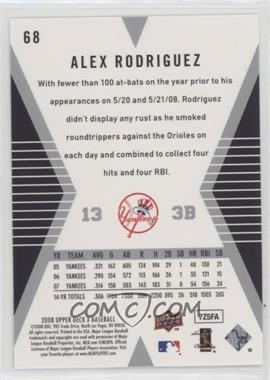 1 Randy Johnson
2 Conor Jackson
3 Brandon Webb
4 Justin Upton
5 Dan Haren
6 John Smoltz
7 Chipper Jones
8 Mark Teixeira
9 Brian Roberts
10 Nick Markakis
11 Daisuke Matsuzaka
12 David Ortiz
13 Manny Ramirez
14 Jonathan Papelbon
15 Josh Beckett
16 Clay Buchholz
17 Carlos Zambrano
18 Derrek Lee
19 Aramis Ramirez
20 Kerry Wood
21 Alfonso Soriano
22 Kosuke Fukudome RC
23 Geovany Soto
24 Paul Konerko
25 Jermaine Dye
26 Carlos Quentin
27 Jim Thome
28 Ken Griffey, Jr.
29 Adam Dunn
30 Brandon Phillips
31 Edinson Volquez
32 Victor Martinez
33 Travis Hafner
34 CC Sabathia
35 Grady Sizemore
36 Garrett Atkins
37 Matt Holliday
38 Troy Tulowitzki
39 Justin Verlander
40 Miguel Cabrera
41 Gary Sheffield
42 Magglio Ordonez
43 Hanley Ramirez
44 Jeremy Hermida
45 Carlos Lee
46 Lance Berkman
47 Roy Oswalt
48 Alex Gordon
49 Zack Greinke
50 Howie Kendrick
51 Torii Hunter
52 Vladimir Guerrero
53 Matt Kemp
54 Russell Martin
55 Rafael Furcal
56 Ryan Braun
57 Prince Fielder
58 Corey Hart
59 Justin Morneau
60 Joe Mauer
61 Jose Reyes
62 David Wright
63 Carlos Beltran
64 Johan Santana
65 Pedro Martinez
66 Ian Kennedy
67 Hideki Matsui
68 Alex Rodriguez
69 Chien-Ming Wang
70 Derek Jeter
71 Robinson Cano
72 Eric Chavez
73 Frank Thomas
74 Cole Hamels
75 Jimmy Rollins
76 Ryan Howard
77 Chase Utley
78 Nate McLouth
79 Jason Bay
80 Adrian Gonzalez
81 Khalil Greene
82 Jake Peavy
83 Greg Maddux
84 Trevor Hoffman
85 Aaron Rowand
86 Tim Lincecum
87 Ichiro
88 Felix Hernandez
89 Erik Bedard
90 Rick Ankiel
91 Albert Pujols
92 B.J. Upton
93 Carl Crawford
94 Evan Longoria
95 Josh Hamilton
96 Michael Young
97 Vernon Wells
98 Alex Rios
99 Ryan Zimmerman
100 Lastings Milledge
Parallels
Die-Cuts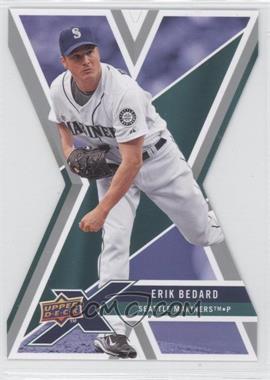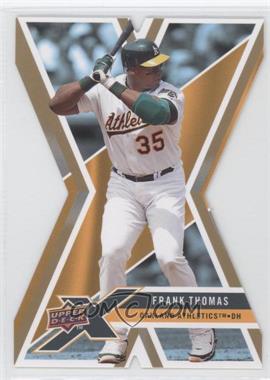 All 100 base cards are available in the following Die-Cut parallels.
Die-Cut
Gold Die-Cut (retail only)
Printing Plates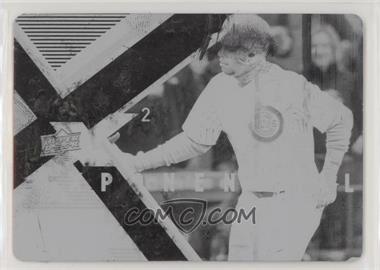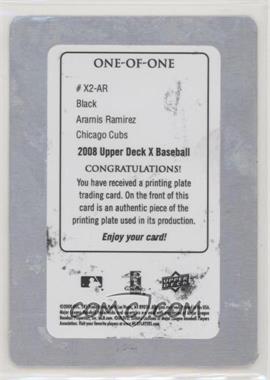 A set of four Printing Plates are available for all 100 base cards and all Xponential inserts (see below).
Inserts
UDxponential X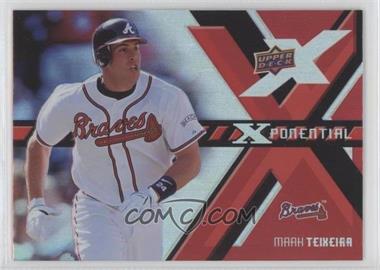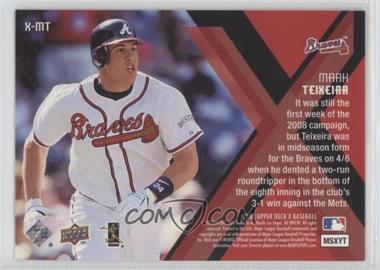 X-AD Adam Dunn
X-AG Adrian Gonzalez
X-AJ Andruw Jones
X-AL Alex Rodriguez
X-AP Albert Pujols
X-AR Aramis Ramirez
X-AS Alfonso Soriano
X-BA Bobby Abreu
X-BP Brandon Phillips
X-BR Brian Roberts
X-BU B.J. Upton
X-BW Brandon Webb
X-CB Carlos Beltran
X-CC Carl Crawford
X-CG Curtis Granderson
X-CH Corey Hart
X-CJ Conor Jackson
X-CL Carlos Lee
X-CP Carlos Pena
X-CS CC Sabathia
X-CU Chase Utley
X-CW Chien-Ming Wang
X-CY Chris B. Young
X-CZ Carlos Zambrano
X-DJ Derek Jeter
X-DL Derrek Lee
X-DM Daisuke Matsuzaka
X-DO David Ortiz
X-DW Dontrelle Willis
X-EB Erik Bedard
X-FH Felix Hernandez
X-FT Frank Thomas
X-GA Garrett Atkins
X-GM Greg Maddux
X-GR Khalil Greene
X-GS Grady Sizemore
X-GU Carlos Guillen
X-HE Todd Helton
X-HM Hideki Matsui
X-HO Trevor Hoffman
X-HR Hanley Ramirez
X-HU Torii Hunter
X-IR Ivan Rodriguez
X-IS Ichiro
X-JA Jason Bay
X-JB Josh Beckett
X-JC Joba Chamberlain
X-JF Jeff Francoeur
X-JH Josh Hamilton
X-JI Jimmy Rollins
X-JK Jeff Kent
X-JM Justin Morneau
X-JO Chipper Jones
X-JP Jonathan Papelbon
X-JR Jose Reyes
X-JS John Smoltz
X-JT Jim Thome
X-JV Jason Varitek
X-KG Ken Griffey, Jr.
X-LB Lance Berkman
X-MA Joe Mauer
X-MC Miguel Cabrera
X-MH Matt Holliday
X-MO Magglio Ordonez
X-MR Manny Ramirez
X-MT Mark Teixeira
X-NM Nick Markakis
X-NS Nick Swisher
X-PB Pat Burrell
X-PE Jake Peavy
X-PF Prince Fielder
X-PK Paul Konerko
X-PM Pedro Martinez
X-RA Rick Ankiel
X-RB Ryan Braun
X-RH Ryan Howard
X-RI Mariano Rivera
X-RJ Randy Johnson
X-RM Russell Martin
X-RO Roy Oswalt
X-RW Rickie Weeks
X-RZ Ryan Zimmerman
X-SA Johan Santana
X-SH Gary Sheffield
X-TE Miguel Tejada
X-TH Travis Hafner
X-TT Troy Tulowitzki
X-VG Vladimir Guerrero
X-VM Victor Martinez
X-WR David Wright
UDxponential X2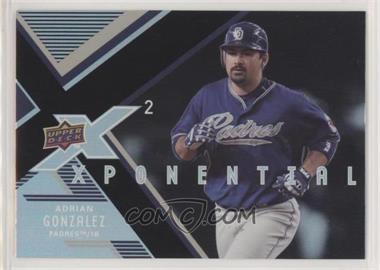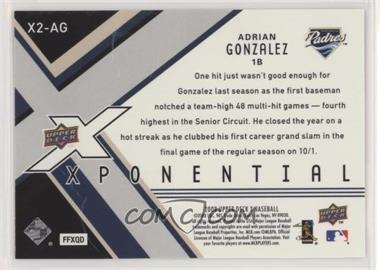 X2-AD Adam Dunn
X2-AG Adrian Gonzalez
X2-AJ Andruw Jones
X2-AP Albert Pujols
X2-AR Aramis Ramirez
X2-AS Alfonso Soriano
X2-BA Bobby Abreu
X2-BE Josh Beckett
X2-BR Brian Roberts
X2-BU B.J. Upton
X2-BW Brandon Webb
X2-CB Carlos Beltran
X2-CC Carl Crawford
X2-CG Curtis Granderson
X2-CH Corey Hart
X2-CJ Chipper Jones
X2-CP Carlos Pena
X2-CS CC Sabathia
X2-CU Chase Utley
X2-CW Chien-Ming Wang
X2-CZ Carlos Zambrano
X2-DJ Derek Jeter
X2-DL Derrek Lee
X2-DM Daisuke Matsuzaka
X2-DO David Ortiz
X2-DW Dontrelle Willis
X2-EB Erik Bedard
X2-FH Felix Hernandez
X2-GM Greg Maddux
X2-GR Ken Griffey, Jr.
X2-GS Grady Sizemore
X2-HE Todd Helton
X2-HM Hideki Matsui
X2-HO Trevor Hoffman
X2-HR Hanley Ramirez
X2-HU Torii Hunter
X2-IR Ivan Rodriguez
X2-IS Ichiro
X2-JA Conor Jackson
X2-JB Jason Bay
X2-JC Joba Chamberlain
X2-JF Jeff Francoeur
X2-JK Jeff Kent
X2-JP Jonathan Papelbon
X2-JR Jimmy Rollins
X2-JS John Smoltz
X2-JT Jim Thome
X2-KG Khalil Greene
X2-MA Manny Ramirez
X2-MC Miguel Cabrera
X2-MH Matt Holliday
X2-MO Magglio Ordonez
X2-MR Mariano Rivera
X2-MT Mark Teixeira
X2-NS Nick Swisher
X2-PB Pat Burrell
X2-PE Jake Peavy
X2-PF Prince Fielder
X2-PK Paul Konerko
X2-PM Pedro Martinez
X2-RA Rick Ankiel
X2-RB Ryan Braun
X2-RE Jose Reyes
X2-RH Ryan Howard
X2-RJ Randy Johnson
X2-RM Russell Martin
X2-RO Alex Rodriguez
X2-RW Rickie Weeks
X2-RZ Ryan Zimmerman
X2-SA Johan Santana
X2-TH Travis Hafner
X2-TT Troy Tulowitzki
X2-VG Vladimir Guerrero
X2-VM Victor Martinez
X2-WR David Wright
UDxponential X3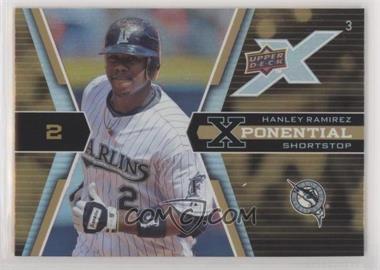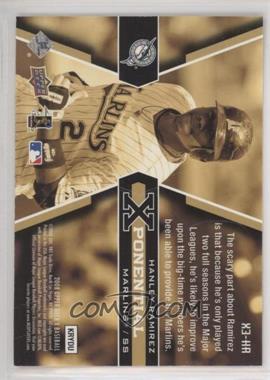 X3-AP Albert Pujols
X3-AR Alex Rodriguez
X3-AS Alfonso Soriano
X3-CU Chase Utley
X3-DJ Derek Jeter
X3-DL Derrek Lee
X3-DO David Ortiz
X3-DW David Wright
X3-GS Grady Sizemore
X3-HM Hideki Matsui
X3-HR Hanley Ramirez
X3-IS Ichiro
X3-JB Josh Beckett
X3-JR Jimmy Rollins
X3-JS Johan Santana
X3-KG Ken Griffey, Jr.
X3-MC Miguel Cabrera
X3-MH Matt Holliday
X3-MO Magglio Ordonez
X3-MR Manny Ramirez
X3-PF Prince Fielder
X3-RE Jose Reyes
X3-RH Ryan Howard
X3-TH Torii Hunter
X3-VG Vladimir Guerrero
UDxponential X4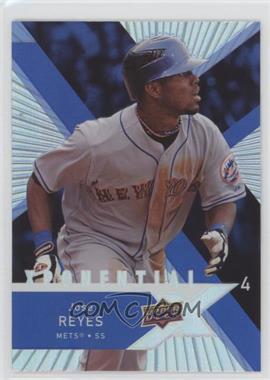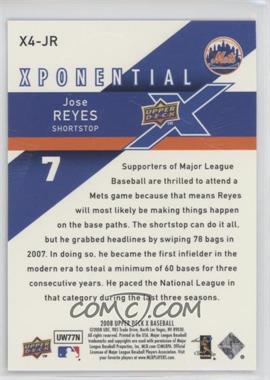 X4-AP Albert Pujols
X4-AR Alex Rodriguez
X4-AS Alfonso Soriano
X4-DJ Derek Jeter
X4-DO David Ortiz
X4-DW David Wright
X4-IS Ichiro
X4-JR Jose Reyes
X4-RH Ryan Howard
X4-VG Vladimir Guerrero
Yankee Stadium Legacy
See 2008 Upper Deck Yankee Stadium Legacy.
Autographs & Game-Used
Memorabilia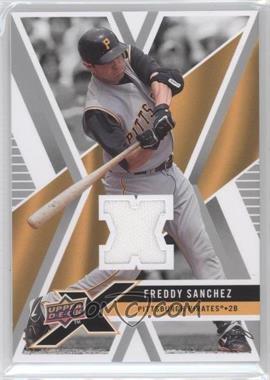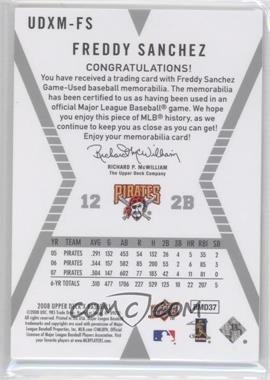 UDXM-AA Aaron Harang
UDXM-AB Adrian Beltre
UDXM-AE Andre Ethier
UDXM-AG Adrian Gonzalez
UDXM-AH Aubrey Huff
UDXM-AK Austin Kearns
UDXM-AR Alex Rodriguez
UDXM-BB Boof Bonser
UDXM-BG Brian Giles
UDXM-BH Bill Hall
UDXM-BJ Brandon Jones
UDXM-BM Brian McCann
UDXM-BO Jeremy Bonderman
UDXM-BP Brad Penny
UDXM-BR Brian Roberts
UDXM-BU A.J. Burnett
UDXM-CA Melky Cabrera
UDXM-CC Chris Carpenter
UDXM-CD Carlos Delgado
UDXM-CH Craig Hansen
UDXM-CJ Conor Jackson
UDXM-CL Carlos Lee
UDXM-CR Joe Crede
UDXM-CS Curt Schilling
UDXM-CZ Carlos Zambrano
UDXM-DL Derrek Lee
UDXM-DM Daisuke Matsuzaka
UDXM-DO David Ortiz
UDXM-DR J.D. Drew
UDXM-DU Dan Uggla
UDXM-DY Jermaine Dye
UDXM-EG Eric Gagne
UDXM-FR Francisco Rodriguez
UDXM-FS Freddy Sanchez
UDXM-GA Garrett Atkins
UDXM-GJ Geoff Jenkins
UDXM-GL Troy Glaus
UDXM-GM Greg Maddux
UDXM-GS Grady Sizemore
UDXM-HA Travis Hafner
UDXM-HP Hunter Pence
UDXM-HR Hanley Ramirez
UDXM-HS Huston Street
UDXM-HU Torii Hunter
UDXM-IK Ian Kinsler
UDXM-IR Ivan Rodriguez
UDXM-JB Josh Barfield
UDXM-JC Joba Chamberlain
UDXM-JD Johnny Damon
UDXM-JE Johnny Estrada
UDXM-JF Jeff Francoeur
UDXM-JG Jeremy Guthrie
UDXM-JH J.J. Hardy
UDXM-JK Jeff Kent
UDXM-JM Joe Mauer
UDXM-JO Josh Hamilton
UDXM-JP Jhonny Peralta
UDXM-JR Jeremy Reed
UDXM-JS James Shields
UDXM-JV Jason Varitek
UDXM-JW Jered Weaver
UDXM-KE Kelly Johnson
UDXM-KJ Kenji Johjima
UDXM-KM Kazuo Matsui
UDXM-KU Jason Kubel
UDXM-KW Kerry Wood
UDXM-KY Kevin Youkilis
UDXM-LG Luis Gonzalez
UDXM-LM Lastings Milledge
UDXM-MA John Maine
UDXM-MC Matt Cain
UDXM-MG Matt Garza
UDXM-MI Kevin Millwood
UDXM-MK Kendrys Morales
UDXM-MO Justin Morneau
UDXM-MP Mark Prior
UDXM-MR Mariano Rivera
UDXM-NS Nick Swisher
UDXM-PA Jonathan Papelbon
UDXM-PE Jake Peavy
UDXM-PF Prince Fielder
UDXM-PI Juan Pierre
UDXM-PO Jorge Posada
UDXM-RA Aramis Ramirez
UDXM-RF Rafael Furcal
UDXM-RH Rich Hill
UDXM-RM Russell Martin
UDXM-RZ Ryan Zimmerman
UDXM-SA Johan Santana
UDXM-SC Sean Casey
UDXM-SP Scott Podsednik
UDXM-TG Tom Gorzelanny
UDXM-TH Tim Hudson
UDXM-TL Tim Lincecum
UDXM-TS Takashi Saito
UDXM-TT Troy Tulowitzki
UDXM-TW Tim Wakefield
UDXM-UP B.J. Upton
UDXM-VE Justin Verlander
Signatures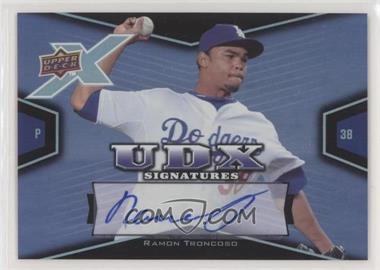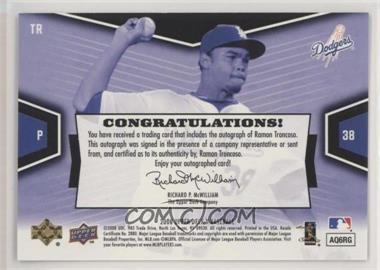 NOTE: UDX Signatures are exclusive to Hobby packs. Judging by the checklist, this set can largely be seen as a sticker dump.
BB Brian Bass
BI Brian Bixler
CA Jesse Carlson
CB Clay Buchholz
CC Callix Crabbe
CH Chin-Lung Hu
CM Colt Morton
CT Clete Thomas
DJ Derek Jeter
EL Evan Longoria
EM Evan Meek
FC Frank Catalanotto
IK Ian Kennedy
JA Jonathan Albaladejo
JC Johnny Cueto
JK Jeff Keppinger
JN Josh Newman
JT J.R. Towles
KG Ken Griffey, Jr. EXCH
KH Kevin Hart
LH Luke Hochevar
LM Luis Mendoza
MB Marlon Byrd
RO Ross Ohlendorf
RT Rich Thompson
SH Steve Holm
TI Clay Timpner
TR Ramon Troncoso
WB Wladimir Balentien