2000 Paramount Update
Description
2000 Paramount Update is a 100-card factory set released by Pacific Trading Cards in October, 2000. This product was sold exclusively through the 2000 J.C. Penney Christmas Catalog. Only 12,500 sets were produced; however, neither the cards nor the sets were serial-numbered.
Despite the name, the set features mostly veteran players and very few rookies and traded players. In fact, many of the players in the Update set were also in the regular Paramount set.
Distribution
Factory set only. Exclusively through the J.C. Penney Christmas Catalog.
Reviews
Insertion Ratios
| Cards | Total Cards | Numbered To | Odds |
| --- | --- | --- | --- |
| Base | 100 | 12,500 | 100:1 |
Checklist
Base Set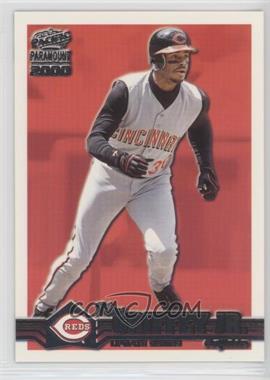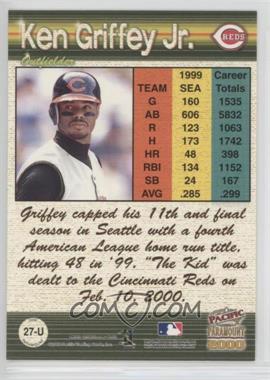 U1 Adam Kennedy
U2 Bengie Molina
U3 Derrick Turnbow RC
U4 Randy Johnson
U5 Danny Klassen
U6 Vicente Padilla RC
U7 Rafael Furcal
U8 Andres Galarraga
U9 Chipper Jones
U10 Fernando Lunar
U11 Willie Morales RC
U12 Cal Ripken, Jr.
U13 B.J. Ryan
U14 Carl Everett
U15 Nomar Garciaparra
U16 Pedro Martinez
U17 Wilton Veras
U18 Scott Downs RC
U19 Daniel Garibay RC
U20 Sammy Sosa
U21 Julio Zuleta RC
U22 Josh Paul
U23 Frank Thomas
U24 Rob Bell
U25 Dante Bichette
U26 Travis Dawkins
U27 Ken Griffey, Jr.
U28 Chuck Finley
U29 Manny Ramirez
U30 Paul Rigdon RC
U31 Jeff Cirillo
U32 Larry Walker
U33 Masato Yoshii
U34 Robert Fick
U35 Jose Macias
U36 Juan Gonzalez
U37 Hideo Nomo
U38 Jason Grilli
U39 Pablo Ozuna
U40 Brad Penny
U41 Jeff Bagwell
U42 Lance Berkman
U43 Roger Cedeno
U44 Octavio Dotel
U45 Chad Durbin RC
U46 Eric Gagne
U47 Shawn Green
U48 Jose Hernandez
U49 Matt LeCroy
U50 Johan Santana RC
U51 Vladimir Guerrero
U52 Hideki Irabu
U53 Andy Tracy RC
U54 Derek Bell
U55 Eric Cammack RC
U56 Mike Hampton
U57 Jay Payton
U58 Mike Piazza
U59 Todd Zeile
U60 Roger Clemens
U61 Darrell Einertson RC
U62 Derek Jeter
U63 Jeremy Giambi
U64 Terrence Long
U65 Mark Mulder
U66 Adam Piatt
U67 Luis Vizcaino
U68 Pat Burrell
U69 Scott Rolen
U70 Chad Hermansen
U71 Rick Ankiel
U72 Jim Edmonds
U73 Mark McGwire
U74 Gene Stechschulte RC
U75 Fernando Vina
U76 Bret Boone
U77 Tony Gwynn
U78 Ryan Klesko
U79 David Newhan
U80 Kevin Walker RC
U81 Barry Bonds
U82 Aaron Fultz RC
U83 Ben Weber RC
U84 Rickey Henderson
U85 Kevin Hodges RC
U86 John Olerud
U87 Rob Ramsay
U88 Alex Rodriguez
U89 Kazuhiro Sasaki RC
U90 Vinny Castilla
U91 Jeff Sparks RC
U92 Greg Vaughn
U93 Francisco Cordero
U94 Gabe Kapler
U95 Mike Lamb RC
U96 Ivan Rodriguez
U97 Clayton Andrews
U98 Brad Fullmer
U99 Raul Mondesi
U100 Dewayne Wise