2000 Oakland Athletics Plumbers
Description
2000 Oakland Athletics Plumbers is a 28-card stadium giveaway set sponsored by the Plumbers Steamfitters Refrigeration Local Union 342. Fans attending a 2000 A's game would receive a pack containing 28 cards, but NOT the entire set. Each pack contained 20 copies of one single card and eight copies of one card. Fans were encouraged to take the additional cards and trade them with others to complete their set.
The photos for this set were taken by noted sports photographer Barry Colla.
Distribution
One pack of 28 cards for each fan.
Reviews
Checklist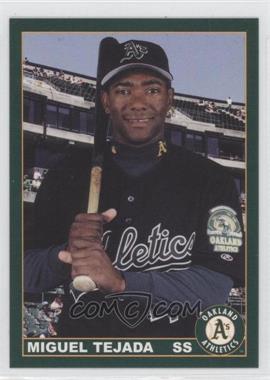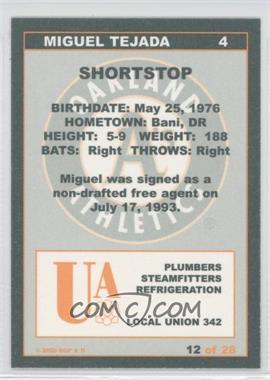 1 Art Howe
2 Jason Giambi
3 Tim Hudson
4 Matt Stairs
5 Kevin Appier
6 Ben Grieve
7 Randy Velarde
8 Eric Chavez
9 Mark Mulder
10 Sal Fasano
11 Doug Jones
12 Miguel Tejada
13 Omar Oliveras
14 Jeremy Giambi
15 Gil Heredia
16 Olmedo Saenz
17 T.J. Mathews
18 Ramon Hernandez
19 Jeff Tam
20 Ryan Christenson
21 John Jaha
22 Rich Saveur
23 Terrence Long
24 Mike Magnante
25 Scott Service
26 Frank Menechino
27 Jason Isringhausen
28 Coaches - Bob Alejo / Rick Peterson / Thad Bosley