2000 MLB Showdown
Description
Released in April of 2000, 2000 MLB Showdown is a collectible card game made by Wizards of the Coast. The game simulates authentic Major League Baseball play, with randomness via a 20-sided die, player cards and strategy cards.
The outcome of an at-bat largely depends on the player cards. The player whose pitcher is pitching that turn rolls a die to determine whether the batting player rolls on the pitcher's chart or the batter's chart. Each of the two charts has a list of possible results from the at-bat.
Cards from the first printing run are labeled 1st Edition, while cards from later print run are called "Unlimited" and do not have the 1st logo on the front.
Distribution
Cards were available in booster packs, starter sets and draft packs.
The two-player Starter Set (MSRP $9.99)
9-card booster packs (MSRP $2.99)
Reviews
Insertion Ratios
| Cards | Total Cards | Numbered To | Booster Packs |
| --- | --- | --- | --- |
| Base | 432 | - | 7:1 |
| Foil | 30 | - | 1:27 |
| Strategy | 55 | - | 2:1 |
Checklist
Base Set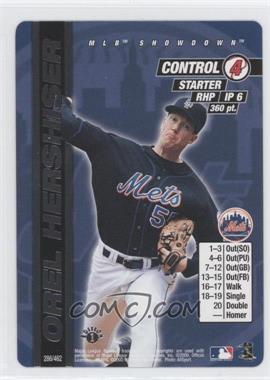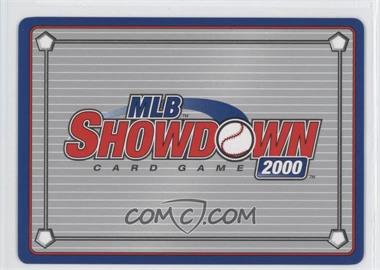 1 Garret Anderson
2 Tim Belcher
3 Gary DiSarcina
4 Darin Erstad
5 Chuck Finley FOIL
6 Troy Glaus
7 Todd Greene
8 Jeff Huson
9 Orlando Palmeiro
10 Troy Percival
11 Mark Petkovsek
12 Tim Salmon
13 Steve Sparks
14 Mo Vaughn
15 Matt Walbeck
16 Jay Bell FOIL
17 Andy Benes
18 Omar Daal
19 Steve Finley
20 Andy Fox
21 Hanley Frias
22 Bernard Gilkey
23 Luis Gonzalez FOIL
24 Randy Johnson FOIL
25 Travis Lee
26 Matt Mantei
27 Dan Plesac
28 Kelly Stinnett
29 Greg Swindell
30 Matt Williams FOIL
31 Tony Womack
32 Bret Boone
33 Tom Glavine
34 Jose Hernandez
35 Brian Hunter
36 Andruw Jones
37 Chipper Jones FOIL
38 Brian Jordan
39 Ryan Klesko
40 Keith Lockhart
41 Greg Maddux FOIL
42 Kevin Millwood FOIL
43 Eddie Perez
44 Mike Remlinger
45 John Rocker
46 John Smoltz
47 Walt Weiss
48 Gerald Williams
49 Rich Amaral
50 Brady Anderson
51 Albert Belle
52 Mike Bordick
53 Jeff Conine
54 Delino DeShields
55 Scott Erickson
56 Charles Johnson
57 Mike Mussina
58 Jesse Orosco
59 Sidney Ponson
60 Jeff Reboulet
61 Cal Ripken, Jr. FOIL
62 B.J. Surhoff
63 Mike Timlin
64 Rod Beck
65 Damon Buford
66 Rheal Cormier
67 Nomar Garciaparra FOIL
68 Butch Huskey
69 Darren Lewis
70 Derek Lowe
71 Pedro Martinez FOIL
72 Trot Nixon
73 Jose Offerman
74 Troy O'Leary
75 Mark Portugal
76 Pat Rapp
77 Mike Stanley
78 John Valentin
79 Jason Varitek
80 Tim Wakefield
81 Rick Aguilera
82 Jeff Blauser
83 Kyle Farnsworth
84 Gary Gaetti
85 Mark Grace
86 Lance Johnson
87 Jon Lieber
88 Mickey Morandini
89 Jose Nieves
90 Jeff Reed
91 Henry Rodriguez
92 Scott Sanders
93 Benito Santiago
94 Sammy Sosa FOIL
95 Steve Trachsel
96 James Baldwin
97 Mike Caruso
98 Ray Durham
99 Brook Fordyce
100 Bob Howry
101 Paul Konerko
102 Carlos Lee
103 Greg Norton
104 Magglio Ordonez
105 Jim Parque
106 Bill Simas
107 Chris Singleton
108 Mike Sirotka
109 Frank Thomas FOIL
110 Craig Wilson
111 Aaron Boone
112 Mike Cameron
113 Sean Casey
114 Danny Graves
115 Pete Harnisch
116 Barry Larkin FOIL
117 Pokey Reese
118 Scott Sullivan
119 Eddie Taubensee
120 Brett Tomko
121 Michael Tucker
122 Greg Vaughn
123 Ron Villone
124 Scott Williamson FOIL
125 Dmitri Young
126 Roberto Alomar FOIL
127 Harold Baines
128 Dave Burba
129 Bartolo Colon
130 Einar Diaz
131 Travis Fryman
132 Mike Jackson
133 Dave Justice
134 Kenny Lofton FOIL
135 Charles Nagy
136 Manny Ramirez FOIL
137 Richie Sexson
138 Paul Shuey
139 Jim Thome
140 Omar Vizquel
141 Enrique Wilson
142 Kurt Abbott
143 Pedro Astacio
144 Jeff Barry
145 Dante Bichette
146 Henry Blanco
147 Brian Bohanon
148 Vinny Castilla
149 Jerry DiPoto
150 Todd Helton
151 Darryl Kile
152 Curtis Leskanic
153 Neifi Perez
154 Terry Shumpert
155 Dave Veres
156 Larry Walker FOIL
157 Brad Ausmus
158 Frank Catalanotto
159 Tony Clark
160 Deivi Cruz
161 Damion Easley
162 Juan Encarnacion
163 Karim Garcia
164 Bob Higginson
165 Todd Jones
166 Gabe Kapler
167 Dave Mlicki
168 Brian Moehler
169 C.J. Nitkowski
170 Dean Palmer FOIL
171 Jeff Weaver
172 Antonio Alfonseca
173 Bruce Aven
174 Dave Berg
175 Luis Castillo FOIL
176 Ryan Dempster
177 Brian Edmondson
178 Alex Gonzalez
179 Mark Kotsay
180 Derrek Lee
181 Braden Looper
182 Mike Lowell
183 Brian Meadows
184 Mike Redmond
185 Dennis Springer
186 Preston Wilson
187 Jeff Bagwell FOIL
188 Derek Bell
189 Craig Biggio
190 Tim Bogar
191 Ken Caminiti
192 Scott Elarton
193 Tony Eusebio
194 Carl Everett FOIL
195 Mike Hampton FOIL
196 Richard Hidalgo
197 Stan Javier
198 Jose Lima
199 Jay Powell
200 Shane Reynolds
201 Bill Spiers
202 Billy Wagner FOIL
203 Carlos Beltran FOIL
204 Johnny Damon
205 Jermaine Dye
206 Carlos Febles
207 Jeremy Giambi
208 Chad Kreuter
209 Jeff Montgomery
210 Joe Randa
211 Jose Rosado
212 Rey Sanchez
213 Scott Service
214 Tim Spehr
215 Jeff Suppan
216 Mike Sweeney
217 Jay Witasick
218 Adrian Beltre
219 Pedro Borbon
220 Kevin Brown
221 Mark Grudzielanek
222 Dave Hansen
223 Todd Hundley
224 Eric Karros
225 Raul Mondesi
226 Chan Ho Park
227 Jeff Shaw
228 Gary Sheffield FOIL
229 Ismael Valdes
230 Jose Vizcaino
231 Devon White
232 Eric Young
233 Ron Belliard
234 Sean Berry
235 Jeromy Burnitz FOIL
236 Jeff Cirillo
237 Marquis Grissom
238 Geoff Jenkins
239 Scott Karl
240 Mark Loretta
241 Mike Myers
242 David Nilsson FOIL
243 Hideo Nomo
244 Alex Ochoa
245 Jose Valentin
246 Bob Wickman
247 Steve Woodard
248 Chad Allen
249 Ron Coomer
250 Cristian Guzman
251 Denny Hocking
252 Torii Hunter
253 Corey Koskie
254 Matt Lawton
255 Joe Mays
256 Doug Mientkiewicz
257 Eric Milton
258 Brad Radke
259 Terry Steinbach
260 Mike Trombley
261 Todd Walker
262 Bob Wells
263 Shane Andrews
264 Michael Barrett
265 Orlando Cabrera
266 Brad Fullmer
267 Vladimir Guerrero FOIL
268 Wilton Guerrero
269 Dustin Hermanson
270 Steve Kline
271 Manny Martinez
272 Mike Thurman
273 Ugueth Urbina
274 Javier Vazquez
275 Jose Vidro
276 Rondell White
277 Chris Widger
278 Edgardo Alfonzo FOIL
279 Armando Benitez
280 Roger Cedeno
281 Dennis Cook
282 Shawon Dunston
283 Matt Franco
284 Darryl Hamilton
285 Rickey Henderson FOIL
286 Orel Hershiser
287 Al Leiter
288 John Olerud
289 Rey Ordonez
290 Mike Piazza
291 Kenny Rogers
292 Robin Ventura
293 Turk Wendell
294 Masato Yoshii
295 Scott Brosius
296 Roger Clemens FOIL
297 David Cone
298 Chad Curtis
299 Chili Davis
300 Orlando Hernandez
301 Derek Jeter FOIL
302 Chuck Knoblauch
303 Ricky Ledee
304 Tino Martinez
305 Ramiro Mendoza
306 Paul O'Neill
307 Andy Pettitte
308 Jorge Posada
309 Mariano Rivera FOIL
310 Mike Stanton
311 Bernie Williams FOIL
312 Kevin Appier
313 Eric Chavez
314 Ryan Christenson
315 Jason Giambi FOIL
316 Ben Grieve
317 Buddy Groom
318 Gil Heredia
319 A.J. Hinch
320 John Jaha
321 Doug Jones
322 Omar Olivares
323 Tony Phillips
324 Matt Stairs
325 Miguel Tejada
326 Randy Velarde FOIL
327 Bob Abreu FOIL
328 Marlon Anderson
329 Alex Arias
330 Rico Brogna
331 Paul Byrd
332 Ron Gant
333 Doug Glanville
334 Wayne Gomes
335 Kevin Jordan
336 Mike Lieberthal
337 Steve Montgomery
338 Chad Ogea
339 Scott Rolen
340 Curt Schilling FOIL
341 Kevin Sefcik
342 Mike Benjamin
343 Kris Benson
344 Adrian Brown
345 Brant Brown
346 Brad Clontz
347 Brian Giles
348 Jason Kendall FOIL
349 Al Martin
350 Warren Morris
351 Todd Ritchie
352 Scott Sauerbeck
353 Jason Schmidt
354 Ed Sprague
355 Mike Williams
356 Kevin Young
357 Andy Ashby
358 Ben Davis
359 Tony Gwynn
360 Sterling Hitchcock
361 Trevor Hoffman FOIL
362 Damian Jackson
363 Wally Joyner
364 Phil Nevin
365 Eric Owens
366 Ruben Rivera
367 Reggie Sanders
368 John Vander Wal
369 Quilvio Veras
370 Matt Whisenant
371 Woody Williams
372 Rich Aurilia
373 Marvin Benard
374 Barry Bonds FOIL
375 Ellis Burks
376 Alan Embree
377 Shawn Estes
378 John Johnstone
379 Jeff Kent
380 Brent Mayne
381 Bill Mueller
382 Robb Nen
383 Russ Ortiz
384 Kirk Rueter
385 F.P. Santangelo
386 J.T. Snow
387 David Bell
388 Jay Buhner
389 Russ Davis
390 Freddy Garcia
391 Ken Griffey, Jr. FOIL
392 John Halama
393 Brian Hunter
394 Raul Ibanez
395 Tom Lampkin
396 Edgar Martinez FOIL
397 Jose Mesa
398 Jamie Moyer
399 Jose Paniagua
400 Alex Rodriguez FOIL
401 Dan Wilson
402 Manny Aybar
403 Ricky Bottalico
404 Kent Bottenfield
405 Darren Bragg
406 Alberto Castillo
407 J.D. Drew
408 Jose Jimenez
409 Ray Lankford
410 Joe McEwing
411 Willie McGee
412 Mark McGwire FOIL
413 Darren Oliver
414 Lance Painter
415 Edgar Renteria
416 Fernando Tatis FOIL
417 Wilson Alvarez
418 Rolando Arrojo
419 Wade Boggs
420 Miguel Cairo
421 Jose Canseco FOIL
422 John Flaherty
423 Roberto Hernandez
424 Dave Martinez
425 Fred McGriff
426 Paul Sorrento
427 Kevin Stocker
428 Bubba Trammell
429 Rick White
430 Randy Winn
431 Bobby Witt
432 Royce Clayton
433 Tim Crabtree
434 Juan Gonzalez
436 Rusty Greer
437 Rick Helling
438 Mark McLemore
439 Mike Morgan
440 Rafael Palmeiro FOIL
441 Ivan Rodriguez FOIL
442 Aaron Sele
443 Lee Stevens
444 Mike Venafro
445 John Wetteland
446 Todd Zeile
447 Jeff Zimmerman FOIL
448 Tony Batista
449 Homer Bush
450 Jose Cruz
451 Carlos Delgado
452 Kelvim Escobar
453 Tony Fernandez FOIL
454 Darrin Fletcher
455 Shawn Green FOIL
456 Pat Hentgen
457 Billy Koch
458 Graeme Lloyd
459 Brian McRae
460 David Segui
461 Shannon Stewart
462 David Wells
Inserts
Strategy
S1 Aaron Boone
S2 Chipper Jones
S3 Bob Abreu
S4 Fernando Tatis
S5 Rod Carew
S6 J.D. Drew
S7 John Vander Wal
S8 Pokey Reese
S9 Greg Maddux
S10 Cincinnati Reds
S11 Larry Walker
S12 Alex Rodriguez
S13 Alex Rodriguez
S14 New York Mets
S15 Kevin Brown
S16 Paul O'Neill
S17 Scott Williamson
S18 Jamie Moyer
S19 Bernie Williams
S20 John Franco
S21 Pittsburgh Pirates
S22 John Rocker
S23 Mike Lansing
S24 Roger Clemens / Joe Torre
S25 Derek Jeter