2000 Greats of the Game
Description
2000 Greats of the Game is a 107-card set released by Fleer in late March, 2000. Fueled by a now-legendary collection of autographs, the Yankee Clippings game-used jersey cards, and the superior design of the base set, the product turned out to be one of the most popular releases of the 2000 calendar.
Each 24-pack Hobby box will yield four autographs.
Distribution
Hobby: 24 packs per box, six cards per pack (MSRP: $4.99).
Retail: 24 packs per box, four cards per pack.
Blasters: 14 packs per box (MSRP: $34.99), four cards per pack.
Reviews
Insertion Ratios
| Cards | Total Cards | Numbered To | Hobby Odds | Retail Odds |
| --- | --- | --- | --- | --- |
| Base | 107 | - | 6:1 | 4:1 |
| Retrospection | 15 | - | 1:6 | 1:6 |
| Autographs | 93 | - | 1:6 | 1:24 |
| Memorable Moments | 4 | varies | ? | ? |
| Yankees Clippings | 15 | - | 1:48 | N/A |
Checklist
Promos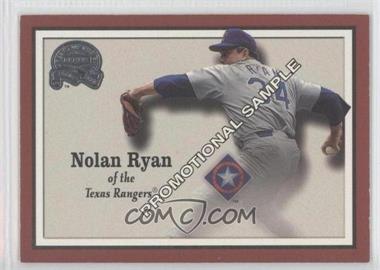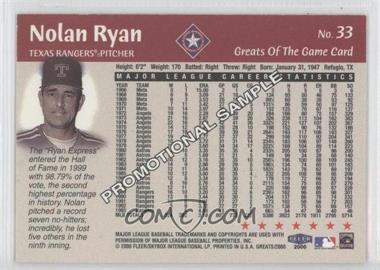 Base Set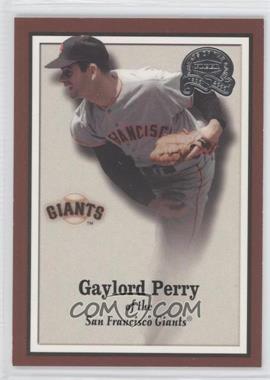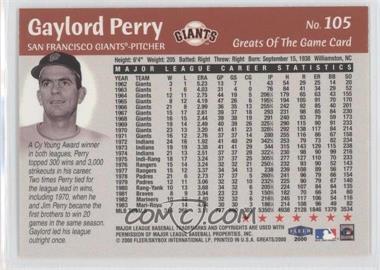 1 Mickey Mantle
2 Gil Hodges
3 Monte Irvin
4 Satchel Paige
5 Roy Campanella
6 Richie Ashburn
7 Roger Maris
8 Ozzie Smith
9 Reggie Jackson
10 Eddie Mathews
11 Dave Righetti
12 Dave Winfield
13 Lou Whitaker
14 Phil Garner
15 Ron Cey
16 Brooks Robinson
17 Bruce Sutter
18 Dave Parker
19 Johnny Bench
20 Fernando Valenzuela
21 George Brett
22 Paul Molitor
23 Hoyt Wilhelm
24 Luis Aparicio
25 Frank White
26 Herb Score
27 Kirk Gibson
28 Mike Schmidt
29 Don Baylor
30 Joe Pepitone
31 Hal McRae
32 Lee Smith
33 Nolan Ryan
34 Bill Mazeroski
35 Bobby Doerr
36 Duke Snider
37 Dick Groat
38 Larry Doby
39 Kirby Puckett
40 Steve Carlton
41 Dennis Eckersley
42 Jim Bunning
43 Ron Guidry
44 Alan Trammell
45 Bob Feller
46 Dave Concepcion
47 Dwight Evans
48 Enos Slaughter
49 Tom Seaver
50 Tony Oliva
51 Mel Stottlemyre
52 Tommy John
53 Willie McCovey
54 Red Schoendienst
55 Gorman Thomas
56 Ralph Kiner
57 Robin Yount
58 Andre Dawson
59 Al Kaline
60 Dom DiMaggio
61 Juan Marichal
62 Jack Morris
63 Warren Spahn
64 Preacher Roe
65 Darrell Evans
66 Jim Bouton
67 Rocky Colavito
68 Bob Gibson
69 Whitey Ford
70 Moose Skowron
71 Boog Powell
72 Al Lopez
73 Lou Brock
74 Mickey Lolich
75 Rod Carew
76 Bob Lemon
77 Frank Howard
78 Phil Rizzuto
79 Carl Yastrzemski
80 Rico Carty
81 Jim Kaat
82 Bert Blyleven
83 George Kell
84 Jim Palmer
85 Maury Wills
86 Jim Rice
87 Joe Carter
88 Clete Boyer
89 Yogi Berra
90 Cecil Cooper
91 Davey Johnson
92 Lou Boudreau
93 Orlando Cepeda
94 Tommy Henrich
95 Hank Bauer
96 Don Larsen
97 Vida Blue
98 Ben Oglivie
99 Don Mattingly
100 Dale Murphy
101 Fergie Jenkins
102 Bobby Bonds
103 Dick Allen
104 Stan Musial
105 Gaylord Perry
106 Willie Randolph
107 Willie Stargell
Inserts
Retrospection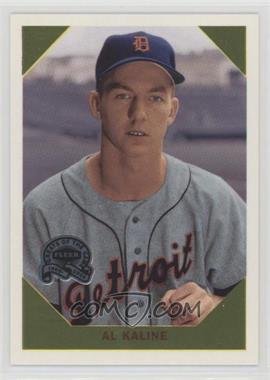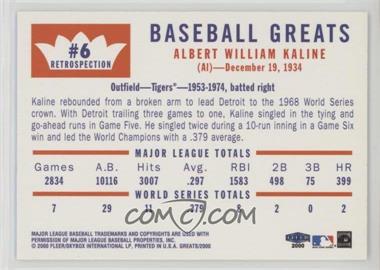 1 Rod Carew
2 Stan Musial
3 Nolan Ryan
4 Tom Seaver
5 Brooks Robinson
6 Al Kaline
7 Mike Schmidt
8 Thurman Munson
9 Steve Carlton
10 Roger Maris
11 Duke Snider
12 Yogi Berra
13 Carl Yastrzemski
14 Reggie Jackson
15 Johnny Bench
Autographs & Game-Used
Autographs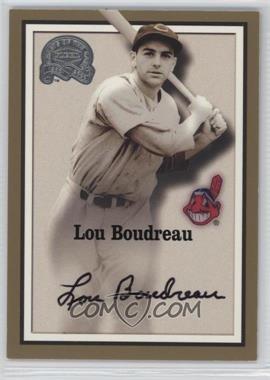 This 93-card insert features autographed cards of some of the greatest players in major league history. The card design closely parallels the base set, except of course for the player's signature. It is widely considered to be one of the most significant baseball card sets of the 21st Century.
NOTES:
Shortly after Greats of the Game was released, representatives at Fleer released cryptic details on a few cards confirming the widespread belief among collectors of suspected short-prints within the set. It's known that the two scarcest cards are Johnny Bench and Mike Schmidt with production for both believed to be in the 175-200 card range. In addition to the Schmidt and Bench short-prints, other SPs include (with estimated production runs): Kirby Puckett and Phil Rizzuto (around 200 copies each) Reggie Jackson (250), George Brett (275), Whitey Ford, Tommie Henrich, and Don Mattingly (300). Joe Carter, Stan Musial, Jim Palmer, Ozzie Smith, Duke Snider, Warren Spahn, and Robin Yount were also SPed with production estimated in the 350-500 card range.
Whereas all cards were signed with a black Sharpie pen, Dave Concepcion signed some of his cards in red ink.
Herb Score mistakenly signed several of his base autographs with an "ROY '55" notation. Score was supposed to sign 55 purple-bordered Memorable Moments parallels (see below) with the notation.
A Yogi Berra card signed in blue ink is rumored to exist.
In 2004, a Fleer released an autographed Derek Jeter card done in the style of 2000 Greats of the Game. Over time, this card has been accepted by master set collectors as being part of the 2000 GotG Autographs set -- despite the fact that Jeter (or any other active player) did not appear in the 2000 GotG base set. The card was made available as a replacement for autograph exchange cards of other players that Fleer could not fulfill (lucky, them). Only 150 copies of this Jeter card were produced; however, the card is not serial-numbered. This card is NOT to be confused with a similar looking Jeter autographed card that was part of the 2001 Fleer Derek Jeter Legacy Collection. That card -- which has the same photograph as the 2004-issued card, has the Legacy Collection logo on the reverse side and a 2001 copyright date.
Following Stan Musial's death in 2013, his marketing company "Stan the Man, Inc." released "Player Sample" signed versions of his card. (Apparently, Fleer gave each signer a number of un-signed copies of their card to do with as they wished.) All cards were slabbed by BGS -- which notated their Stan the Man provenance on the slab's label -- and sold on the secondary market. While the card looks identical to Musial's pack-issued card, all the Player Sample examples were signed in blue ink as opposed to the normal black ink.
In 2014, Robert Edward Auctions sold a complete set including a Dave Concepcion red ink, a Herb Score "ROY '55" base autograph, and the Derek Jeter redemption card for $3851
Luis Aparicio
Hank Bauer
Don Baylor
Johnny Bench SP
Yogi Berra SP
Vida Blue
Bert Blyleven
Bobby Bonds
Lou Boudreau
Jim Bouton
Clete Boyer
George Brett SP
Lou Brock
Jim Bunning
Rod Carew
Steve Carlton
Joe Carter SP
Orlando Cepeda
Ron Cey
Rocky Colavito
Dave Concepcion
Dave Concepcion Red Ink
Cecil Cooper
Andre Dawson
Dom DiMaggio
Bobby Doerr
Darrell Evans
Bob Feller
Whitey Ford SP
Phil Garner
Bob Gibson
Kirk Gibson
Dick Groat
Ron Guidry
Tommy Henrich SP
Frank Howard
Reggie Jackson SP
Fergie Jenkins
Derek Jeter released in 2004 150
Tommy John
Davey Johnson
Jim Kaat
Al Kaline
George Kell
Ralph Kiner
Don Larsen
Mickey Lolich
Juan Marichal
Eddie Mathews
Don Mattingly SP
Bill Mazeroski
Willie McCovey SP
Hal McRae
Paul Molitor
Jack Morris
Dale Murphy
Stan Musial SP
Ben Oglivie
Tony Oliva
Jim Palmer SP
Dave Parker
Joe Pepitone
Gaylord Perry
Boog Powell
Kirby Puckett SP
Willie Randolph
Jim Rice
Dave Righetti
Phil Rizzuto SP
Brooks Robinson
Preacher Roe
Nolan Ryan
Mike Schmidt SP
Red Schoendienst
Herb Score
Herb Score ROY '55 notation
Tom Seaver
Moose Skowron
Enos Slaughter
Lee Smith
Ozzie Smith SP
Duke Snider SP
Warren Spahn SP
Willie Stargell
Bruce Sutter
Gorman Thomas
Alan Trammell
Frank White
Hoyt Wilhelm
Maury Wills
Carl Yastrzemski
Robin Yount SP
Dave Winfield SP
National Convention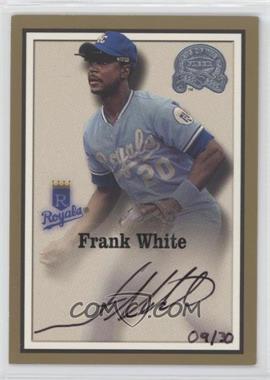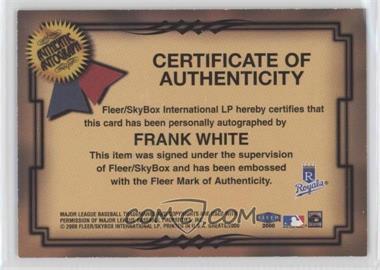 At the 2000 National Sports Collectors Convention, Fleer gave away a number of hand-numbered 2000 Greats of the Game autographs as prizes. Unfortunately, these cards are NOT marked as coming from the National Convention. Even though these are hand-numbered, they should be treated as any other Greats autograph.
Memorable Moments
Each Memorable Moments card is an autographed parallel of the player's regular GotG autograph and is notated by the player with one of his career achievements. Each card is hand-numbered on the reverse side to the last two digits of the achievement's year. The fronts of these cards are purple-bordered instead of gold. Please note that Herb Score signed some of his base autograph cards with the "ROY '55" notation.
Ron Guidry CY 78
Nolan Ryan HOF 99
Herb Score ROY 55
Tom Seaver CY 69
Yankees Clippings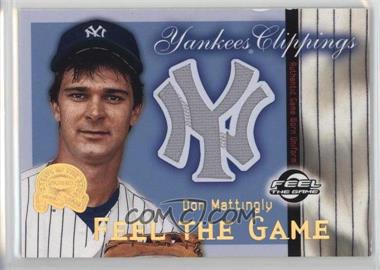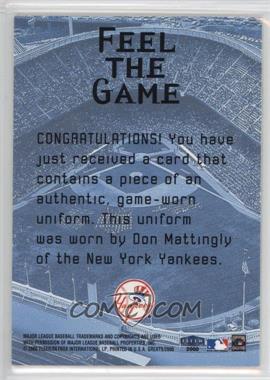 Exclusive to Hobby packs, this 15-card set contains pieces of game-used jerseys of legendary New York Yankee players. This set represents one of the earliest attempts by manufacturers to incorporate a theme into a memorabilia-based insert. All cards feature jerseys EXCEPT for the Mantle card which features a pair of home, pin-striped game-used pants. There are also two different Willie Randolph cards, one with the home jersey, the other with an away jersey.
Billy Martin
Dave Righetti
Dave Winfield
Don Larsen
Don Mattingly
Elston Howard
Joe Pepitone
Mel Stottlemyre
Mickey Mantle
Reggie Jackson
Ron Guidry
Thurman Munson
Tommy Henrich
Tommy John
Willie Randolph
Willie Randolph (gray)