2000 Fleer Club 3000
Description
2000 Fleer Club 3000 is a 14-card, cross-brand, die-cut set that was randomly inserted into a variety of 2000 Fleer Baseball products. Each of the 14 players represented accumulated either 3000 career base hits or 3000 career strikeouts. Cards were inserted into the following products.
The set is not-sequentially numbered. Each card is marked with which product it was available in.
Checklist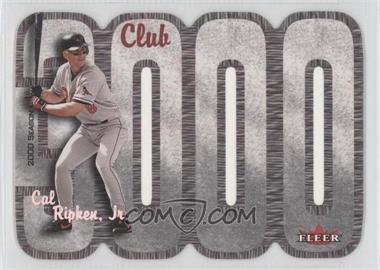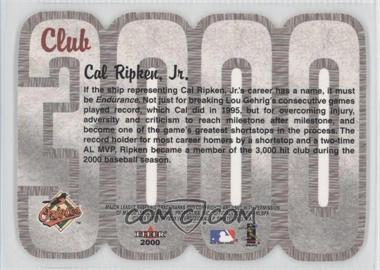 Bob Gibson MYS
Cal Ripken, Jr. MYS
Carl Yastrzemski ULT
Dave Winfield MYS
George Brett TRA
Lou Brock SHO
Nolan Ryan SHO
Paul Molitor FOC
Rod Carew TRA
Robin Yount TRA
Steve Carlton FOC
Stan Musial FOC
Tony Gwynn ULT
Wade Boggs ULT
Autographs & Game-Used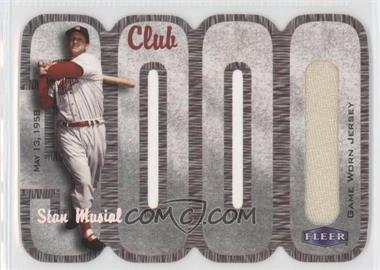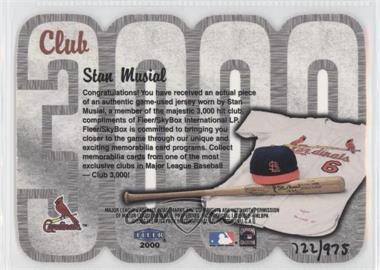 Each of the 14 Club 3000 players had five different serial-numbered memorabilia cards: Bat, Hat, Jersey, Bat/Jersey, and Bat/Hat/Jersey. The memorabilia cards were all randomly inserted into the same products as the regular inserts.
Bob Gibson Bat 265
Bob Gibson Hat 55
Bob Gibson Jsy 825
Bob Gibson Bat / Jsy 100
Bob Gibson Bat / Hat / Jsy 25
Cal Ripken, Jr. Bat 265
Cal Ripken, Jr. Hat 55
Cal Ripken, Jr. Jsy 825
Cal Ripken, Jr. Bat / Jsy 100
Cal Ripken, Jr. Bat / Hat / Jsy 25
Carl Yastrzemski Bat 250
Carl Yastrzemski Hat 100
Carl Yastrzemski Jsy 440
Carl Yastrzemski Bat / Jsy 100
Carl Yastrzemski Bat / Hat / Jsy 25
Dave Winfield Bat 270
Dave Winfield Hat 55
Dave Winfield Jsy 825
Dave Winfield Bat / Jsy 100
Dave Winfield Bat / Hat / Jsy 25
George Brett Bat 240
George Brett Hat 105
George Brett Jsy 445
George Brett Bat / Jsy 100
George Brett Bat / Hat / Jsy 25
Lou Brock Bat 270
Lou Brock Hat 60
Lou Brock Jsy 680
Lou Brock Bat / Jsy 100
Lou Brock Bat / Hat / Jsy 25
Nolan Ryan Bat 265
Nolan Ryan Hat 65
Nolan Ryan Jsy 750
Nolan Ryan Bat / Jsy 100
Nolan Ryan Bat / Hat / Jsy 25
Paul Molitor Bat 335
Paul Molitor Hat 65
Paul Molitor Jsy 975
Paul Molitor Bat / Jsy 100
Paul Molitor Bat / Hat / Jsy 25
Rod Carew Bat 225
Rod Carew Hat 105
Rod Carew Jsy 395
Rod Carew Bat / Jsy 100
Rod Carew Bat / Hat / Jsy 25
Robin Yount Bat 230
Robin Yount Hat 105
Robin Yount Jsy 445
Robin Yount Bat / Jsy 100
Robin Yount Bat / Hat / Jsy 25
Steve Carlton Bat 325
Steve Carlton Hat 65
Steve Carlton Jsy 750
Steve Carlton Bat / Jsy 100
Steve Carlton Bat / Hat / Jsy 25
Stan Musial Bat 325
Stan Musial Hat 65
Stan Musial Jsy 975
Stan Musial Bat / Jsy 100
Stan Musial Bat / Hat / Jsy 25
Tony Gwynn Bat 260
Tony Gwynn Hat 115
Tony Gwynn Jsy 450
Tony Gwynn Bat / Jsy 100
Tony Gwynn Bat / Hat / Jsy 25
Wade Boggs Bat 250
Wade Boggs Hat 100
Wade Boggs Jsy 440
Wade Boggs Bat / Jsy 100
Wade Boggs Bat / Hat / Jsy 25