1993 Donruss McDonald's Blue Jays
Description
1993 Donruss McDonald's Blue Jays is a 36-card set distributed at McDonald's restaurants in the Greater Toronto Area. Unlike the previous year's set, only Toronto Blue Jays players are included.
The design of the cards is identical to that of the 1993 Donruss set, but without borders and with the addition of a McDonald's logo on the front.
Distribution
Pack of four cards for C$0.45 with the purchase of an order of french fries or hash browns.
Reviews
Checklist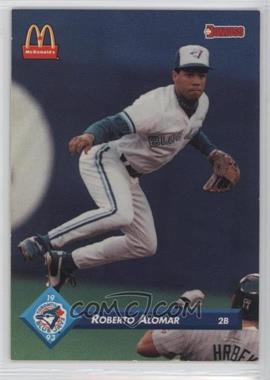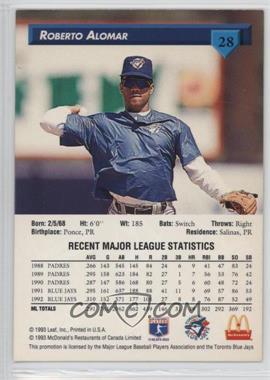 NOTE: There are two different variations of card #18 and three of #23. Any assistance in identifying these cards would be appreciated.
1 Willie Upshaw "1985 - First Title"
2 Jesse Barfield
3 Fred McGriff "1987 - Major League Home Run Record"
4 George Bell
5 Kelly Gruber
6 Ernie Whitt
7 Tom Henke "1989 - Winners Again"
8 Dave Stieb "1990 - Fist No-Hitter"
9 Jack Morris "1992 - First 20-Gamer"
10 Blue Jays Team Photo "1992-FANtastic"
11 Pat Borders / Mark McGwire "1992 - Sudden Impact"
12 Roberto Alomar "1992 The Turning Point"
13 Candy Maldonado
14 Ed Sprague
15 Bobby Cox MGR / Cito Gaston MGR
16 Devon White "The Catch"
17 Kelly Gruber / Deion Sanders
18 Roberto Alomar / Kelly Gruber ERR No "Winning Welcome"
18 Roberto Alomar / Kelly Gruber COR "Winning Welcome"
19 Kelly Gruber / Damon Berryhill "Winning Slide"
20 Jimmy Key "Final Farewell"
21 Devon White / Candy Maldonado
22 Joe Carter / Otis Nixon
23 Toronto Blue Jays COR
23 Toronto Blue Jays ERR "1992 World Champions" (J. Key pictured)
24 Cito Gaston
24 Paul Beeston
25 Pat Borders
26 Toronto Blue Jays (1992 WS victory parade)
27 John Olerud
28 Roberto Alomar
29 Ed Sprague
30 Dick Schofield
31 Devon White
32 Joe Carter
33 Darrin Jackson
34 Pat Borders
35 Paul Molitor
36 Checklist 1-36 CL