1991 Ultra Update
Description
1991 Ultra Update is a 120-card set that was distributed exclusively in factory set form along with 20 team logo stickers through hobby dealers. The set includes the year's hottest rookies and important veteran players traded after the original Ultra series was produced. Cards are ordered alphabetically within and according to teams for each league.
Compared to other 1991 baseball card sets, Ultra Update was produced in smaller quantities. Then again, there was, and still is, plenty to go around.
Rookie Cards in this set include Jeff Bagwell, Luis Gonzalez, Mike Mussina, and Ivan "Pudge" Rodriguez.
Distribution
Factory Set only
Reviews
Checklist
Base Set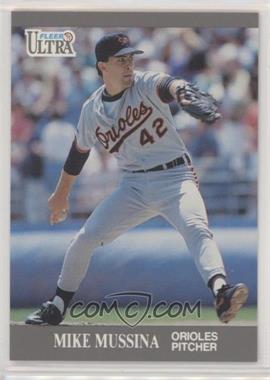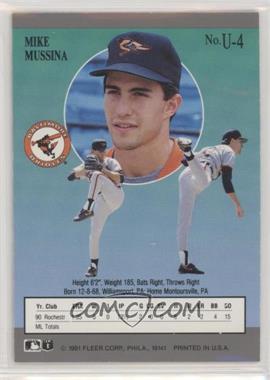 1 Dwight Evans
2 Chito Martinez RC
3 Bob Melvin
4 Mike Mussina RC
5 Jack Clark
6 Dana Kiecker
7 Steve Lyons
8 Gary Gaetti
9 Dave Gallagher
10 Dave Parker
11 Luis Polonia
12 Luis Sojo
13 Wilson Alvarez
14 Alex Fernandez
15 Craig Grebeck
16 Ron Karkovice
17 Warren Newson RC
18 Scott Radinsky
19 Glenallen Hill
20 Charles Nagy
21 Mark Whiten
22 Milt Cuyler
23 Paul Gibson
24 Mickey Tettleton
25 Todd Benzinger
26 Storm Davis
27 Kirk Gibson
28 Bill Pecota
29 Gary Thurman
30 Darryl Hamilton
31 Jaime Navarro
32 Willie Randolph
33 Bill Wegman
34 Randy Bush
35 Chili Davis
36 Scott Erickson
37 Chuck Knoblauch
38 Scott Leius
39 Jack Morris
40 John Habyan
41 Pat Kelly
42 Matt Nokes
43 Scott Sanderson
44 Bernie Williams
45 Harold Baines
46 Brook Jacoby
47 Earnest Riles
48 Willie Wilson
49 Jay Buhner
50 Rich DeLucia RC
51 Mike Jackson
52 Bill Krueger
53 Bill Swift
54 Brian Downing
55 Juan Gonzalez
56 Dean Palmer
57 Kevin Reimer
58 Ivan Rodriguez RC
59 Tom Candiotti
60 Juan Guzman RC
61 Bob MacDonald RC
62 Greg Myers
63 Ed Sprague
64 Devon White
65 Rafael Belliard
66 Juan Berenguer
67 Brian R. Hunter RC
68 Kent Mercker
69 Otis Nixon
70 Danny Jackson
71 Chuck McElroy
72 Gary Scott RC
73 Heathcliff Slocumb RC
74 Chico Walker
75 Rick Wilkins RC
76 Chris Hammond
77 Luis Quinones
78 Herm Winningham
79 Jeff Bagwell RC
80 Jim Corsi
81 Steve Finley
82 Luis Gonzalez RC
83 Pete Harnisch
84 Darryl Kile
85 Brett Butler
86 Gary Carter
87 Tim Crews
88 Orel Hershiser
89 Bob Ojeda
90 Bret Barberie RC
91 Barry Jones
92 Gilberto Reyes
93 Larry Walker
94 Hubie Brooks
95 Tim Burke
96 Rick Cerone
97 Jeff Innis
98 Wally Backman
99 Tommy Greene
100 Ricky Jordan
101 Mitch Williams
102 John Smiley
103 Randy Tomlin RC
104 Gary Varsho
105 Cris Carpenter
106 Ken Hill
107 Felix Jose
108 Omar Olivares
109 Gerald Perry
110 Jerald Clark
111 Tony Fernandez
112 Darrin Jackson
113 Mike Maddux
114 Tim Teufel
115 Bud Black
116 Kelly Downs
117 Mike Felder
118 Willie McGee
119 Trevor Wilson
120 Checklist 1-120