1990 Topps Mini Leaders
Description
1990 Topps Mini Leaders is an 88-card set featuring the statistical leaders from the 1989 season. Each card measures 2 1/8" X 3", about the same size as the 1975 Topps Minis. The design is similar to that of the 1990 Topps set, and are printed on a glossy white cardstock.
After a five-year run, this would be the final Mini Leaders set.
Distribution
36 packs per box, seven cards per pack (MSRP: $0.30).
Reviews
Checklist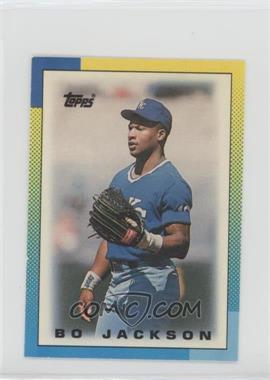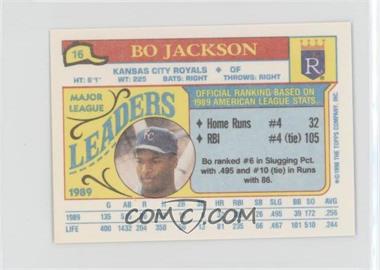 1 Jeff Ballard
2 Phil Bradley
3 Wade Boggs
4 Roger Clemens
5 Nick Esasky
6 Jody Reed
7 Bert Blyleven
8 Chuck Finley
9 Kirk McCaskill
10 Devon White
11 Ivan Calderon
12 Bobby Thigpen
13 Joe Carter
14 Gary Pettis
15 Tom Gordon
16 Bo Jackson
17 Bret Saberhagen
18 Kevin Seitzer
19 Chris Bosio
20 Paul Molitor
21 Dan Plesac
22 Robin Yount
23 Kirby Puckett
24 Don Mattingly
25 Steve Sax
26 Storm Davis
27 Dennis Eckersley
28 Rickey Henderson
29 Carney Lansford
30 Mark McGwire
31 Mike Moore
32 Dave Stewart
33 Alvin Davis
34 Harold Reynolds
35 Mike Schooler
36 Cecil Espy
37 Julio Franco
38 Jeff Russell
39 Nolan Ryan
40 Ruben Sierra
41 George Bell
42 Tony Fernandez
43 Fred McGriff
44 Dave Stieb
45 Checklist Card
46 Lonnie Smith
47 John Smoltz
48 Mike Bielecki
49 Mark Grace
50 Greg Maddux
51 Ryne Sandberg
52 Mitch Williams
53 Eric Davis
54 John Franco
55 Glenn Davis
56 Mike Scott
57 Tim Belcher
58 Orel Hershiser
59 Jay Howell
60 Eddie Murray
61 Tim Burke
62 Mark Langston
63 Tim Raines
64 Tim Wallach
65 David Cone
66 Sid Fernandez
67 Howard Johnson
68 Juan Samuel
69 Von Hayes
70 Barry Bonds
71 Bobby Bonilla
72 Andy Van Slyke
73 Vince Coleman
74 Jose DeLeon
75 Pedro Guerrero
76 Joe Magrane
77 Roberto Alomar
78 Jack Clark
79 Mark Davis
80 Tony Gwynn
81 Bruce Hurst
82 Ed Whitson
83 Brett Butler
84 Will Clark
85 Scott Garrelts
86 Kevin Mitchell
87 Rick Reuschel
88 Robby Thompson