1985 Fleer Limited Edition
Description
1985 Fleer Limited Edition is a 44-card boxed set that was distributed exclusively to McCrory's variety stores. This was Fleer's first foray into boxed sets. Each boxed set also came with a random assortment of six team logo stickers.
The design bears a striking resemblance to that year's Star Sticker set.
Distribution
Factory set only. Exclusive to McCrory's stores.
Reviews
Checklist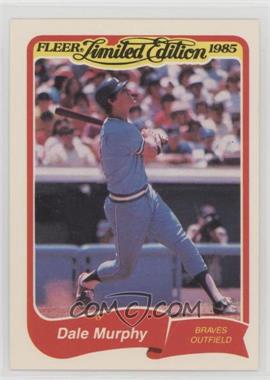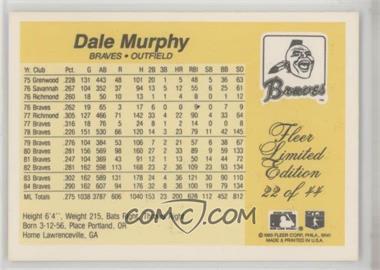 1 Buddy Bell
2 Bert Blyleven
3 Wade Boggs
4 George Brett
5 Rod Carew
6 Steve Carlton
7 Alvin Davis
8 Andre Dawson
9 Steve Garvey
10 Rich Gossage
11 Tony Gwynn
12 Keith Hernandez
13 Kent Hrbek
14 Reggie Jackson
15 Dave Kingman
16 Ron Kittle
17 Mark Langston
18 Jeff Leonard
19 Bill Madlock
20 Don Mattingly
21 Jack Morris
22 Dale Murphy
23 Eddie Murray
24 Tony Pena
25 Dan Quisenberry
26 Tim Raines
27 Jim Rice
28 Cal Ripken, Jr.
29 Pete Rose
30 Nolan Ryan
31 Ryne Sandberg
32 Steve Sax
33 Mike Schmidt
34 Tom Seaver
35 Ozzie Smith
36 Mario Soto
37 Dave Stieb
38 Darryl Strawberry
39 Rick Sutcliffe
40 Alan Trammell
41 Willie Upshaw
42 Fernando Valenzuela
43 Dave Winfield
44 Robin Yount