1985 Dallas National Collectors Convention
Description
This 12-card set was produced by the First Base Sports Nostalgia Shop of Dallas, TX to promote their unsuccessful bid to host the 1986 National Sports Collectors Convention. The set is meant to resemble the 1948 Bowman set, with it's 2" X 2 1/2" size and use of black-and-white photographs.
The first eight cards features players who were committed to appear at the show. Cards 9-11 show the proposed site, a nearby hotel, and the scoreboard of Arlington Stadium. Card #12 features the show's organizing committee -- including what is believed to be the first ever trading card of Jim Beckett.
Although the 1986 NSCC was held in Arlington, it was promoted by another group.
Distribution
Reviews
Checklist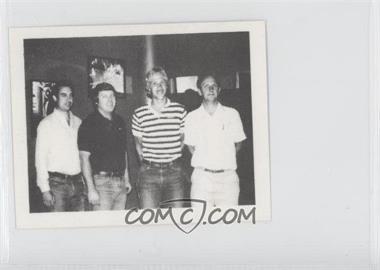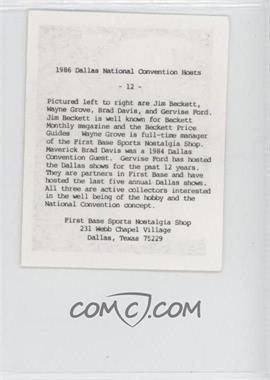 1 Stan Musial
2 Ted Williams
3 Bob Gibson
4 Brooks Robinson
5 Warren Spahn
6 Enos Slaughter
7 The Famous Chicken
8 Lou Brock
9 Market Hall
10 Arlington Stadium
11 Dallas Marriott at Market Center
12 Dr. James Beckett / Wayne Grove / Gervise Ford / Brad Davis