1985 Circle K
Description
1985 Circle K is a 33-card boxed set produced by Topps and distributed exclusively at Circle K convenience stores nationwide. Sets were printed by Topps' Irish affiliate and features the same full-color, high-gloss cardstock used in their Tiffany sets.
The set features, as of 1985, the all-time home run leaders and the set is sequentially-numbered in order. Topps could not come to an agreement with Joe DiMaggio, who was 31st on the all-time home run list in 1985. Therefore, the set is skip-numbered.
Distribution
Factory sets only. Exclusive to Circle K stores.
Reviews
Checklist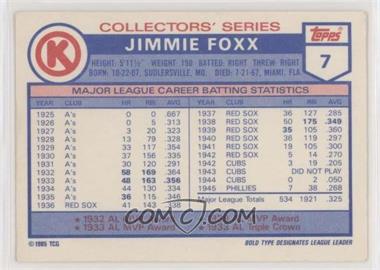 1 Hank Aaron
2 Babe Ruth
3 Willie Mays
4 Frank Robinson
5 Harmon Killebrew
6 Mickey Mantle
7 Jimmy Foxx
8 Willie McCovey
9 Ted Williams
10 Ernie Banks
11 Eddie Mathews
12 Mel Ott
13 Reggie Jackson
14 Lou Gehrig
15 Stan Musial
16 Willie Stargell
17 Carl Yastrzemski
18 Billy Williams
19 Mike Schmidt
20 Duke Snider
21 Al Kaline
22 Johnny Bench
23 Frank Howard
24 Orlando Cepeda
25 Norm Cash
26 Dave Kingman
27 Rocky Colavito
28 Tony Perez
29 Gil Hodges
30 Ralph Kiner
32 Johnny Mize
33 Yogi Berra
34 Lee May