2008 Topps Allen & Ginter World's Champion
Description
2008 Topps Allen & Ginter World's Champion is a 351-card set released July 22nd, 2008. Each eight-card Hobby pack contains a mini-sized insert or parallel. Each 24-pack Hobby box contains two of the following: Framed Autograph, Framed Relic, Framed Printing Plate, Framed Allen & Ginter Original buyback. Every sealed Hobby box will also contain either a Cabinet or N-43 boxtopper.
A base card of Kosuke Fukudome (the "flavor-of-the-month" rookie of 2008) was added to the base set late in the production run. The card is not sequentially-numbered and is short-printed; but produced in roughly the same quantities as the 50 other base cards (cards #301-#350) that are short prints. The "NNO" Fukudome is only available as a base card and NOT in any of the parallels.
Distribution
Hobby: 24 packs plus one boxloader per box, eight cards per pack. Eight boxes per case.
Reviews
Insertion Ratios
Cards
Total Cards
Numbered To
Hobby Odds
Retail Odds
Base
351
-
?
?
short set
300
-
?
?
SPs
51
-
1:2
1:2
Mini short set
300
-
?
?
Mini SPs
50
-
1:13
1:13
Mini A&G Back
300
-
1:5
N/A
Mini A&G Back SPs
50
-
1:65
N/A
Mini Black
300
-
1:10
N/A
Mini Black SPs
50
-
1:130
N/A
Mini NNO
350
50
1:151
N/A
Mini Bazooka
350
25
1:301
N/A
Mini Framed Cloth
350
10
1:439
N/A
Mini Wood
350
one-of-one
1:4395
N/A
Mini Framed Printing Plates
350
four for each
1:961
N/A
United States
50
-
one-per-pack
one-per-pack
World's Greatest Victories
20
-
1:24
1:24
Dick Perez Original Sketches
30
one-of-one
?
?
Mini World Leaders
50
-
1:12
1:12
Mini Ancient Icons
20
-
1:48
1:48
Mini Baseball Icons
17
-
1:48
1:48
Mini Team Orange
10
-
1:144
?
Mini Pioneers of Aviation
5
-
?
?
Mini World's Deadliest Sharks
5
-
?
?
Rip Cards
100
varies
1:189
?
N-43
15
-
1:3/boxes
N/A
Cabinet Boxloaders
10
-
1:3/boxes
N/A
Framed Relics
114
-
varies
varies
DNA Relics
13
one-of-one
1:203,317
N-43 Relics
10
25
1:256/boxes
N/A
Framed Autographs
58
-
varies
varies
Red Ink Autographs
58
10
varies
varies
N-43 Autographs
10
15
1:428/boxes
N/A
Cabinet Boxloader Autograph
1
200
1:322/boxes
N/A
Framed Autographed Relics
1
100
1:26,431
?
N-43 Relics Autographs
5
5
1:2565/boxes
N/A
Cut Signatures
20
one-of-one
1:138,500
?
Framed Allen & Ginter Originals
?
?
1:26,500
N/A
Checklist
Base Set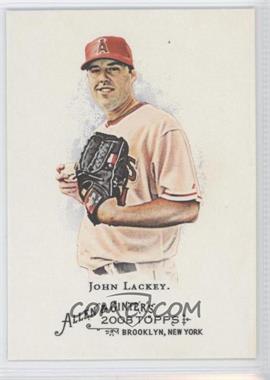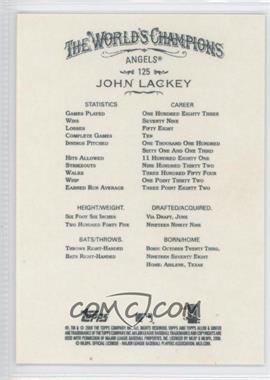 1 Alex Rodriguez
2 Juan Pierre
3 Benjamin Franklin
4 Roy Halladay
5 C.C. Sabathia
6 Brian Barton RC
7 Mickey Mantle
8 Brian Bass (RC)
9 Ian Kinsler
10 Manny Ramirez
11 Michael Cuddyer
12 Ian Snell
13 Mike Lowell
14 Adrian Gonzalez
15 B.J. Upton
16 Hiroki Kuroda RC
17 Kenji Johjima
18 James Loney
19 Albert Einstein
20 Vladimir Guerrero
21 Miguel Tejada
22 Chin-Lung Hu (RC)
23 A.J. Burnett
24 Bobby Jenks
25 Aramis Ramirez
26 Corey Hart
27 Brad Hawpe
28 Adam LaRoche
29 Empire State Building
30 Miguel Cabrera
31 Ryan Zimmerman
32 Mark Ellis
33 Nick Swisher
34 Bill Hall
35 Eric Byrnes
36 Michael Young
37 Pedro Martinez
38 Andruw Jones
39 J.R. Towles RC
40 Justin Upton
41 Paul Konerko
42 Luke Scott
43 Rickie Weeks
44 Adam Wainright
45 Justin Morneau
46 Chris Young
47 Chad Billingsley
48 Kazuo Matsui
49 Shane Victorino
50 Albert Pujols
51 Brian McCann
52 Carlos Delgado
53 Chien-Ming Wang
54 Takashi Saito
55 Josh Beckett
56 Nick Johnson
57 Ben Sheets
58 Johnny Damon
59 Nicky Hayden
60 Prince Fielder
61 Adam Dunn
62 Dustin Pedroia
63 Jacoby Ellsbury
64 Brad Penny
65 Victor Martinez
66 Joe Mauer
67 Kevin Kouzmanoff
68 Frank Thomas
69 Stevie Williams
70 Matt Holliday
71 Fausto Carmona
72 Clayton Kershaw RC
73 Tadahito Iguchi
74 Khalil Greene
75 Travis Hafner
76 Jim Thome
77 Joba Chamberlain
78 Ivan Rodriguez
79 Jose Guillen
80 Hanley Ramirez
81 Vernon Wells
82 Jayson Nix (RC)
83 Masahide Kobayashi RC
84 Bonnie Blair
85 Curtis Granderson
86 Kelvim Escobar
87 Aaron Rowand
88 Troy Glaus
89 Billy Wagner
90 Jose Reyes
91 Scott Rolen
92 Dan Jansen
93 David Eckstein
94 Tom Gorzelanny
95 Garret Atkins
96 Carlos Zambrano
97 Jeff Francis
98 Kazuo Fukumori RC
99 John Bowker (RC)
100 David Wright
101 Adrian Beltre
102 Ray Durham
103 Kerri Strug
104 Orlando Hudson
105 Jonathan Papelbon
106 Brian Schneider
107 Matt Biondi
108 Alex Romero (RC)
109 Joey Chestnut
110 Chase Utley
111 Dan Uggla
112 Akinori Iwamura
113 Curt Schilling
114 Trevor Hoffman
115 Alex Rios
116 Mariano Rivera
117 Jeff Niemann (RC)
118 Geovany Soto
119 Billy Mitchell
120 Derek Jeter
121 Yovani Gallardo
122 The Gateway Arch
123 Josh Willingham
124 Greg Maddux
125 John Lackey
126 Chris Young
127 Billy Butler
128 Golden Gate Bridge
129 Joey Votto (RC)
130 Tim Wakefield
131 Todd Helton
132 Gary Matthews
133 Wild Bill Hickok
134 Jason Varitek
135 Robinson Cano
136 Javier Vazquez
137 Annie Oakley
138 Andy Pettitte
139 Greg Reynolds RC
140 Jimmy Rollins
141 Jermaine Dye
142 Eugenio Velez RC
143 J.J. Hardy
144 Grand Canyon
145 Bobby Abreu
146 Scott Kazmir
147 James Fenimore Cooper
148 Mark Buehrle
149 Freddy Sanchez
150 Johan Santana
151 Orlando Cabrera
152 Lyle Overbay
153 Clay Buchholz (RC)
154 Jesse Carlson RC
155 Troy Tulowitzki
156 Delmon Young
157 Ross Ohlendorf RC
158 Mary Shelley
159 James Shields
160 Alfonso Soriano
161 Randy Winn
162 Austin Kearns
163 Jeremy Hermida
164 Jorge Posada
165 Justin Verlander
166 Bram Stoker
167 Marie Curie
168 Melky Cabrera
169 Howie Kendrick
170 Jake Peavy
171 J.D. Drew
172 Pablo Picasso
173 Rick Ankiel
174 Jose Valverde
175 Chipper Jones
176 Claude Monet
177 Evan Longoria RC
178 Jose Vidro
179 Hideki Matsui
180 Ryan Braun
181 Moises Alou
182 Nate McLouth
183 Harriet Tubman
184 Felix Hernandez
185 Carlos Pena
186 Jarrod Saltalamacchia
187 Les Miles
188 Kelly Johnson
189 "Rampage" Jackson
190 Grady Sizemore
191 Francisco Cordero
192 Yunel Escobar
193 Edwin Encarnacion
194 Melvin Mora
195 Russ Martin
196 Edgar Renteria
197 Bigfoot
198 Steve Holm RC
199 Daric Barton (RC)
200 David Ortiz
201 Tim Lincecum
202 Jeff King
203 Jhonny Peralta
204 Julio Lugo
205 J.J. Putz
206 Jeff Francoeur
207 Yuniesky Betancourt
208 Bruce Jenner
209 Clete Thomas RC
210 Carlos Lee
211 Josh Hamilton
212 Pyotr Ilyich Tchaikovsky
213 Brendan Harris
214 Dustin McGowan
215 Aaron Harang
216 Brett Myers
217 Friedrich Nietzsche
218 John Maine
219 Charles Dickens
220 Erik Bedard
221 Tim Hudson
222 Jeremy Bonderman
223 Nyjer Morgan (RC)
224 Johnny Cueto RC
225 Roy Oswalt
226 Rich Hill
227 Frederick Douglass
228 Derek Lowe
229 Joe Blanton
230 Carlos Beltran
231 Huston Street
232 Davy Crockett
233 Pluto
234 Jered Weaver
235 Dan Haren
236 Alex Gordon
237 Zack Grienke
238 Todd Clever
239 Brian Bannister
240 Magglio Ordonez
241 Ryan Garko
242 Takudzwa Ngwenya
243 Gil Meche
244 Mark Teahen
245 Carlos Guillen
246 Jeff Kent
247 Lisa Leslie
248 Lastings Milledge
249 Serena Williams
250 Ichiro
251 Matt Cain
252 Callix Crabbe (RC)
253 Nick Blackburn RC
254 Hunter Pence
255 Cole Hamels
256 Garret Anderson
257 Luis Gonzalez
258 Eric Chavez
259 Francisco Rodriguez
260 Mark Teixeira
261 Bob Motley
262 Mark Spitz
263 Yadier Molina
264 Adam Jones
265 Brian Roberts
266 Matt Kemp
267 Andrew Miller
268 Dean Karnazes
269 Gary Sheffield
270 Lance Berkman
271 Paul Lo Duca
272 Matt Tolbert RC
273 Jay Bruce (RC)
274 John Smoltz
275 Nick Markakis
276 Oscar Wilde
277 Dontrelle Willis
278 Kevin Van Dam
279 Jim Edmonds
280 Brandon Webb
281 Joe Nathan
282 Jeanette Lee
283 Andrew "William Ocean" Litz
284 Daisuke Matsuzaka
285 Brandon Phillips
286 Pat Burrell
287 Chris Carpenter
288 Pete Weber
289 Derrek Lee
290 Ken Griffey, Jr.
291 Rich Thompson RC
292 Elijah Dukes
293 Pedro Feliz
294 Torii Hunter
295 Chone Figgins
296 Hideki Okajima
297 Max Scherzer RC
298 Greg Smith RC
299 Rafael Furcal
300 Ryan Howard
301 Felix Pie SP
302 Brad Lidge SP
303 Jason Bay SP
304 Victor Hugo SP
305 Randy Johnson SP
306 Carlos Gomez SP
307 Pat Neshek SP
308 Jed Lowrie SP (RC)
309 Ryan Church SP
310 Michael Bourn SP
311 B.J. Ryan SP
312 Brandon Wood SP
313 Harriet Beecher Stowe SP
314 Mike Cameron SP
315 Tom Glavine SP
316 Ervin Santana SP
317 Geoff Jenkins SP
318 Andre Ethier SP
319 Jason Giambi SP
320 Dmitri Young SP
321 Wily Mo Pena SP
322 Hank Blalock SP
323 James Bowie SP
324 Casey Kotchman SP
325 Stephen Drew SP
326 Adam Kennedy SP
327 A.J. Pierzynski SP
328 Richie Sexson SP
329 Jeff Clement SP (RC)
330 Luke Hochevar SP RC
331 Luis Castillo SP
332 Dave Roberts SP
333 Coco Crisp SP
334 Jo-Jo Reyes SP
335 Phil Hughes SP
336 Allen Fisher SP
337 Jason Schmidt SP
338 Placido Polanco SP
339 Jack Cust SP
340 Carl Crawford SP
341 Ty Wigginton SP
342 Aubrey Huff SP
343 Bengie Molina SP
344 Matt Diaz SP
345 Francisco Liriano SP
346 Brandon Boggs SP (RC)
347 David DeJesus SP
348 Justin Masterson SP RC
349 Frank Morris SP
350 Kevin Youkilis SP
NNO Kosuke Fukudome SP
Parallels
Minis
All 350 base cards (except the NNO Fukudome) are available in the following mini-sized parallels.
Mini
A & G Back
Black-Bordered
No Number (announced print run of 50 copies)
Bazooka Back (serial-numbered to 25 copies)
Framed Cloth (serial-numbered to ten)
Wood (one-of-one)
Framed Printing Plates (set of four for each card)
Mini Exclusives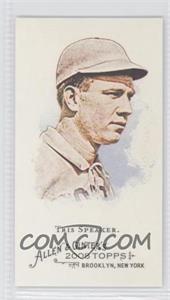 Mini Exclusives are sequentially-numbered as an extension of the Mini parallel set, and are only available embedded inside Rip Cards (see below). A one-of-one Wood parallel is also available, although Wood Minis pulled from Rip Cards lack the 1/1 hand numbering of their pack-pulled counterparts.
351 Prince Fielder
352 Justin Upton
353 Russell Martin
354 Cy Young
355 Hanley Ramirez
356 Grady Sizemore
357 David Ortiz
358 Dan Haren
359 Honus Wagner
360 Albert Pujols
361 Hiroki Kuroda
362 Evan Longoria
363 Tris Speaker
364 Josh Hamilton
365 Johan Santana
366 Derek Jeter
367 Jake Peavy
368 Troy Glaus
369 Nick Swisher
370 George Sisler
371 Ichiro
372 Mark Teixeira
373 Justin Verlander
374 Jackie Robinson
375 Vladimir Guerrero
376 Delmon Young
377 Lou Gehrig
378 Tim Lincecum
379 Ryan Zimmerman
380 David Wright
381 Matt Holliday
382 Jose Reyes
383 Christy Mathewson
384 Hunter Pence
385 Chase Utley
386 Daisuke Matsuzaka
387 Miguel Cabrera
388 Torii Hunter
389 Carlos Zambrano
390 Alex Rodriguez
391 Victor Martinez
392 Justin Morneau
393 Carlos Beltran
394 Ryan Braun
395 Alfonso Soriano
396 Joba Chamberlain
397 Nick Markakis
398 Ty Cobb
399 B.J. Upton
400 Ryan Howard
Inserts
Cabinet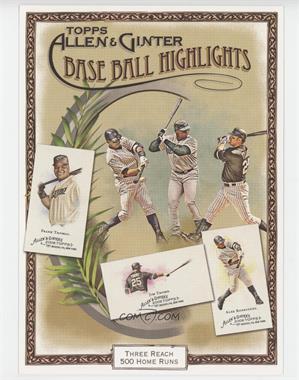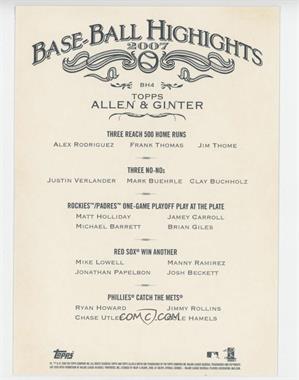 BH1 Matt Holliday / Jamey Carroll / Michael Barrett / Brian Giles "Rockies / Padres One-Game Playoff Play at the Plate"
BH2 Mike Lowell / Manny Ramirez / Jonathan Papelbon / Josh Beckett "Red Sox Win Another"
BH3 Ryan Howard / Jimmy Rollins / Chase Utley / Cole Hamels "Phillies Catch The Mets"
BH4 Alex Rodriguez / Frank Thomas / Jim Thome "Three Reach 500 Homers"
BH5 Justin Verlander / Mark Buehrle / Clay Buchholz "Three No-Nos"
HB1 George Washington / Nathanael Greene "Battle of Trenton"
HB2 Horatio Gates / John Burgoyne "Battle of Saratoga"
HB3 George Meade / Robert E. Lee "Battle of Gettysburg"
HB4 William B. Travis / James Bowie / Davy Crockett / Antonio Lopez de Santa Anna "Battle of The Alamo"
HB5 Dwight Eisenhower / Bernard Montgomery "D-Day"
N-43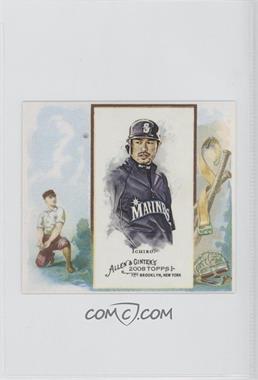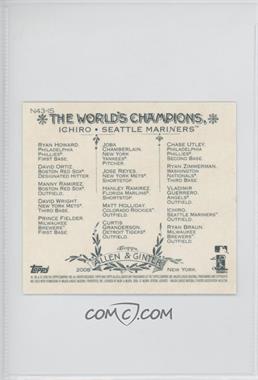 N43-CG Curtis Granderson
N43-CU Chase Utley
N43-DO David Ortiz
N43-DW David Wright
N43-HR Hanley Ramirez
N43-IS Ichiro
N43-JC Joba Chamberlain
N43-JR Jose Reyes
N43-MH Matt Holliday
N43-MR Manny Ramirez
N43-PF Prince Fielder
N43-RB Ryan Braun
N43-RH Ryan Howard
N43-RZ Ryan Zimmerman
N43-VG Vladimir Guerrero
World Leaders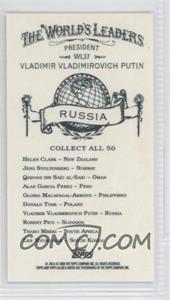 WL1 Cristina Fernandez de Kirchner
WL2 Kevin Rudd
WL3 Guy Verhofstadt
WL4 Luiz Inacio Lula da Silva
WL5 Stephen Harper
WL6 Michelle Bachelet Jeria
WL7 Oscar Arias Sanchez
WL8 Mirek Topolanek
WL9 Anders Fogh Rasmussen
WL10 Leonel Fernandez Reyna
WL11 Mohamed Hosni Mubarak
WL12 Tarja Halonen
WL13 Nicolas Sarkozy
WL14 Yahya A.J.J. Jammeh
WL15 Angela Merkel
WL16 Konstandinos Karamanlis
WL17 Benedict XVI
WL18 Geir H. Haarde
WL19 Manmohan Singh
WL20 Susilo Bambang Yudhoyono
WL21 Bertie Ahern
WL22 Ehud Olmert
WL23 Bruce Golding
WL24 Yasuo Fukuda
WL25 Mwai Kibaki
WL26 Felipe de Jesus Calderon Hinojosa
WL27 Sanjaa Bayar
WL28 Armando Guebuza
WL29 Girija Prasad Koirala
WL30 Jan Peter Balkenede
WL31 Helen Clark
WL32 Jens Stoltenberg
WL33 Qaboos bin Said al-Said
WL34 Alan Garcia Perez
WL35 Gloria Macapagal-Arroyo
WL36 Donald Tusk
WL37 Vladimir Vladimirovich Putin
WL38 Robert Fico
WL39 Thabo Mbeki
WL40 Lee Myung-bak
WL41 Jose Luis Rodriguez Zapatero
WL42 Fredrik Reinfeldt
WL43 Pascal Couchepin
WL44 Jakaya Kikwete
WL45 Samak Sundavavej
WL46 Tenzin Gyatso
WL47 Patrick Manning
WL48 Gordon Brown
WL49 George W. Bush
WL50 Nguyen Tan Dung
World's Deadliest Sharks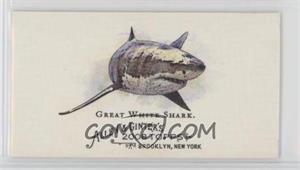 WDS1 Great White Shark
WDS2 Tiger Shark
WDS3 Bull Shark
WDS4 Oceanic Whitetip Shark
WDS5 Mako Shark
Ancient Icons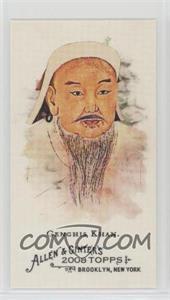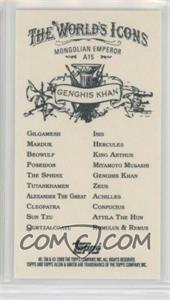 A1 Gilgamesh
A2 Marduk
A3 Beowulf
A4 Poseidon
A5 The Sphinx
A6 Tutankhamen
A7 Alexander the Great
A8 Cleopatra
A9 Sun Tzu
A10 Quetzalcoatl
A11 Isis
A12 Hercules
A13 King Arthur
A14 Miyamoto Musashi
A15 Genghis Khan
A16 Zeus
A17 Achilles
A18 Confucius
A19 Attila the Hun
A20 Romulus & Remus
Dick Perez Original Sketches
Each Dick Perez Original Sketch is embedded inside a Rip Card. Each is a one-of-one.
DP1 Justin Upton
DP2 Russ Martin
DP3 Ryan Braun
DP4 Victor Martinez
DP5 Hiroki Kuroda
DP6 Mark Teixeira
DP7 Mickey Mantle
DP8 Evan Longoria
DP9 Matt Holliday
DP10 B.J. Upton
DP11 Scott Rolen
DP12 Hideki Matsui
DP13 Frank Thomas
DP14 Carlos Zambrano
DP15 Clay Buchholz
DP16 John Smoltz
DP17 Magglio Ordonez
DP18 Cole Hamels
DP19 Brandon Phillips
DP20 Dontrelle Willis
DP21 Erik Bedard
DP22 Fausto Carmona
DP23 Jorge Posada
DP24 Troy Glaus
DP25 Jonathan Papelbon
DP26 Aaron Rowand
DP27 Adrian Gonzalez
DP28 Francisco Liriano
DP29 Carl Crawford
DP30 Robinson Cano
Baseball Icons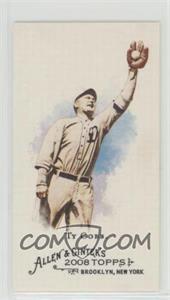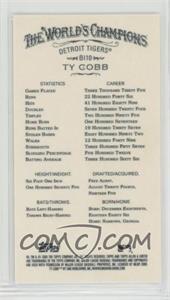 BI1 Cy Young
BI2 Walter Johnson
BI3 Jackie Robinson
BI4 Thurman Munson
BI5 Mel Ott
BI6 Honus Wagner
BI7 Pee Wee Reese
BI8 Tris Speaker
BI9 Christy Mathewson
BI10 Ty Cobb
BI11 Johnny Mize
BI12 Jimmie Foxx
BI13 Lou Gehrig
BI14 Roy Campanella
BI15 George Sisler
BI16 Rogers Hornsby
BI17 Babe Ruth
Rip Cards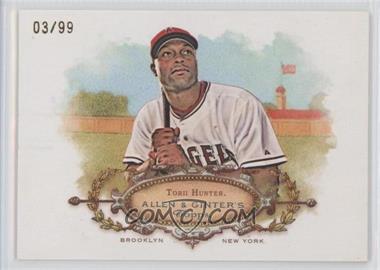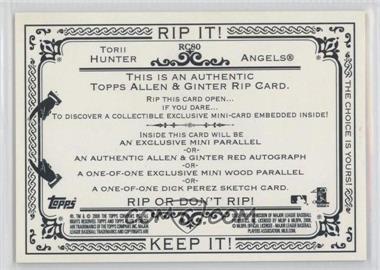 Each Rip Card is serial-numbered to the production figures listed below. Embedded inside each Rip Card is one of the following.
Mini Exclusive
Mini Exclusive Wood parallel (one-of-one)
Dick Perez Original Sketch (one-of-one)
Red Ink Autograph (hand-numbered to ten)
RC1 Erik Bedard 99
RC2 Jacoby Ellsbury 75
RC3 Chris Carpenter 99
RC4 Brandon Phillips 99
RC5 Daric Barton 99
RC6 Brian McCann 99
RC7 Mickey Mantle 10
RC8 Dan Uggla 75
RC9 James Loney 99
RC10 James Shields 99
RC11 Curtis Granderson 75
RC12 Jason Bay 99
RC13 Alex Gordon 75
RC14 Travis Hafner 99
RC15 Derek Jeter 28
RC16 Pedro Feliz 99
RC17 Thurman Munson 50
RC18 Grady Sizemore 75
RC19 Alex Rios 99
RC20 David Ortiz 50
RC21 Walter Johnson 28
RC22 Scott Rolen 99
RC23 John Smoltz 99
RC24 Mel Ott 28
RC25 Ryan Howard 50
RC26 Hiroki Kuroda 99
RC27 Johnny Damon 99
RC28 Jose Reyes 75
RC29 Felix Hernandez 99
RC30 John Lackey 99
RC31 Albert Pujols 10
RC32 Mark Teixeira 99
RC33 Jim Edmonds 99
RC34 Prince Fielder 50
RC35 Brian Bannister 99
RC36 Chipper Jones 50
RC37 Edgar Renteria 99
RC38 Roy Campanella 50
RC39 Troy Tulowitzki 99
RC40 Adam LaRoche 99
RC41 Phil Hughes 99
RC42 Pee Wee Reese 50
RC43 Adam Jones 99
RC44 Huston Street 99
RC45 Cliff Lee 99
RC46 Delmon Young 99
RC47 Joe Mauer 99
RC48 Johan Santana 28
RC49 Dmitri Young 99
RC50 Todd Helton 99
RC51 Carlos Beltran 75
RC52 J.J. Putz 99
RC53 Carlos Lee 99
RC54 Billy Butler 99
RC55 Miguel Cabrera 99
RC56 Derrek Lee 99
RC57 Alfonso Soriano 75
RC58 Cole Hamels 99
RC59 Hanley Ramirez 75
RC60 Adrian Gonzalez 99
RC61 B.J. Upton 99
RC62 Tim Lincecum 75
RC63 Gary Matthews, Jr. 99
RC64 Justin Upton 75
RC65 Zack Greinke 99
RC66 Roy Oswalt 75
RC67 Jimmy Rollins 28
RC68 Miguel Tejada 99
RC69 Clay Buchholz 99
RC70 Andruw Jones 99
RC71 Chase Utley 75
RC72 Aaron Rowand 99
RC73 Johnny Mize 50
RC74 Jonathan Papelbon 75
RC75 Jarrod Saltalamacchia 99
RC76 Lance Berkman 50
RC77 Vernon Wells 99
RC78 Dontrelle Willis 99
RC79 Jim Thome 99
RC80 Torii Hunter 99
RC81 Russ Martin 75
RC82 Jake Peavy 99
RC83 Carlos Zambrano 99
RC84 Troy Glaus 99
RC85 Ryan Zimmerman 75
RC86 Evan Longoria 75
RC87 Yovani Gallardo 99
RC88 Jimmie Foxx 10
RC89 Josh Hamilton 75
RC90 Matt Holliday 50
RC91 Matt Cain 99
RC92 Francisco Cordero 99
RC93 Derek Lowe 99
RC94 Brandon Webb 75
RC95 Carlos Pena 99
RC96 Ichiro 10
RC97 Khalil Greene 99
RC98 Rogers Hornsby 10
RC99 CC Sabathia 75
RC100 Victor Martinez 99
World's Greatest Victories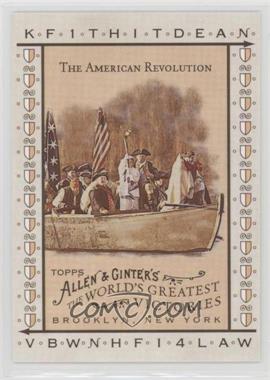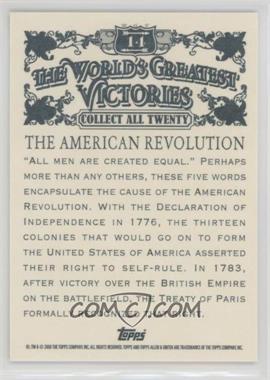 The World's Greatest Victories insert, along with the unannounced Mini Team Orange cards, play a role in the Ginter Code promotion. Jason Wong, a collector from Annapolis, MD, was the first to solve the Ginter Code, and made an appearance in 2009 Topps Allen & Ginter.
For information on how Wong used the World's Greatest Victories cards to solve the Ginter Code, click click here.
WGV1 Kerri Strug
WGV2 Mark Spitz
WGV3 Jonas Salk
WGV4 Man Walks on the Moon
WGV5 Jon Lester
WGV6 The Fall of Berlin Wall
WGV7 David and Goliath
WGV8 Gary Carter and the '86 Mets
WGV9 The Battle of Gettysburg
WGV10 Deep Blue
WGV11 The Allied Forces
WGV12 Don Larsen
WGV13 Truman Defeats Dewey
WGV14 The American Revolution
WGV15 2004 ALCS
WGV16 The Battle of Thermopylae
WGV17 Brown v. Board of Education
WGV18 Team Orange
WGV19 Bill Mazeroski
WGV20 Cinderella
United States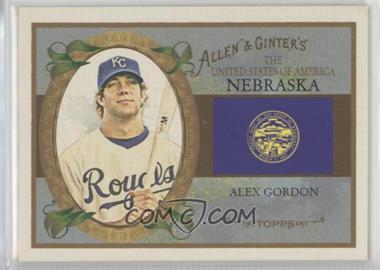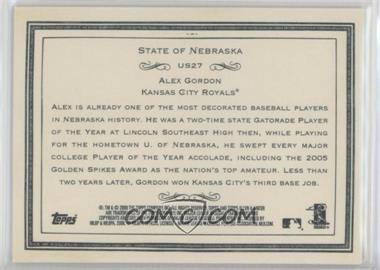 This set, which is printed on a thicker gauge of cardstock and doubles as an anti-pack searching device, features the best active player from all 50 U.S. States.
US1 Alex Rios
US2 Curt Schilling
US3 Brian Bannister
US4 Torii Hunter
US5 Chase Utley
US6 Roy Halladay
US7 Brad Ausmus
US8 Ian Snell
US9 Lastings Milledge
US10 Nick Markakis
US11 Shane Victorino
US12 Jason Schmidt
US13 Curtis Granderson
US14 Scott Rolen
US15 Casey Blake
US16 Nate Robertson
US17 Brandon Webb
US18 Jonathan Papelbon
US19 Tim Stauffer
US20 Mark Teixeira
US21 Chris Capuano
US22 Jason Varitek
US23 Joe Mauer
US24 Dmitri Young
US25 Ryan Howard
US26 Taylor Tankersley
US27 Alex Gordon
US28 Barry Zito
US29 Chris Carpenter
US30 Derek Jeter
US31 Cody Ross
US32 Alex Rodriguez
US33 Ryan Zimmerman
US34 Travis Hafner
US35 Nick Swisher
US36 Matt Holliday
US37 Jacoby Ellsbury
US38 Ken Griffey, Jr.
US39 Paul Konerko
US40 Orlando Hudson
US41 Mark Ellis
US42 Todd Helton
US43 Adam Dunn
US44 Brandon Lyon
US45 Daric Barton
US46 David Wright
US47 Grady Sizemore
US48 Seth McClung
US49 Pat Neshek
US50 John Buck
Team Orange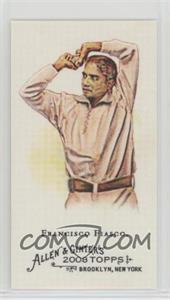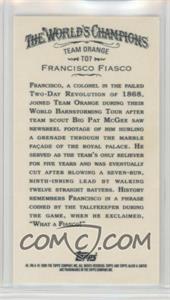 This previously unannounced insert features ten members of a fictional 19th Century baseball team. This set, along with the World's Greatest Victories set, play a role in the Ginter Code promotion.
The photos are of Topps employees in disguise.
TO1 Cornelius Franks
TO2 Mittens McCluskey
TO3 Capt. WP Mantooth
TO4 Wheelbarrow Walker
TO5 Archibald Clinker
TO6 Minty Beans
TO7 Francisco Fiasco
TO8 Thurgood Cartwright IV
TO9 Enzo DiStubbs
TO10 Sir Wagonwheel Stevens
Pioneers of Aviation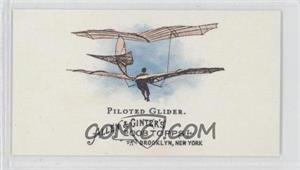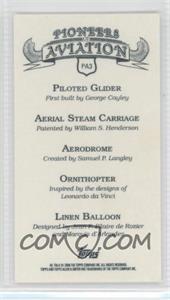 PA1 Ornithopter
PA2 Linen Balloon
PA3 Piloted Glider
PA4 Aerial Steam Carriage
PA5 Aerodrome
National Convention VIP Set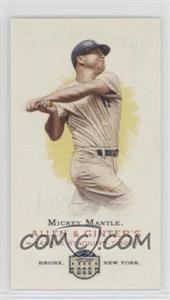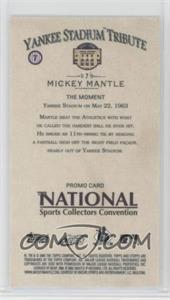 This six-card set was given to attendees of the 2008 National Sports Collectors Convention in Rosemont, IL who purchased a "VIP" package. Designed to commemorate the greatest moments in the history of Yankee Stadium, all cards have a "Yankee Stadium 1923-2008" logo on the front. It has been estimated that while 2500 sets were printed by Topps, only about 900 of the VIP packages were actually purchased.
NOTE: These same seven cards (along with four additional cards) were also made in an eTopps version.
1 Babe Ruth
2 Lou Gehrig
3 Jackie Robinson
4 Don Larsen
5 Johnny Unitas
6 Roger Maris
7 Mickey Mantle
Hawaii Trade Conference
These cards were distributed to attendees of the annual Hawaii Trade Conference (which in 2008, actually took place in Phoenix, AZ). Each card has the HTC logo on the back, and is serial-numbered to 30 copies.
1 Roy Campanella
2 Ty Cobb
3 Jimmie Foxx
4 Lou Gehrig
5 Rogers Hornsby
6 Walter Johnson
7 Christy Mathewson
8 Johnny Mize
9 Thurman Munson
10 Mel Ott
11 Pee Wee Reese
12 Jackie Robinson
13 George Sisler
14 Tris Speaker
15 Honus Wagner
16 Cy Young
Autographs & Game-Used
Allen & Ginter N-43 Autographs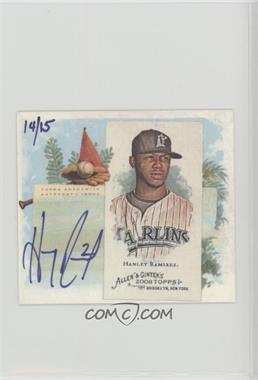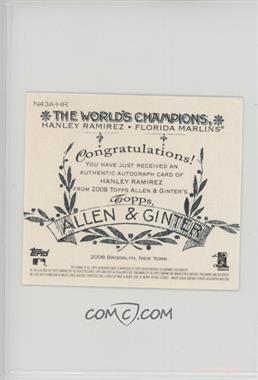 Each N-43 Autograph is serial-numbered to 15 copies.
N43A-CG Curtis Granderson
N43A-DO David Ortiz
N43A-DW David Wright
N43A-HR Hanley Ramirez
N43A-JC Joba Chamberlain EXCH
N43A-JR Jose Reyes
N43A-MH Matt Holliday
N43A-MR Manny Ramirez
N43A-PF Prince Fielder
N43A-RH Ryan Howard
Cabinet Autograph
This "autograph" features an imprint of the tire-tread of Bigfoot, the famed monster truck. 200 copies of this card were made.
N-43 Relics
Each N-43 Relic is serial-numbered to 25 copies.
N43R-CU Chase Utley
N43R-DW David Wright
N43R-HR Hanley Ramirez
N43R-IS Ichiro
N43R-JR Jose Reyes
N43R-PF Prince Fielder
N43R-RB Ryan Braun
N43R-RH Ryan Howard
N43R-RZ Ryan Zimmerman
N43R-VG Vladimir Guerrero
Framed Autographs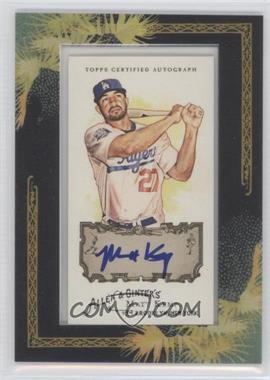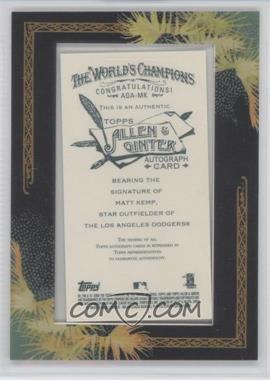 The odds of finding a Framed Autograph are as follows.
Group A: 1:277/packs
Group B: 1:256/packs
Group C: 1:135/packs
The production figures of each Group A card were released by Topps shortly after Allen & Ginter's release, however the cards are NOT serial-numbered.
Each card is also available in a Red Ink parallel, which is hand-numbered to ten.
AGA-AE Andre Ethier C
AGA-AF Andrea Farina A 190
AGA-AFI Allen Fisher A 190
AGA-AIR Alex Rios B
AGA-AL Andrew "William Ocean" Litz A 190
AGA-AM Adriano Moraes A EXCH 190
AGA-BB Bonnie Blair A 190
AGA-BJ Bruce Jenner A 190
AGA-BM Bob Motley A 190
AGA-BP Brad Penny A 240
AGA-BPB Brian Bannister C
AGA-BPM Billy Mitchell A 190
AGA-CB Clay Buchholz B
AGA-CC Carl Crawford A 240
AGA-CG Curtis Granderson B
AGA-DB Deep Blue A (signed as "Murray Campbell") 190
AGA-DJ Dan Jansen A 190
AGA-DK Dean Karnazes A 190
AGA-DO David Ortiz A 90
AGA-DW David Wright A 240
AGA-ES Ervin Santana C
AGA-FC Francisco Cordero C EXCH
AGA-FCC Fausto Carmona C
AGA-FM Frank Morris A 190
AGA-GJ Geoff Jenkins B
AGA-HP Hunter Pence A 90
AGA-HR Hanley Ramirez A 240
AGA-IK Ian Kinsler C
AGA-JBF Jeff Francoeur C
AGA-JC Joba Chamberlain B
AGA-JF Jeff Francis B
AGA-JJC Joey Chestnut A 190
AGA-JK Jeff King A EXCH 190
AGA-JL Jeanette Lee A 190
AGA-JR Jose Reyes A 90
AGA-JS Jarrod Saltalamacchia C
AGA-KS Kerri Strug A 190
AGA-KVD Kevin Van Dam A 190
AGA-LL Lisa Leslie A 190
AGA-LM Les Miles A 190
AGA-MB Matt Biondi A 190
AGA-MK Matt Kemp B
AGA-MR Manny Ramirez A 90
AGA-MS Mark Spitz A 190
AGA-MTH Matt Holliday A 90
AGA-NH Nicky Hayden A 240
AGA-NM Nick Markakis B
AGA-OH Orlando Hudson B
AGA-PF Prince Fielder A 90
AGA-PW Pete Weber A 190
AGA-RH Ryan Howard A 90
AGA-RJ "Rampage" Jackson A 190
AGA-SJW Serena Williams A 190
AGA-SW Stevie Williams A 240
AGA-TC Todd Clever A 190
AGA-TH Torii Hunter A 240
AGA-TLH Travis Hafner A 240
AGA-TN Takudzwa Ngwenya A 190
Framed Relics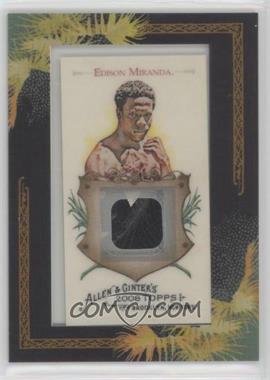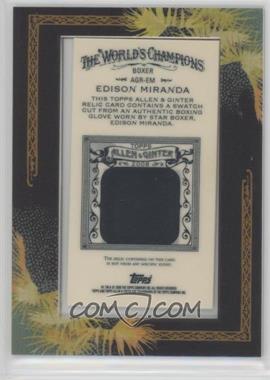 The odds of finding a Framed Relic are as follows.
Group A: 1:280/packs
Group B: 1:71/packs
Group C: 1:20/packs
Autographed Relic: 1:26,431 (hand-numbered to ten)
The production figures of each Group A card were released by Topps shortly after Allen & Ginter's release, however the cards are NOT serial-numbered.
AGR-AD1 Adam Dunn JSY
AGR-AD2 Adam Dunn BAT
AGR-AER Alex Rodriguez BAT A
AGR-AF Andrea Farina A 250
AGR-AFI Allen Fisher A 250
AGR-AIR Alex Rios BAT B
AGR-AJP A.J. Pierzynski JSY C
AGR-AK Austin Kearns BAT B
AGR-AL Andrew "William Ocean" Litz A 250
AGR-AM Archie Moore A 100
AGR-AP1 Albert Pujols JSY
AGR-AP2 Albert Pujols BAT
AGR-APB Aaron Pryor A 100
AGR-AR Aramis Ramirez JSY B
AGR-ASM Adriano Moraes A 250
AGR-ATK Adam Kennedy JSY C
AGR-AW Andre Ward A 100
AGR-BA Bobby Abreu BAT B
AGR-BB Bonnie Blair A 250
AGR-BC Bobby Crosby JSY C
AGR-BF Bigfoot A 250
AGR-BH Brad Hawpe JSY C
AGR-BJ Bruce Jenner A 250
AGR-BM Billy Mitchell A 250
AGR-BMM Brad McCann JSY C
AGR-BR1 Brian Roberts JSY
AGR-BR2 Brian Roberts BAT
AGR-CAM Carlos Marmol JSY C
AGR-CC1 Carl Crawford JSY
AGR-CC2 Carl Crawford BAT
AGR-CG Curtis Granderson JSY C
AGR-CJ Chipper Jones JSY C
AGR-CK Casey Kotchman JSY B
AGR-CS Curt Schilling JSY B
AGR-CU Chase Utley JSY C
AGR-CZ Carlos Zambrano JSY C
AGR-DG Danny Green A 100
AGR-DJ Dan Jansen A 250
AGR-DK Dean Karnazes A 250
AGR-DM Daisuke Matsuzaka JSY A
AGR-DO1 David Ortiz JSY
AGR-DO2 David Ortiz BAT
AGR-DRY Delmon Young JSY C
AGR-DW David Wright JSY C
AGR-DY Dmitri Young BAT B
AGR-EC Eric Chavez JSY A
AGR-EM Edison Miranda A 100
AGR-ER Edgar Renteria BAT B
AGR-FM Frank Morris A 250
AGR-GA Garret Anderson JSY C
AGR-HB Hank Blalock JSY B
AGR-IR1 Ivan Rodriguez JSY B
AGR-IR2 Ivan Rodriguez BAT B
AGR-IS Ichiro JSY C
AGR-JB Jason Bay JSY C
AGR-JC Joey Chestnut A 250
AGR-JCJ Joel Casamayor A 100
AGR-JD J.D. Drew BAT B
AGR-JDD Johnny Damon BAT C
AGR-JF Jeff Francoeur JSY C
AGR-JFB Jeff Fenech A 100
AGR-JG Jay Gibbons BAT B
AGR-JJH J.J. Hardy JSY C
AGR-JK Jeff Kent BAT B
AGR-JKI Jeff King A 250
AGR-JL Jeanette Lee A 250
AGR-JM Joe Mauer JSY C
AGR-JS John Smoltz JSY C
AGR-JT Jim Thome JSY C
AGR-JTD Jermaine Dye JSY C
AGR-JV1 Jason Varitek BAT
AGR-JV2 Jason Varitek JSY
AGR-KP Kelly Pavlik A 100
AGR-KS Kerri Strug A 250
AGR-KVD Kevin Van Dam A 250
AGR-LB Lance Berkman JSY C
AGR-LL Lisa Leslie A 250
AGR-LM Les Miles A 250
AGR-MB Matt Biondi A 250
AGR-MC Melky Cabrera JSY C
AGR-MDC Matt Capps JSY C
AGR-MH Mike Hampton JSY C
AGR-MH Marcus Henderson AU PICK 10
AGR-MK Matt Kemp JSY C
AGR-MR Manny Ramirez JSY C
AGR-MS Mark Spitz A 250
AGR-MT Mark Teixeira JSY C
AGR-MY Michael Young JSY C
AGR-NH Nicky Hayden A 250
AGR-PF Prince Fielder BAT B
AGR-PK Paul Konerko JSY C
AGR-PL Paul Lo Duca BAT B
AGR-PW Pete Weber A 250
AGR-RF Rafael Furcal BAT B
AGR-RH Ryan Howard JSY C
AGR-RJ "Rampage" Jackson A 250
AGR-RM Ray "Boom Boom" Mancini A 100
AGR-RO Roy Oswalt JSY C
AGR-RS Richie Sexson JSY C
AGR-SD Stephen Drew JSY B
AGR-SJW Serena Williams A 250
AGR-SP Samuel Peter A 100
AGR-SW Stevie Williams A 250
AGR-TC Todd Clever A 250
AGR-TG Tom Glavine JSY C
AGR-TH Tim Hudson JSY C
AGR-TLH Todd Helton JSY C
AGR-TN Takudzwa Ngwenya A 250
AGR-TPH Travis Hafner JSY C
AGR-TSG Tom Gorzelanny JSY C
AGR-TT Troy Tulowitzki JSY C
AGR-VG Vladimir Guerrero BAT B
AGR-VM Victor Martinez JSY C
AGR-WMP Wily Mo Pena BAT B
Cut Signatures
Each Cut Signature is a one-of-one.
CS1 Arthur Conan Doyle
CS2 Frederick Pabst
CS3 J. Edgar Hoover
CS4 John Glenn
CS5 Thurgood Marshall
CS6 Buffalo Bill
CS7 John Paul Getty
CS8 Eddie Rickenbacker
CS9 Henry Kissinger
CS10 King George III
CS11 Norman Schwarzkopf
CS12 Daniel Webster
CS13 Walter Winchell
CS14 Edgar Rice Burroughs
CS15 John D. Rockefeller
CS16 Thomas Nast
CS17 Boss Tweed
CS18 Jack London
CS19 Adolph Coors
CS20 Oliver Wolcott
DNA Relics
Each DNA Relic is serial-numbered to the production figures listed below.
DNA-AH Alexander Hamilton 1
DNA-AJ Andrew Jackson 1
DNA-AL Abraham Lincoln 1
DNA-CCD Carcharodontosaurus 1
DNA-CD Charles Dickens 1
DNA-JA John Adams 1
DNA-JFK John F. Kennedy 1
DNA-JK Jacqueline Kennedy 1
DNA-KE King Edward VII 1
DNA-LB Ludwig von Beethoven 1
DNA-MS Megalodon 1
DNA-RR Ronald Reagan 1
DNA-WM Woolly Mammoth 10
ET1 Meteorite 1