2004 Topps Traded & Rookies
Description
2004 Topps Traded & Rookies is a 220-card set released in October, 2004. Cards numbered T1-T65 feature players who were traded, while cards numbered T66-T70 feature managers who took over teams after the basic set was issued and cards T71-T90 draft picks, T91-T110 are prospect cards and cards T111-T220 feature Rookie Cards. Each 11-card wax pack contained two Chrome parallel cards.
Please note, an additional card (#T221) featuring Barry Bonds was distributed by Topps directly to hobby shop accounts enrolled in the Home Team Advantage program in early January, 2005. Collectors could obtain the card by purchasing a pack of 2005 Topps series 1 baseball. The program was limited to one card per customer.
Distribution
Hobby/Retail: 24 packs per box, nine Topps Traded cards, two Topps Chrome Traded cards, plus one puzzle piece per pack (MSRP: $3). 12 boxes per case.
HTA Jumbo: Ten packs plus one Uncirculated X-Fractor per box, 31 Topps Traded cards, two Topps Chrome Traded cards, plus one puzzle piece per pack.
Reviews
Insertion Ratios
| Cards | Total Cards | Numbered To | Hobby Odds | Retail Odds | HTA Jumbo Odds |
| --- | --- | --- | --- | --- | --- |
| Base | 221 | - | ? | ? | ? |
| Gold | 220 | 2004 | 1:2 | 1:2 | one-per-pack |
| Blue | 220 | one-of-one | 1:4574 | 1:4925 | 1:1238 |
| Printing Plates | 220 | four-for-each | 1:1151 | 1:1173 | ? |
| Chrome | 220 | - | 2:1 | 2:1 | ? |
| Chrome Refractors | 220 | 355 | 1:12 | 1:12 | 1:4 |
| Chrome X-Fractors | 220 | 20 | N/A | N/A | one-per-box |
| Chrome Blue Refractors | 220 | one-of-one | 1:4574 | 1:4925 | 1:1238 |
| Chrome Printing Plates | 220 | four-for-each | 1:1151 | 1:1173 | ? |
| Puzzle | 110 | - | one-per-pack | one-per-pack | one-per-pack |
| Future Phenoms Relics | 17 | - | ? | ? | ? |
| Transactions Relics | 20 | - | 1:106 | 1:107 | ? |
| Transactions Dual Relics | 3 | - | 1:562 | 1:563 | ? |
| Hall of Fame Relics | 2 | - | ? | ? | ? |
| Hall of Fame Dual Relic | 1 | - | 1:3388 | 1:3518 | 1:966 |
| Signature Moves | 9 | - | ? | ? | ? |
| Signature Cuts | 5 | one-of-one | 1:91,472 | N/A | 1:39,600 |
Checklist
Base Set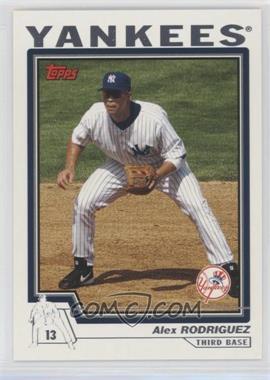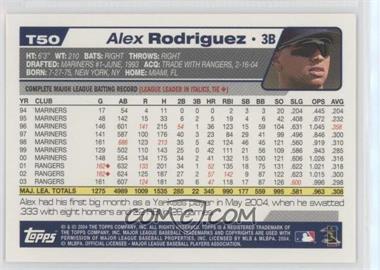 T1 Pokey Reese
T2 Tony Womack
T3 Richard Hidalgo
T4 Juan Uribe
T5 J.D. Drew
T6 Alex Gonzalez
T7 Carlos Guillen
T8 Doug Mientkiewicz
T9 Fernando Vina
T10 Milton Bradley
T11 Kelvim Escobar
T12 Ben Grieve
T13 Brian Jordan
T14 A.J. Pierzynski
T15 Billy Wagner
T16 Terrence Long
T17 Carlos Beltran
T18 Carl Everett
T19 Reggie Sanders
T20 Javy Lopez
T21 Jay Payton
T22 Octavio Dotel
T23 Eddie Guardado
T24 Andy Pettitte
T25 Richie Sexson
T26 Ronnie Belliard
T27 Michael Tucker
T28 Brad Fullmer
T29 Freddy Garcia
T30 Bartolo Colon
T31 Larry Walker
T32 Mark Kotsay
T33 Jason Marquis
T34 Dustan Mohr
T35 Javier Vazquez
T36 Nomar Garciaparra
T37 Tino Martinez
T38 Hee Seop Choi
T39 Damian Miller
T40 Jose Lima
T41 Ty Wigginton
T42 Raul Ibanez
T43 Danys Baez
T44 Tony Clark
T45 Greg Maddux
T46 Victor Zambrano
T47 Orlando Cabrera
T48 Jose Cruz, Jr.
T49 Kris Benson
T50 Alex Rodriguez
T51 Steve Finley
T52 Ramon Hernandez
T53 Esteban Loaiza
T54 Ugueth Urbina
T55 Jeff Weaver
T56 Tom Gordon ("Flash")
T57 Jose Contreras
T58 Paul Lo Duca
T59 Junior Spivey
T60 Curt Schilling
T61 Brad Penny
T62 Braden Looper
T63 Miguel Cairo
T64 Juan Encarnacion
T65 Miguel Batista
Managers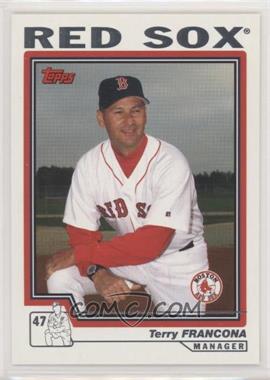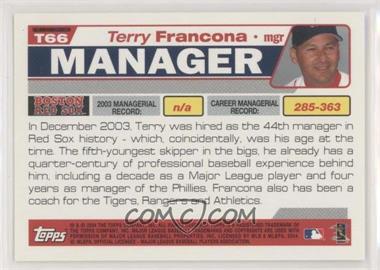 T66 Terry Francona
T67 Lee Mazzilli
T68 Al Pedrique
T69 Ozzie Guillen
T70 Phil Garner
Draft Picks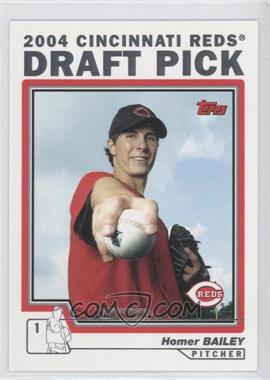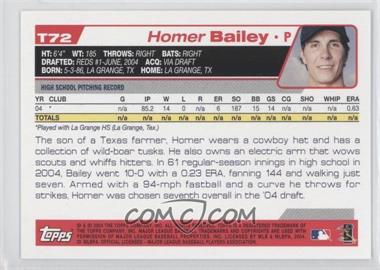 T71 Matt Bush DP RC
T72 Homer Bailey DP RC
T73 Greg Golson DP RC
T74 Kyle Waldrop DP RC
T75 Richie Robnett DP RC*
T76 Jay Rainville DP RC*
T77 Bill Bray DP RC
T78 Phillip Hughes DP RC
T79 Scott Elbert DP RC
T80 Josh Fields DP RC
T81 Justin Orenduff DP RC*
T82 Danny Putnam DP RC
T83 Chris Nelson DP RC
T84 Blake DeWitt DP RC
T85 J.P. Howell DP RC
T86 Huston Street DP RC
T87 Kurt Suzuki DP RC
T88 Erick San Pedro DP RC*
T89 Matt Tuiasosopo DP RC
T90 Matt Macri DP RC
Prospects
T91 Chad Tracy PROS
T92 Scott Hairston PROS
T93 Jonny Gomes PROS
T94 Chin-Feng Chen PROS
T95 Chien-Ming Wang PROS
T96 Dustin McGowan PROS
T97 Chris Burke PROS
T98 Denny Bautista PROS
T99 Preston Larrison PROS
T100 Kevin Youkilis PROS
T101 John Maine PROS
T102 Guillermo Quiroz PROS
T103 Dave Krynzel PROS
T104 David Kelton PROS
T105 Edwin Encarnacion PROS
T106 Chad Gaudin PROS
T107 Sergio Mitre PROS
T108 Laynce Nix PROS
T109 David Parrish PROS
T110 Brandon Claussen PROS
Rookies
T111 Frank Francisco RC
T112 Brian Dallimore RC
T113 Jim Crowell RC
T114 Andres Blanco RC
T115 Eduardo Villacis RC
T116 Kazuhito Tadano RC
T117 Aarom Baldiris RC*
T118 Justin Germano RC
T119 Joey Gathright RC
T120 Franklyn Gracesqui RC
T121 Chin-Lung Hu RC
T122 Scott Olsen RC
T123 Tyler Davidson RC*
T124 Fausto Carmona RC
T125 Tim Hutting RC*
T126 Ryan Meaux RC*
T127 Jon Connolly RC*
T128 Hector Made RC*
T129 Jamie Brown RC
T130 Paul McAnulty RC
T131 Chris Saenz RC
T132 Marland Williams RC*
T133 Mike Huggins RC*
T134 Jesse Crain RC
T135 Chad Bentz RC
T136 Kaz Matsui RC
T137 Paul Maholm RC
T138 Brock Jacobsen RC*
T139 Casey Daigle RC
T140 Nyjer Morgan RC
T141 Tom Mastny RC
T142 Kody Kirkland RC*
T143 Jose Capellan RC
T144 Felix Hernandez RC
T145 Shawn Hill RC
T146 Danny Gonzalez RC*
T147 Scott Dohmann RC
T148 Tommy Murphy RC
T149 Akinori Otsuka RC
T150 Miguel Perez RC
T151 Mike Rouse RC
T152 Ramon Ramirez RC
T153 Luke Hughes RC
T154 Howie Kendrick RC
T155 Ryan Budde RC
T156 Charlie Zink RC
T157 Warner Madrigal RC
T158 Jason Szuminski RC
T159 Chad Chop RC*
T160 Shingo Takatsu RC
T161 Matt Lemanczyk RC*
T162 Wardell Starling RC*
T163 Nick Gorneault RC
T164 Scott Proctor RC
T165 Brooks Conrad RC
T166 Hector Gimenez RC
T167 Kevin Howard RC
T168 Vince Perkins RC*
T169 Brock Peterson RC
T170 Chris Shelton RC
T171 Erick Aybar RC
T172 Paul Bacot RC*
T173 Matt Capps RC
T174 Kory Casto RC
T175 Juan Cedeno RC*
T176 Vito Chiaravalloti RC*
T177 Alec Zumwalt RC*
T178 J.J. Furmaniak RC
T179 Lee Gwaltney RC*
T180 Don Kelly RC
T181 Benji DeQuin RC*
T182 Brant Colamarino RC*
T183 Juan Gutierrez RC*
T184 Carl Loadenthal RC*
T185 Ricky Nolasco RC
T186 Jeff Salazar RC
T187 Rob Tejeda RC
T188 Alex Romero RC
T189 Yoann Torrealba RC
T190 Carlos Sosa RC*
T191 Tim Bittner RC*
T192 Chris Aguila RC
T193 Jason Frasor RC
T194 Reid Gorecki RC
T195 Dustin Nippert RC
T196 Javier Guzman RC*
T197 Harvey Garcia RC
T198 Ivan Ochoa RC
T199 Dave Wallace RC*
T200 Joel Zumaya RC
T201 Casey Kopitzke RC*
T202 Lincoln Holdzkom RC
T203 Chad Santos RC
T204 Brian Pilkington RC*
T205 Terry Jones RC*
T206 Jerome Gamble RC*
T207 Brad Eldred RC
T208 David Pauley RC
T209 Kevin Davidson RC*
T210 Damaso Espino RC*
T211 Tom Farmer RC*
T212 Michael Mooney RC*
T213 James Tomlin RC*
T214 Greg Thissen RC
T215 Calvin Hayes RC*
T216 Fernando Cortez RC
T217 Sergio Silva RC*
T218 Jon Devries RC*
T219 Don F. Sutton RC*
T220 Juan Carlos Oviedo RC (a.k.a. Leo Nunez)
Barry Bonds HTA Exclusive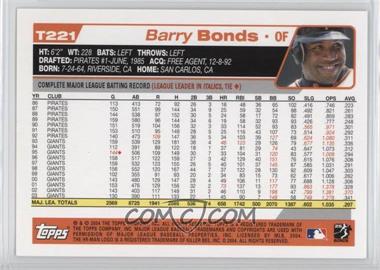 An additional 2004 Topps Traded & Rookies base card of Barry Bonds sequentially-numbered "221T" was distributed by Topps directly to Hobby shop accounts enrolled in the Home Team Advantage program in early January, 2005. Collectors could obtain the card by purchasing a pack of 2005 Topps Series One Baseball. The program was limited to one card per customer.
In 2004, Bonds became the first player to withdraw from the MLBPA's Group Licensing Agreement (GLA). As a result, Donruss-Playoff, Fleer, and Upper Deck (who all subscribed to the GLA) were prohibited from including Bonds in any of their 2004 baseball card products. Topps, which has never been subject to the GLA and instead signs players to individual contracts, came to an exclusive agreement with Bonds in early 2004 -- although it was too late to include him in 2004 Topps Series Two. Therefore, this bonus card is considered Bonds's 2004 Topps Baseball flagship base card
This card is not available in any of the parallels, nor was it available in a Chrome edition (see below).
Parallels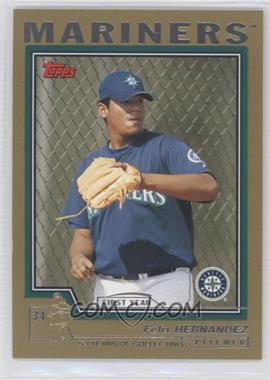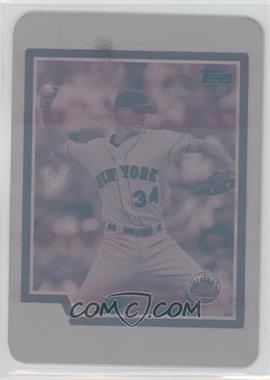 Each of the 220 base cards are available in the following parallels.
Gold (serial-numbered to 2004 copies)
Blue (one-of-one)
Printing Plates (set of four-for-each)
Chrome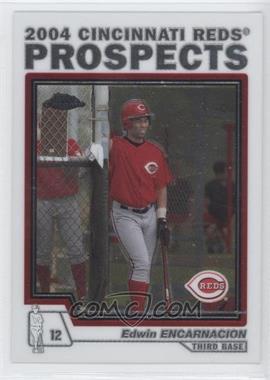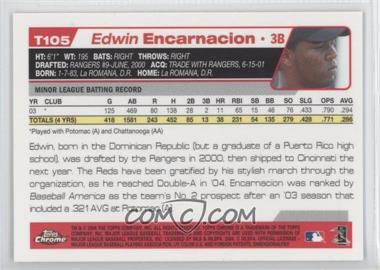 Each pack contains two Chrome parallels. All 220 Chrome cards are also available in the following Refractor parallels.
Refractors (limited, but not serial-numbered, to 355 copies)
Blue Refractors (one-of-one)
Printing Plates (set of four-for-each)
Uncirculated X-Fractors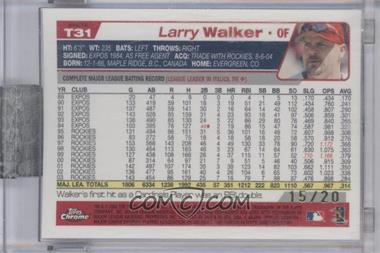 Packed into each HTA Jumbo box as a box-topper, is one Uncirculated X-Fractor. Each came packaged in its own plastic holder and each is serial-numbered to 20 copies.
Inserts
Puzzle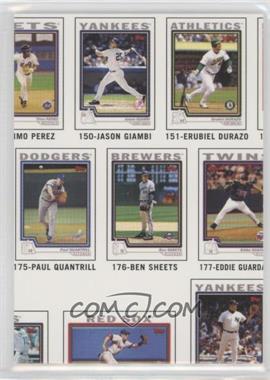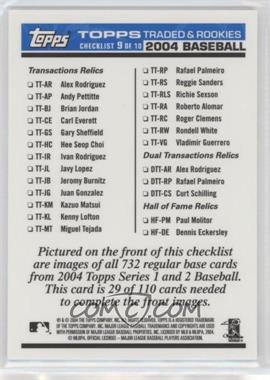 Each pack contained a "Puzzle" piece that, when completed, form a 110-card mosaic of the 2004 Topps set. Each card also doubles as an anti-pack searching decoy.
Autographs & Game-Used
Future Phenoms Relics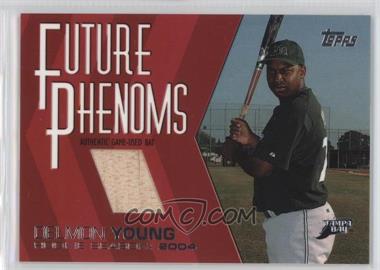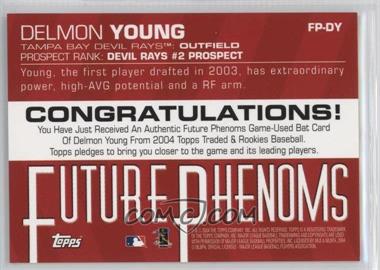 The specific odds of finding a Future Phenoms Relic are as follows.
Group A: 1:184 Hobby/retail; 1:53 HTA
Group B: 1:65 Hobby/retail, 1:27 HTA
FP-AG Adrian Gonzalez BAT A
FP-BC Bobby Crosby BAT A
FP-BU B.J. Upton BAT A
FP-DN Dioner Navarro BAT B
FP-DY Delmon Young BAT A
FP-ED Eric Duncan BAT B
FP-EJ Edwin Jackson JSY B
FP-JH J.J. Hardy BAT B
FP-JM Justin Morneau BAT A
FP-JW Jayson Werth BAT A
FP-KC Kevin Cash BAT B
FP-KM Kaz Matsui BAT A
FP-LM Lastings Milledge BAT B
FP-MM Mark Malaska JSY A
FP-NG Nick Green BAT A
FP-RN Ramon Nivar BAT A
FP-VM Victor Martinez BAT A
Transactions Relics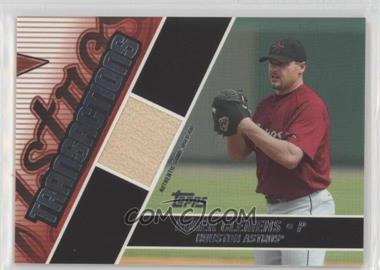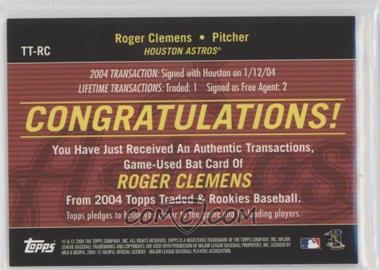 TT-AP Andy Pettitte BAT
TT-AR Alex Rodriguez JSY
TT-BJ Brian Jordan BAT
TT-CE Carl Everett BAT
TT-GS Gary Sheffield BAT
TT-HC Hee Seop Choi BAT
TT-IR Ivan Rodriguez BAT
TT-JB Jeromy Burnitz BAT
TT-JG Juan Gonzalez BAT
TT-JL Javy Lopez BAT
TT-KL Kenny Lofton BAT
TT-KM Kaz Matsui BAT
TT-MT Miguel Tejada BAT
TT-RA Roberto Alomar BAT
TT-RC Roger Clemens BAT
TT-RP Rafael Palmeiro BAT
TT-RS Reggie Sanders BAT
TT-RW Rondell White BAT
TT-VG Vladimir Guerrero BAT
TT-RLS Richie Sexson BAT
Dual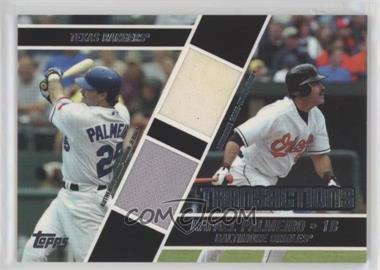 DTT-AR Alex Rodriguez TEX / NYY
DTT-CS Curt Schilling ARZ / BOS
DTT-RP Rafael Palmeiro BAL / TEX
Hall of Fame Relics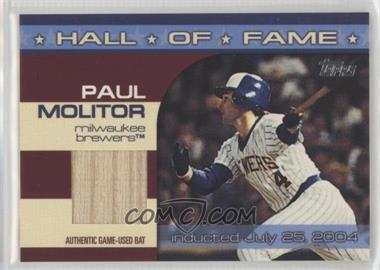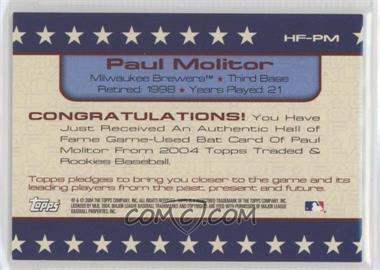 The specific odds of finding a Hall of Fame Relic are as follows.
Molitor: 1:3388 Hobby, 1:3518 retail, 1:966 HTA
Eckersley: 1:1011 Hobby, 1:1026 retail, 1:289 HTA
HF-DE Dennis Eckersley JSY
HF-PM Paul Molitor BAT
Dual
DHF-ME Paul Molitor / Dennis Eckersley BAT / JSY
Signature Moves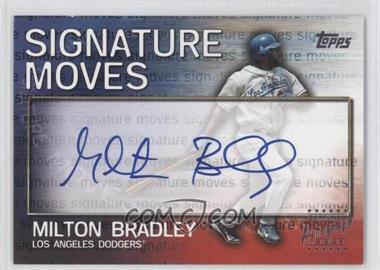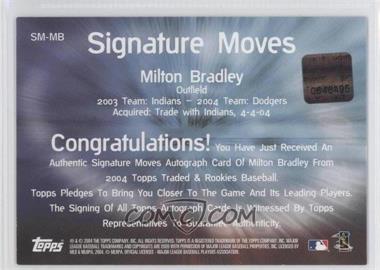 The specific odds of finding a Signature Moves autograph are as follows.
Group A: 1:675 Hobby, 1:684 retail, 1:193 HTA
Group B: 1:169 Hobby/retail, 1:48 HTA
NOTE: Card #SM-IR packed out as a redemption card which expired October 31st, 2006.
SM-AR Alex Rodriguez A
SM-AW Adam Wainwright B
SM-EM Eli Marrero B
SM-FV Fernando Vina B
SM-IR Ivan Rodriguez A EXCH
SM-JV Javier Vazquez A
SM-MB Milton Bradley B
SM-MK Mark Kotsay B
SM-MN Mike Neu B
Signature Cuts
Signature Cuts cards are exclusive to Hobby wax and HTA Jumbo packs. Each is a one-of-one.
BR Babe Ruth
CH Catfish Hunter
JM Johnny Mize
RM Roger Maris
WS Warren Spahn