2019 Topps Cyber Weekend
Description
2019 Topps Cyber Weekend is a series of promotional card sets that were given away with purchases of selected items on topps.com during the week of November 25th-December 2nd.
Cyber Weekend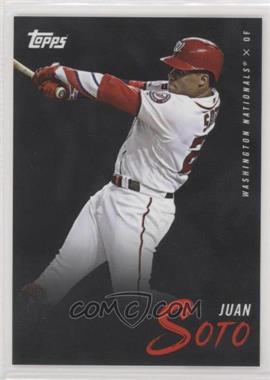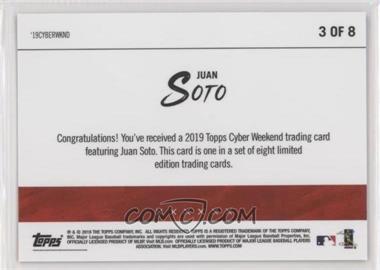 One card from this eight-card set was included in each order on the day listed. This offer was limited to the first 1000 customers each day.
1 Vladimir Guerrero, Jr. 25-Nov
2 Aaron Judge 26-Nov
3 Juan Soto 27-Nov
4 Pete Alonso 28-Nov
5 Mike Trout 29-Nov
6 Cody Bellinger 30-Nov
7 Shohei Ohtani 1-Dec
8 Fernando Tatis, Jr. 2-Dec
Topps Authentics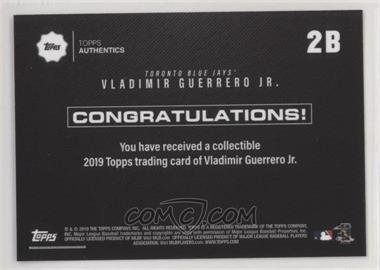 For those who purchased a Topps Authentics item (autographed baseballs, autographed 8X10s, autographed jerseys, and the like) would receive an exclusive trading card of that player. Only 100 copies of each card were produced.
Vladimir Guerrero, Jr.
Shohei Ohtani
Fernando Tatis, Jr.
Ozzie Albies
Kyle Schwarber
Franciso Lindor
Carlos Correa
Factory Set
Finally, collectors who purchased a 2019 Topps Baseball factory set would receive a three-card pack from an exclusive nine-card set.
Vladimir Guerrero, Jr.
Shohei Ohtani
Fernando Tatis, Jr.
Ozzie Albies
Kyle Schwarber
Franciso Lindor
Carlos Correa