2019 Topps Advent
Description
2019 Topps Advent is a 20-card set released, one card at a time, on Topps.com. A new card was unveiled each weekday, for the four weeks leading up to Christmas.
Distribution
Reviews
Checklist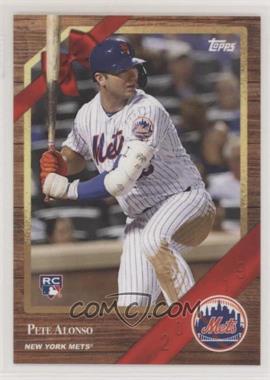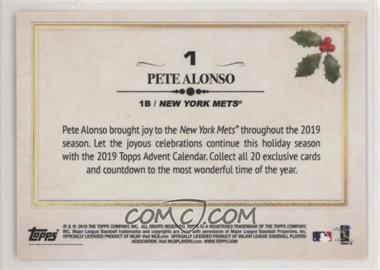 Since each card was printed to order, the announced production figures for each card are listed below, along with the date each card was available. Each card is NOT serial-numbered.
The set is sequentially-numbered in reverse order, with card #20 the first card and #1 the last.
20 Fernando Tatis, Jr. 1-Dec 938
19 Juan Soto 2-Dec 522
18 Jose Altuve 3-Dec 322
17 Gleyber Torres 4-Dec 423
16 Christian Yelich 5-Dec 332
15 Shohei Ohtani 6-Dec 527
14 Eloy Jimenez 7-Dec 463
13 Mookie Betts 8-Dec 319
12 Javier Baez 9-Dec 320
11 Mike Trout 10-Dec 551
10 Max Scherzer 11-Dec 294
9 Justin Verlander 12-Dec 257
8 Cody Bellinger 13-Dec 290
7 Jacob deGrom 14-Dec 323
6 Cavan Biggio 15-Dec 438
5 Vladimir Guerrero, Jr. 16-Dec 779
4 Ronald Acuña, Jr. 17-Dec 394
3 Aaron Judge 18-Dec 603
2 Keston Hiura 19-Dec 338
1 Pete Alonso 20-Dec 1106