2014 Topps Mini
Description
2014 Topps Mini, a 660-card set, was released to The Hobby during the 2014 National Sports Collector's Convention which was held from July 30th-Aug 3rd, 2014. Wax boxes were only available for purchase at the Topps booth. One week after the conclusion of the NSCC, Mini was made available on Topps' website.
Unlike previous year's Mini sets, the 2014 edition did not sell all that well, and on January 22nd, 2015, Topps began liquidating 3-box lots for $49.99.
Each wax box contains one autograph or relic card. Cards measure 3 1/8" X 2 1/4".
Distribution
Each box contains 24 packs with 10 cards in each pack (MSRP: $53.99/box).
Using extrapolation, roughly 10,000 boxes were produced.
Reviews
Insertion Ratios
| Cards | Total Cards | Numbered To | Hobby Odds |
| --- | --- | --- | --- |
| Base | 660 | - | ? |
| Gold | 660 | 63 | 1:7 |
| Pink | 660 | 25 | 1:16 |
| Black | 660 | 5 | 1:77 |
| Platinum | 660 | one-of-one | 1:381 |
| Printing Plates | 660 | four for each | 1:96 |
| The Future is Now | 50 | - | 1:4 |
| Mini Relics | 50 | - | 1:29 |
| Mini Autographs | 34 | - | 1:142 |
Checklist
Base Set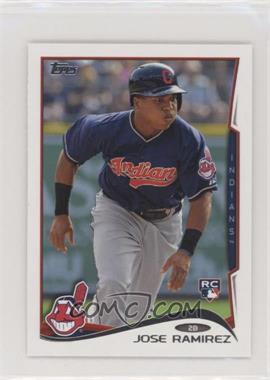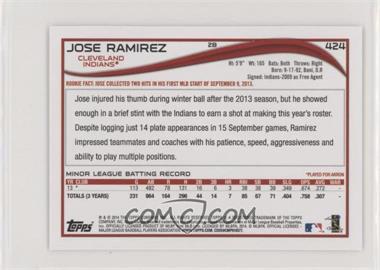 Since the base set is a full 660-card parallel, for brevity's sake, please refer to the 2014 Topps for a checklist.
Parallels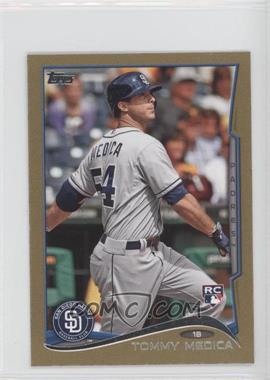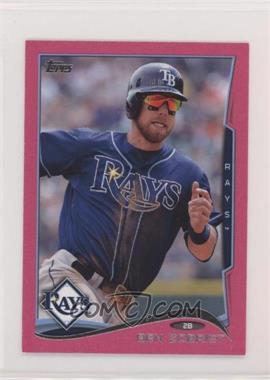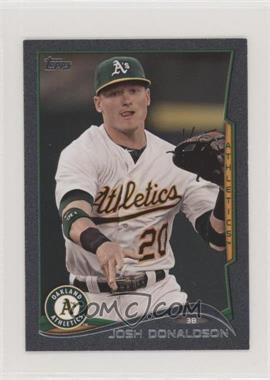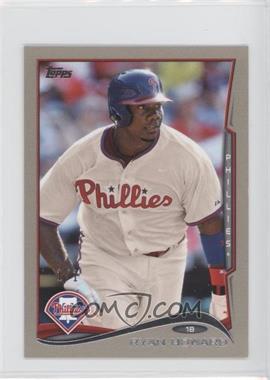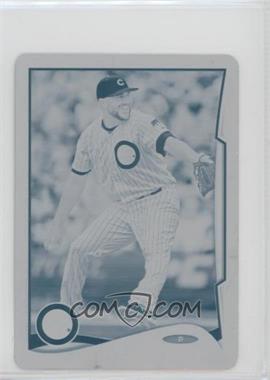 All 660 base cards are available in the following parallels.
Gold (serial-numbered to 63)
Pink (serial-numbered to 25)
Black (serial-numbered to five)
Platinum (one-of-one)
Printing Plates (set of four for each card)
Inserts
The Future is Now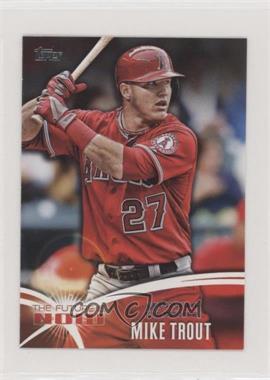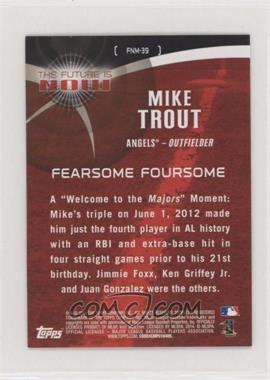 FNM-1 Shelby Miller
FNM-2 Shelby Miller
FNM-3 Shelby Miller
FNM-4 Jurickson Profar
FNM-5 Jurickson Profar
FNM-6 Jean Segura
FNM-7 Jean Segura
FNM-8 Zack Wheeler
FNM-9 Zack Wheeler
FNM-10 Michael Wacha
FNM-11 Michael Wacha
FNM-12 Billy Hamilton
FNM-13 Billy Hamilton
FNM-14 Billy Hamilton
FNM-15 Kolten Wong
FNM-16 Kolten Wong
FNM-17 Xander Bogaerts
FNM-18 Xander Bogaerts
FNM-19 Xander Bogaerts
FNM-20 Taijuan Walker
FNM-21 Taijuan Walker
FNM-22 Taijuan Walker
FNM-23 Sonny Gray
FNM-24 Sonny Gray
FNM-25 Jarrod Parker
FNM-26 Jarrod Parker
FNM-27 Freddie Freeman
FNM-28 Freddie Freeman
FNM-29 Dylan Bundy
FNM-30 Dylan Bundy
FNM-31 Kevin Gausman
FNM-32 Kevin Gausman
FNM-33 Yoenis Cespedes
FNM-34 Yoenis Cespedes
FNM-35 Hyun-Jin Ryu
FNM-36 Hyun-Jin Ryu
FNM-37 Wil Myers
FNM-38 Wil Myers
FNM-39 Mike Trout
FNM-40 Mike Trout
FNM-41 Jose Fernandez
FNM-42 Jose Fernandez
FNM-43 Manny Machado
FNM-44 Manny Machado
FNM-45 Yasiel Puig
FNM-46 Yasiel Puig
FNM-47 Yu Darvish
FNM-48 Yu Darvish
FNM-49 Bryce Harper
FNM-50 Bryce Harper
Autographs & Game-Used
Mini Relics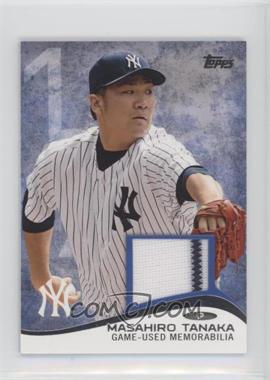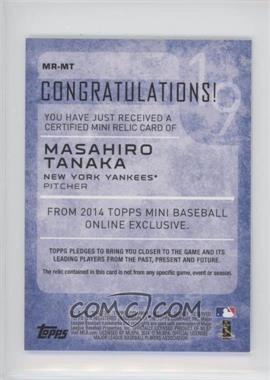 MR-AG Adrian Gonzalez
MR-AJ Adam Jones
MR-AM Andrew McCutchen
MR-AP Albert Pujols
MR-BHA Bryce Harper
MR-BP Buster Posey
MR-CD Chris Davis
MR-CG Carlos Gonzalez
MR-CGO Carlos Gomez
MR-CK Clayton Kershaw
MR-CL Cliff Lee
MR-DJ Derek Jeter
MR-DP Dustin Pedroia
MR-DW David Wright
MR-EA Elvis Andrus
MR-EE Edwin Encarnacion
MR-EL Evan Longoria
MR-GG Gio Gonzalez
MR-HI Hisashi Iwakuma
MR-HJR Hyun-Jin Ryu
MR-HR Hanley Ramirez
MR-IK Ian Kinsler
MR-JB Jay Bruce
MR-JM Joe Mauer
MR-JP Jurickson Profar
MR-JR Jose Reyes
MR-JT Jose Tabata
MR-JV Justin Verlander
MR-JVO Joey Votto
MR-JW Jayson Werth
MR-KW Kolten Wong
MR-MC Matt Carpenter
MR-MCA Miguel Cabrera
MR-MK Matt Kemp
MR-MS Max Scherzer
MR-MT Masahiro Tanaka
MR-NC Nick Castellanos
MR-PF Prince Fielder
MR-PG Paul Goldschmidt
MR-RB Ryan Braun
MR-RC Robinson Cano
MR-SC Starlin Castro
MR-SS Stephen Strasburg
MR-SSC Shin-Soo Choo
MR-TL Tim Lincecum
MR-TT Troy Tulowitzki
MR-Td Travis D'Arnaud
MR-YC Yoenis Cespedes
MR-YD Yu Darvish
MR-YP Yasiel Puig
Mini Autographs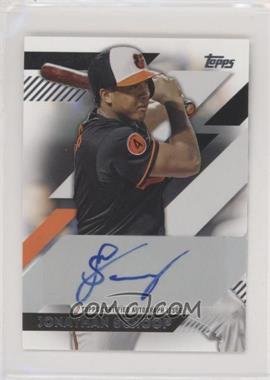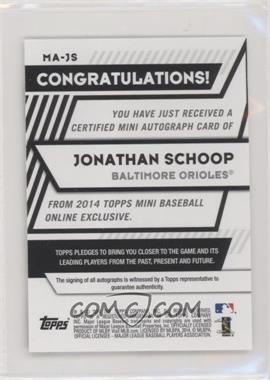 All of these cards have sticker autographs.
MA-AG Adrian Gonzalez
MA-AJ Adam Jones
MA-AP Albert Pujols
MA-AR Andre Rienzo
MA-BBU Bill Buckner
MA-CS Carlos Santana
MA-DM Daisuke Matsuzaka
MA-DP Dustin Pedroia
MA-ED Eric Davis
MA-FF Freddie Freeman
MA-GSP George Springer
MA-JA Jose Abreu
MA-JB Jay Bruce
MA-JF Jose Fernandez
MA-JM Joe Mauer
MA-JS Jonathan Schoop
MA-KW Kolten Wong
MA-MA Matt Adams
MA-MB Madison Bumgarner
MA-MM Manny Machado
MA-MP Mike Piazza
MA-MT Mike Trout
MA-NC Nick Castellanos
MA-OT Oscar Taveras
MA-PG Paul Goldschmidt
MA-RC Robinson Cano
MA-RCL Roger Clemens
MA-RH Ryan Howard
MA-TT Troy Tulowitzki
MA-TW Taijuan Walker
MA-Td Travis d'Arnaud
MA-WF Wilmer Flores
MA-YC Yoenis Cespedes
MA-YS Yangervis Solarte