Difference between revisions of "2007 Bowman Heritage"
 

Line 145:
Line 145:
 

</sql2wiki>

 

</sql2wiki>

 

===Checklists===

 

===Checklists===

 
+
 
+
 
+
 
 
 

<sql2wiki database="carddb">

 

<sql2wiki database="carddb">

 

SELECT num,player,info FROM cards WHERE (year = 2007) AND (setname = 'Bowman Heritage Checklist');

 

SELECT num,player,info FROM cards WHERE (year = 2007) AND (setname = 'Bowman Heritage Checklist');

 

</sql2wiki>

 

</sql2wiki>

 
+
 

===A-Rod Road to 500===

 

===A-Rod Road to 500===

 
 
---
Latest revision as of 20:26, 12 January 2021
Description
2007 Bowman Heritage is a 301-card set, supplemented by a 100-card Prospects set, released by Topps in November, 2007. The base set mimics the design of the 1952 Bowman set, while the Prospects are based on the 1954 Red Heart dog food set.
Each pack will contain two Prospects and one parallel. Each 24-pack Hobby box will yield two game-used Relic cards and one autograph and two box toppers: One 2007 Topps A-Rod Road to 500 mirror insert and an oversized "Red Man" card.
After a seven year run, this would be the final Bowman Heritage set for twelve years.
Distribution
Hobby: 24 packs plus one Red Man and one A-Rod Road to 500 card per box, eight cards per pack. 12 boxes per case.
Reviews
Insertion Ratios
| Cards | Total Cards | Numbered To | Hobby Odds | Retail Odds |
| --- | --- | --- | --- | --- |
| Base | 251 | - | 5:1 | 5:1 |
| No Signature Variations | 45 | - | SP | SP |
| Mickey Mantle | 5 | - | SP | SP |
| Rainbow Foil | 301* | - | one-per-pack | N/A |
| Black | 301* | 52 | 1:52 | 1:97 |
| Red | 301* | one-of-one | 1:1569 | N/A |
| Framed Printing Plates | 256** | four for each | 1:463 | N/A |
| Prospects | 100 | - | 2:1 | 2:1 |
| Prospects Black | 100 | 52 | 1:153 | 1:295 |
| Prospects Red | 100 | one-of-one | 1:4740 | N/A |
| Prospects Framed Printing Plates | 100 | four for each | 1:1175 | N/A |
| Checklists | 3 | - | ? | ? |
| Box Loaders | 25 | - | 1 per box | N/A |
| Pieces of Greatness | 69 | - | R | ? |
| Pieces of Greatness Black | 69 | 52 | 1:221 | 1:429 |
| Pieces of Greatness Red | 69 | one-of-one | 1:6854 | N/A |
| Signs Of Greatness | 34 | - | AU | ? |
| Signs Of Greatness Black | 34 | 52 | 1:590 | 1:635 |
| Signs Of Greatness Red | 34 | one-of-one | 1:14,500 | N/A |
SP: Odds of finding a NoSig or Mantle: 1:3/packs.
R: Odds of finding a Pieces of Greatness Relic: 1:12/Hobby packs.
AU: Odds of finding a Signs of Greatness Autograph: 1:24/Hobby packs.
* Parallels includes all base cards, all 45 NoSig Variations, and all five Mantles.
** Framed Printing Plates includes all base cards and all five Mantles. Printing Plates do not exist for the 45 NoSig variations.

Checklist
Base Set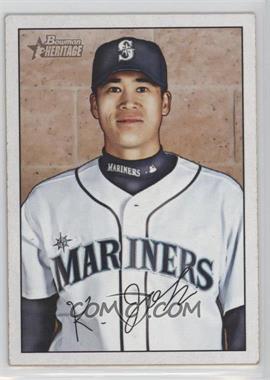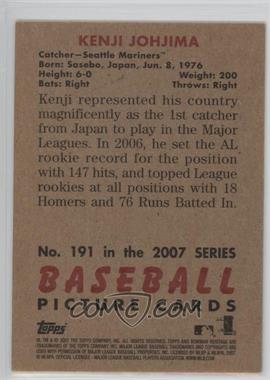 1 Jeff Francoeur
2 Jered Weaver
3 Derrek Lee
4 Todd Helton
5 Shawn Hill
6 Ivan Rodriguez
7 Mickey Mantle
8 Ramon Hernandez
9 Randy Johnson
10 Jermaine Dye
11 Brian Roberts
12 Hank Blalock
13 Chien-Ming Wang
14 Mike Lowell
15 Brandon Webb
16 Kelly Johnson
17 Nick Johnson
18 Zach Duke
19 Aaron Hill
20 Miguel Tejada
21 Mark Buehrle
22 Michael Young
23 Carlos Delgado
24 Anibal Sanchez
25 Vladimir Guerrero
26 Russell Martin
27 Lance Berkman
28 Bobby Crosby
29 Javier Vazquez
30 Manny Ramirez
31 Rich Hill
32 Mike Sweeney
33 Jeff Kent
34 Noah Lowry
35 Alfonso Soriano
36 Paul Lo Duca
37 J.D. Drew
38 CC Sabathia
39 Craig Biggio
40 Adam Dunn
41 Josh Beckett
42 Carlos Guillen
43 Jeff Francis
44 Orlando Hudson
45 Grady Sizemore
46 Jason Jennings
47 Mark Teixeira
48 Freddy Garcia
49 Adrian Gonzalez
50 Albert Pujols
51 Tom Glavine
52 J.J. Hardy
53 Bobby Abreu
54 Bartolo Colon
55 Garrett Atkins
56 Moises Alou
57 Cliff Lee
58 Michael Cuddyer
59 Brandon Phillips
60 Jeremy Bonderman
61 Rickie Weeks
62 Chris Carpenter
63 Frank Thomas
64 Victor Martinez
65 Dontrelle Willis
66 Jim Thome
67 Aaron Rowand
68 Andy Pettitte
69 Brian McCann
70 Roger Clemens
71 Gary Matthews, Jr.
72 Bronson Arroyo
73 Jeremy Hermida
74 Eric Chavez
75 David Ortiz
76 Stephen Drew
77 Ronnie Belliard
78 James Shields
79 Richie Sexson
80 Johan Santana
81 Orlando Cabrera
82 Aramis Ramirez
83 Greg Maddux
84 Reggie Sanders
85 Carlos Zambrano
86 Bengie Molina
87 David DeJesus
88 Adam Wainwright
89 Conor Jackson
90 David Wright
91 Ryan Garko
92 Bill Hall
93 Marcus Giles
94 Kenny Rogers
95 Joe Mauer
96 Hanley Ramirez
97 Brian Giles
98 Dan Haren
99 Robinson Cano
100 Ryan Howard
101 Andruw Jones
102 Aaron Harang
103 Hideki Matsui
104 Nick Swisher
105 Pedro Martinez
106 Felipe Lopez
107 Erik Bedard
108 Rafael Furcal
109 Curt Schilling
110 Jose Reyes
111 Adam LaRoche
112 Mike Mussina
113 Melvin Mora
114 Zack Greinke
115 Justin Morneau
116 Ervin Santana
117 Ken Griffey, Jr.
118 David Eckstein
119 Jamie Moyer
120 Jorge Posada
121 Justin Verlander
122 Sammy Sosa
123 Jason Schmidt
124 Josh Willingham
125 Roy Oswalt
126 Travis Hafner
127 John Maine
128 Willy Taveras
129 Magglio Ordonez
130 Barry Zito
131 Prince Fielder
132 Michael Barrett
133 Livan Hernandez
134 Troy Glaus
135 Rocco Baldelli
136 Jason Giambi
137 Austin Kearns
138 Dan Uggla
139 Pat Burrell
140 Carlos Beltran
141 Carlos Quentin
142 Johnny Estrada
143 Torii Hunter
144 Carlos Lee
145 Mike Piazza
146 Mark Teahen
147 Juan Pierre
148 Paul Konerko
149 Freddy Sanchez
150 Derek Jeter
151 Orlando Hernandez
152 Raul Ibanez
153 John Smoltz
154 Scott Rolen
155 Jimmy Rollins
156 A.J. Burnett
157 Jason Varitek
158 Ben Sheets
159 Matt Cain
160 Carl Crawford
161 Jeff Suppan
162 Tadahito Iguchi
163 Kevin Millwood
164 Chris Duncan
165 Rich Harden
166 Joe Crede
167 Chipper Jones
168 Gary Sheffield
169 Cole Hamels
170 Jason Bay
171 Jhonny Peralta
172 Aubrey Huff
173 Xavier Nady
174 Kazuo Matsui
175 Vernon Wells
176 Johnny Damon
177 Jim Edmonds
178 Jose Vidro
179 Garret Anderson
180 Alex Rios
181 Ichiro
182 Jake Peavy
183 Ian Kinsler
184 Tom Gorzelanny
185 Miguel Cabrera
186 Scott Kazmir
187 Matt Holliday
188 Roy Halladay
189 Ryan Zimmerman
190 Alex Rodriguez
191 Kenji Johjima
192 Gil Meche
193 Chase Utley
194 Jeremy Sowers
195 John Lackey
196 Nick Markakis
197 Tim Hudson
198 B.J. Upton
199 Felix Hernandez
200 Barry Bonds
201 Jarrod Saltalamacchia (RC)
202 Tim Lincecum RC
203 Kory Casto (RC)
204 Sean Henn (RC)
205 Hector Gimenez (RC)
206 Homer Bailey (RC)
207 Yunel Escobar (RC)
208 Matt Lindstrom (RC)
209 Tyler Clippard (RC)
210 Joe Smith RC
211 Tony Abreu RC
212 Billy Butler (RC)
213 Gustavo Molina RC
214 Brian Stokes (RC)
215 Kevin Slowey (RC)
216 Curtis Thigpen (RC)
217 Carlos Gomez RC
218 Rick Vanden Hurk RC
219 Michael Bourn (RC)
220 Jeff Baker (RC)
221 Andy LaRoche (RC)
222 Andy Sonnanstine RC
223 Chase Wright RC
224 Mark Reynolds RC
225 Matt Chico (RC)
226 Hunter Pence (RC)
227 John Danks RC
228 Elijah Dukes RC
229 Kei Igawa RC
230 Felix Pie (RC)
231 Jesus Flores RC
232 Dallas Braden RC
233 Akinori Iwamura RC
234 Ryan Braun (RC)
235 Alex Gordon RC
236 Micah Owings (RC)
237 Kevin Kouzmanoff (RC)
238 Glen Perkins (RC)
239 Danny Putnam (RC)
240 Philip Hughes (RC)
241 Ryan Sweeney (RC)
242 Josh Hamilton (RC)
243 Hideki Okajima RC
244 Adam Lind (RC)
245 Travis Buck (RC)
246 Miguel Montero (RC)
247 Brandon Morrow RC
248 Troy Tulowitzki (RC)
249 Delmon Young (RC)
250 Daisuke Matsuzaka RC
251 Joba Chamberlain RC
No Signature Variations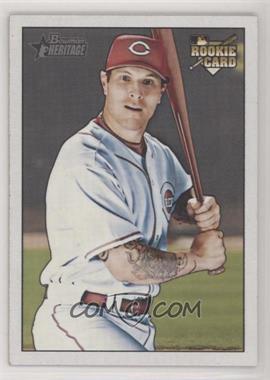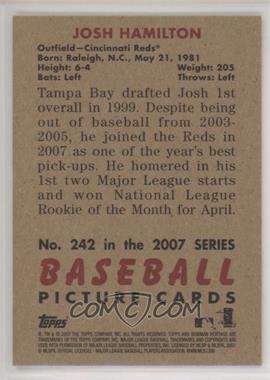 Cards #181-#200 and #225-#250 are available in a short-printed variation in which the black facsimile signature on the front of the card has been removed. All of the cards are exactly the same as the base set card it parallels.
Mickey Mantle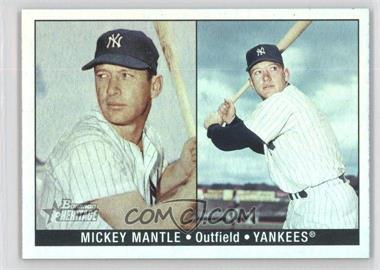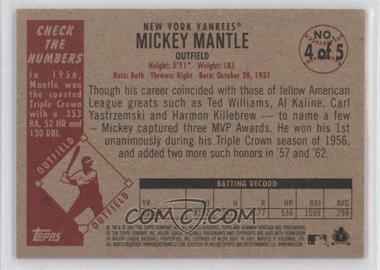 In 2007, Topps regained the trading card rights to Mickey Mantle. To fill "holes" in previously-released Bowman Heritage sets, Topps randomly inserted five Mantle cards based on the Bowman Heritage base card designs from 2001-2004.
Card #1 is a reprint of the original 1952 Bowman Mantle, but without a signature. Card #7 in the base set is a full reproduction of the 52B card with the signature -- and was also used as an insert in 1996 Bowman. Card #2 is done in the style of the 1948 Bowman set. Mantle was still in high school in 1948 and does not have a card in 1948 Bowman, but it was the basis of 2002 Bowman Heritage. Cards #3 and #5 both have different photos than the original 1954 and 1955 Bowman sets. Card #4 is from the proposed 1956 Bowman set which does not exist as Bowman ceased production in 1955. The 1956 Bowman layouts were the inspiration of 2003 Bowman Heritage.
1 Mickey Mantle 1952 B No Sig
2 Mickey Mantle 1948 B
3 Mickey Mantle 1954 B
4 Mickey Mantle 1956 B
5 Mickey Mantle 1955 B
Parallels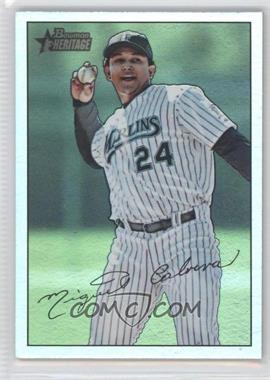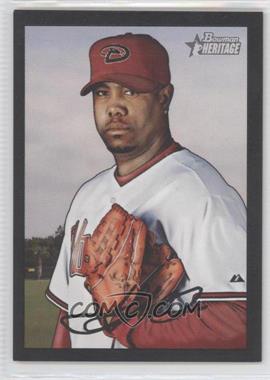 All 251 base cards, 45 No Signature variations, and five Mickey Mantle cards are available in the following parallels.
Rainbow Foil
Black (serial-numbered to 52 copies)
Red (one-of-one; Hobby only)
NOTE: Card #251 does not exist in the Rainbow Foil set.
Framed Printing Plates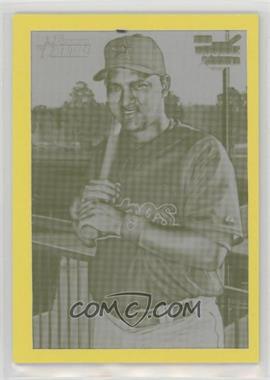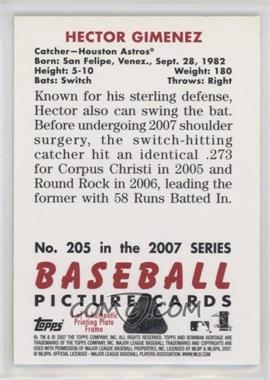 A set of four Printing Plate parallels are available for all 251 base cards and all five Mickey Mantle's. Plates do not exist for the No Signature variations.
Inserts
Prospects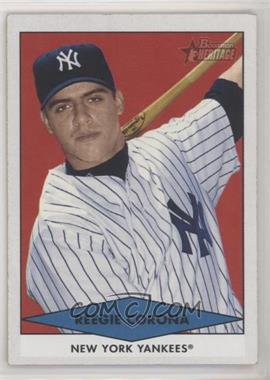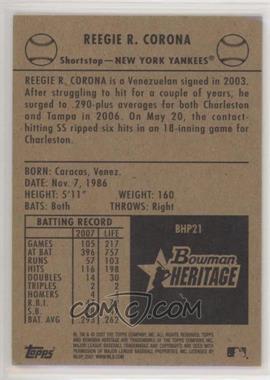 The 100-card insert is based on the design of the 1954 Red Heart set.
All 100 Prospects are available in the following parallels.
Black (serial-numbered to 52 copies)
Red (one-of-one; Hobby only)
Framed Printing Plates (set of four for each; Hobby only)
BHP1 Thomas Fairchild
BHP2 Peter Bourjos
BHP3 Brett Campbell
BHP4 Cesar Nicolas
BHP5 Kala Ka'aihue
BHP6 Zach McAllister
BHP7 Chad Reineke
BHP8 Anthony Hatch
BHP9 Cedric Hunter
BHP10 Chris Carter
BHP11 Tommy Hanson
BHP12 Dellin Betances
BHP13 John Otness
BHP14 Derin McMains
BHP15 Greg Reynolds
BHP16 Jonathan Van Every
BHP17 Eddie Degerman
BHP18 Cody Strait
BHP19 Noe Rodriguez
BHP20 Yung-Il Jung
BHP21 Reegie Corona
BHP22 Carlos Corporan
BHP23 Chance Douglass
BHP24 Leo Daigle
BHP25 Jeff Samardzija
BHP26 Mark Wagner
BHP27 Charles Lofgren
BHP28 Bryan Byrne
BHP29 Daniel Mayora
BHP30 Gorkys Hernandez
BHP31 Joshua Rodriguez
BHP32 Brad Knox
BHP33 Scott Lewis
BHP34 Joe Gaetti
BHP35 Michael Saunders
BHP36 Brendan Katin
BHP37 Brennan Boesch
BHP38 Jay Garthwaite
BHP39 Michael Devaney
BHP40 J.R. Towles
BHP41 Joe Ness
BHP42 Michael Martinez
BHP43 Justin Byler
BHP44 Chris Coghlan
BHP45 Eric Young, Jr.
BHP46 J.R. Mathes
BHP47 Ivan DeJesus, Jr.
BHP48 Woods Fines
BHP49 Andrew Fie
BHP50 Luke Hochevar
BHP51 Will Venable
BHP52 Todd Redmond
BHP53 Matthew Sweeney
BHP54 Trevor Cahill
BHP55 Mike Carp
BHP56 Henry Sosa
BHP57 Emerson Frostad
BHP58 Jeremy Jeffress
BHP59 Whit Robbins
BHP60 Joba Chamberlain
BHP61 Raul Barron
BHP62 Aaron Cunningham
BHP63 Greg Smith
BHP64 Jeff Baisley
BHP65 Vic Buttler
BHP66 Steve Singleton
BHP67 Josh Papelbon
BHP68 Ryan Finan
BHP69 Deolis Guerra
BHP70 Vasili Spanos
BHP71 Patrick Reilly
BHP72 Thomas Hottovy
BHP73 Daniel Murphy
BHP74 Matt Young
BHP75 Brian Bocock
BHP76 Chris Salamida
BHP77 Nathan Southard
BHP78 Brandon Hynick
BHP79 Chris Nowak
BHP80 Reid Brignac
BHP81 Cole Garner
BHP82 Nick Van Stratten
BHP83 Jeremy Papelbon
BHP84 Jarrett Hoffpauir
BHP85 Kevin Mulvey
BHP86 Matt Miller
BHP87 Devin Ivany
BHP88 Marcus Sanders
BHP89 Michael MacDonald
BHP90 Gabriel Sanchez
BHP91 Ryan Norwood
BHP92 James Fasano
BHP93 Ryan Adams
BHP94 Evan Englebrook
BHP95 Juan Miranda
BHP96 Gregory Porter
BHP97 Shane Benson
BHP98 Sam Fuld
BHP99 Cooper Brannan
BHP100 Fernando Martinez
Red Man Box Topper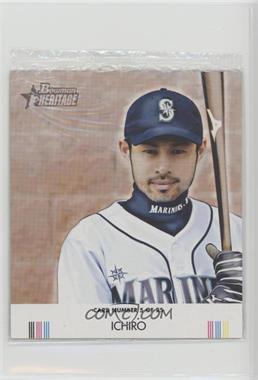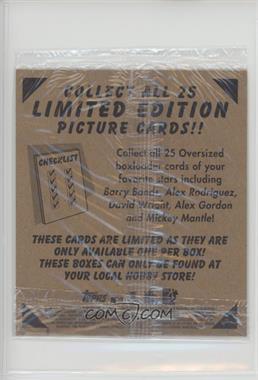 Each sealed Hobby box contained one of 25 over-sized cards based on the design (and size) of the early-50s Red Man sets.
AG Alex Gordon
AK Akinori Iwamura
AP Albert Pujols
AR Alex Rodriguez
AS Alfonso Soriano
BB Barry Bonds
DM Daisuke Matsuzaka
DO David Ortiz
DW David Wright
DY Delmon Young
FH Matt Holliday
FP Felix Pie
HM Hideki Matsui
HP Hunter Pence
IS Ichiro
JH Josh Hamilton
JR Jose Reyes
KI Kei Igawa
MC Miguel Cabrera
MM Mickey Mantle
MR Manny Ramirez
PH Philip Hughes
RH Ryan Howard
TT Troy Tulowitzki
VG Vladimir Guerrero
Checklists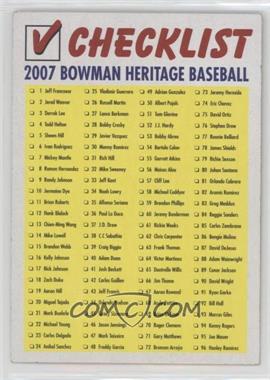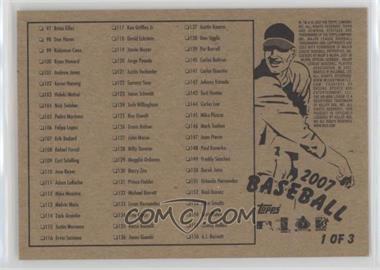 1 Checklist
2 Checklist
3 Checklist
A-Rod Road to 500
See 2007 Topps A-Rod Road to 500.
Autographs & Game-Used
Pieces of Greatness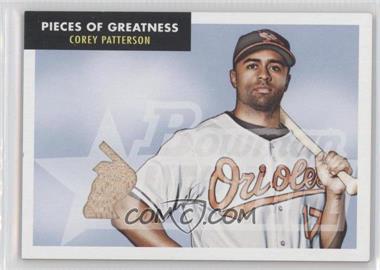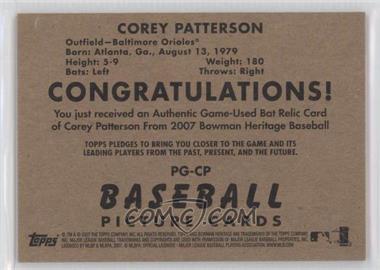 The odds of finding a Pieces of Greatness Relic card are as follows.
Group A: 1:83/Hobby; 1:166/retail
Group B: 1:22/Hobby; 1:46/retail
Group C: 1:119/Hobby; 1:238/retail
Group D: 1:325/Hobby; 1:660/retail
Group E: 1:104/Hobby; 1:211/retail
Group F: 1:687/Hobby; 1:687/retail
Group G: 1:452/Hobby; 1:953/retail
Although these cards are not serial-numbered, and Topps did not release production figures, we estimate the production figures for each card as follows.
Group A: 368 copies
Group B: 786 copies
Group C: 925 copies
Group D: 1874 copies
Group E: 1465 copies
Group F: 1089 copies
Group G: 1337 copies
In addition, each card is also available in the following parallels.
Black (serial-numbered to 52 copies)
Red (one-of-one; Hobby only)
PG-AD Adam Dunn JSY C
PG-AE Andre Ethier JSY B
PG-AG Alex Gonzalez BAT B
PG-AJ Andruw Jones BAT C
PG-AL Adam LaRoche JSY B
PG-AR Aramis Ramirez BAT A
PG-ARO Alex Rodriguez BAT C
PG-BB Barry Bonds JSY A
PG-BC Bobby Crosby BAT B
PG-BG Brian Giles BAT A
PG-BL Brad Lidge JSY E
PG-BZ Barry Zito PANTS C
PG-CB Craig Biggio JSY B
PG-CBE Carlos Beltran BAT B
PG-CH Cole Hamels JSY A
PG-CK Corey Koskie BAT B
PG-CP Corey Patterson BAT B
PG-CS Curt Schilling JSY C
PG-CT Chad Tracy BAT B
PG-CU Chase Utley BAT A
PG-DE Darin Erstad BAT B
PG-DO David Ortiz BAT B
PG-DO2 David Ortiz JSY A
PG-DW Dontrelle Willis JSY E
PG-DWR David Wright PANTS A
PG-EC Eric Chavez PANTS B
PG-FT Frank Thomas BAT A
PG-GM Greg Maddux BAT A
PG-GS Gary Sheffield BAT B
PG-GSI Grady Sizemore JSY B
PG-HM Hideki Matsui BAT A
PG-IR Ivan Rodriguez JSY E
PG-JB Jeremy Bonderman JSY B
PG-JD Johnny Damon BAT A
PG-JDD J.D. Drew JSY B
PG-JE Juan Encarnacion BAT B
PG-JF Jeff Francoeur BAT B
PG-JFR Jeff Francis JSY B
PG-JK Jeff Kent JSY A
PG-JM Joe Mauer BAT B
PG-JR Jose Reyes JSY B
PG-LB Lance Berkman JSY A
PG-LG Luis Gonzalez BAT B
PG-MC Miguel Cabrera JSY B
PG-ML Mike Lowell PANTS A
PG-MM Mark Mulder PANTS E
PG-MO Magglio Ordonez BAT S
PG-MP Mike Piazza BAT E
PG-MR Manny Ramirez JSY C
PG-MR2 Manny Ramirez BAT G
PG-MT Mark Teixeira BAT A
PG-MTE Miguel Tejada PANTS B
PG-NS Nick Swisher BAT A
PG-PK Paul Konerko PANTS B
PG-PK2 Paul Konerko JSY B
PG-RB Rocco Baldelli JSY F
PG-RC Robinson Cano BAT B
PG-RC2 Robinson Cano JSY B
PG-RF Rafael Furcal BAT B
PG-RH Rich Harden JSY B
PG-SG Shawn Green BAT B
PG-TH Todd Helton JSY B
PG-TH2 Todd Helton BAT B
PG-THU Tim Hudson PANTS A
PG-TI Tadahito Iguchi BAT A
PG-TN Trot Nixon BAT A
PG-TW Tim Wakefield PANTS B
PG-VG Vladimir Guerrero BAT B
PG-YM Yadier Molina JSY D
Signs Of Greatness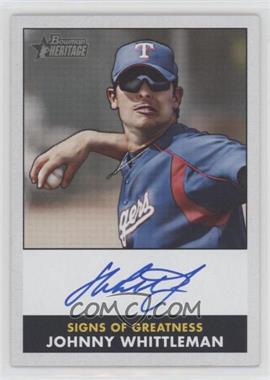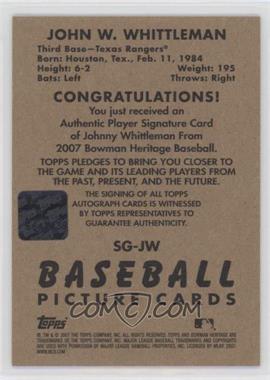 The odds of finding a Signs of Greatness autograph card are as follows.
Group A: 1:339/Hobby; 1:405/retail
Group B: 1:47/Hobby; 1:53/retail
Group C: 1:58/Hobby; 1:68/retail
Group D: 1:350/Hobby; 1:410/retail
Group E: 1:238/Hobby; 1:232/retail
Group F: 1:389/Hobby; 1:445/retail
Group G: 1:4450/Hobby; 1:4800/retail
Group H: 1:8100/Hobby; 1:7850/retail
In addition, each card is also available in the following parallels.
Black (serial-numbered to 52 copies)
Red (one-of-one; Hobby only)
AF Andrew Fie G
AO Adam Ottavino D
BJ Blake Johnson C
BL Brad Lincoln E
CA Carlos Arroyo D
CC Carl Crawford C
CH Cole Hamels C
CJ Chipper Jones B
CS Chorye Spoone G
DW David Wright A
EJ Elliot Johnson F
GG Glenn Gibson F
GM Garrett Mock D
JB John Buck D
JC Jorge Cantu D
JCB Jordan Brown F
JH J.P. Howell C
JL Jeff Locke G
JM Jeff Manship F
JP Jorge Posada C
JT J.R. Towles G
JW Johnny Whittleman H
MM Matt Maloney E
MT Mike Thompson F
NR Nolan Reimold C
RD Rajai Davis E
SE Stephen Englund G
SJ Seth Johnston G
SK Sean Kazmar G
SP Steve Pearce G
SS Scott Sizemore F
TG Tony Giarratano F
WCS Cody Strait G
WJB Joe Benson F