2004 Donruss-Playoff Players Collection Jersey
Description
2004 Donruss-Playoff Players Collection Jersey is a 100-card, cross-brand game-jersey set that was released in four 2004 Donruss-Playoff baseball products: 2004 Leaf, 2004 Playoff Honors, 2004 Playoff Prestige, and 2004 Studio.
The same 100-card set was randomly inserted into each product, and each product's set features the same basic design. The differences between each product's cards are: A) The upper-left corner of each card is foil-stamped with the product the card was inserted into, and B) Some parallels were exclusive to specific brands.
Distribution
Reviews
Insertion Ratios
Checklist
NOTE There are eleven different versions of each card, each exclusive to one of four brands.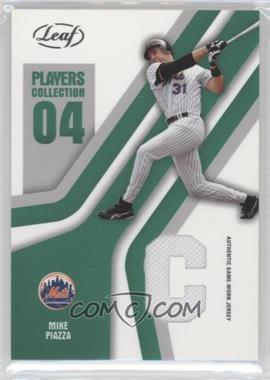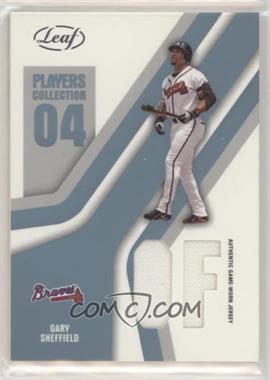 Leaf: Green, Platinum (serial-numbered to 25 copies)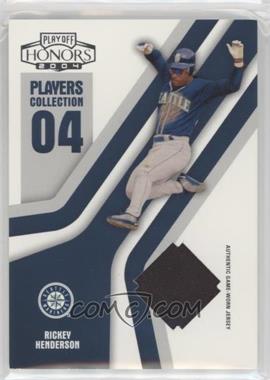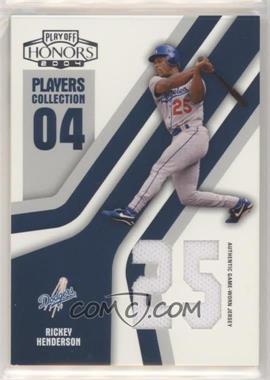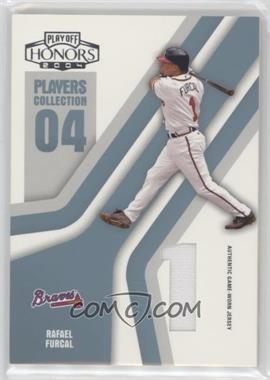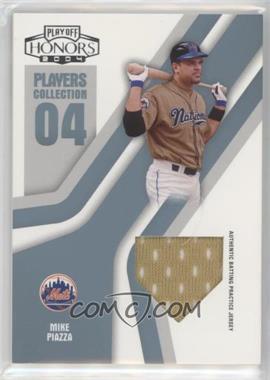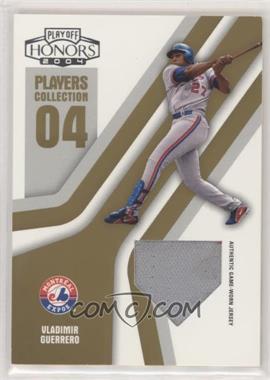 Playoff Honors: Blue (serial-numbered to 250 copies), Blue Number (serial-numbered to 250 copies), Platinum Number (serial-numbered to 50 copies), Platinum (serial-numbered to 25), Gold (serial-numbered to ten)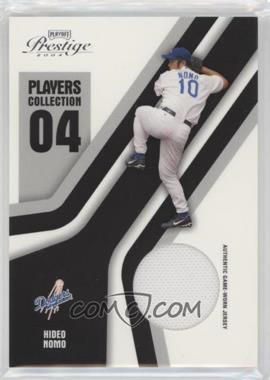 Playoff Prestige: Black, Platinum (serial-numbered to 50 copies)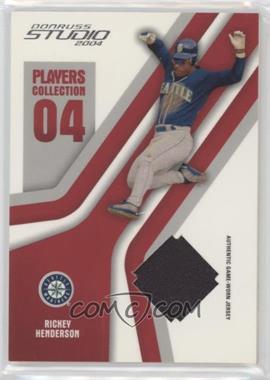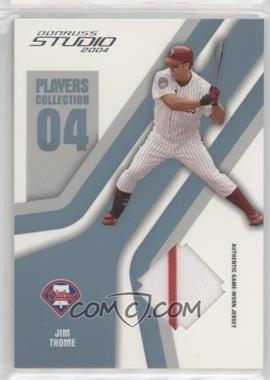 Studio: Red (serial-numbered to 150 copies), Platinum (serial-numbered to 50 copies)
1 Adam Dunn
2 Adam Dunn
3 Adam Dunn
4 Alex Rodriguez
5 Alex Rodriguez
6 Alex Rodriguez
7 Alex Rodriguez
8 Andruw Jones
9 Andruw Jones
10 Austin Kearns
11 Brandon Webb
12 C.C. Sabathia
13 Cal Ripken, Jr.
14 Carlos Beltran
15 Carlos Delgado
16 Carlos Lee
17 Chipper Jones
18 Chipper Jones
19 Craig Biggio
20 Curt Schilling
21 David Wells
22 Don Mattingly
23 Dontrelle Willis
24 Frank Thomas
25 Frank Thomas
26 Fred McGriff
27 Garret Anderson
28 Gary Sheffield
29 Gary Sheffield
30 Greg Maddux
31 Hank Blalock
32 Hank Blalock
33 Hee Seop Choi
34 Hideo Nomo
35 Hideo Nomo
36 Hideo Nomo
37 Ivan Rodriguez
38 Ivan Rodriguez
39 Jason Giambi
40 Jim Edmonds
41 Jim Thome
42 John Olerud
43 John Smoltz
44 Josh Beckett
45 Josh Phelps
46 Juan Gonzalez
47 Juan Gonzalez
48 Kazuhisa Ishii
49 Lance Berkman
50 Larry Walker
51 Larry Walker
52 Luis Gonzalez
53 Magglio Ordonez
54 Magglio Ordonez
55 Manny Ramirez
56 Manny Ramirez
57 Mark Prior
58 Mark Prior
59 Mark Teixeira
60 Mike Mussina
61 Mike Piazza
62 Mike Piazza
63 Mike Piazza
64 Nomar Garciaparra
65 Nomar Garciaparra
66 Pat Burrell
67 Paul Konerko
68 Paul Lo Duca
69 Pedro Martinez
70 Rafael Furcal
71 Rafael Palmeiro
72 Rafael Palmeiro
73 Ramon Hernandez
74 Rickey Henderson
75 Rickey Henderson
76 Rickey Henderson
77 Roberto Alomar
78 Roberto Alomar
79 Robin Ventura
80 Roger Clemens
81 Roger Clemens
82 Roy Halladay
83 Sammy Sosa
84 Sammy Sosa
85 Sammy Sosa
86 Scott Rolen
87 Shannon Stewart
88 Shawn Green
89 Shawn Green
90 Shawn Green
91 Terrence Long
92 Tim Hudson
93 Todd Helton
94 Todd Helton
95 Tom Glavine
96 Tom Glavine
97 Torii Hunter
98 Vernon Wells
99 Vladimir Guerrero
100 Vladimir Guerrero