2003 Upper Deck Yankees Signature
Description
2003 Upper Deck Yankees Signature is a 90-card set released in April, 2003. Each pack contains one signature.
Distribution
10 packs per box, three cards per pack (MSRP: $30). Eight boxes per case. Hobby only.
Reviews
Insertion Ratios
| Cards | Total Cards | Numbered To | Hobby Odds |
| --- | --- | --- | --- |
| Base | 90 | - | two-per-pack |
| Pride of New York Autographs | 88 | - | one-per-pack |
| Pinstripe Excellence Autographs | 28 | 125 | ? |
| Yankees Forever Autographs | 30 | 50 | ? |
| Monumental Cuts | 10 | varies | ? |
Checklist
Base Set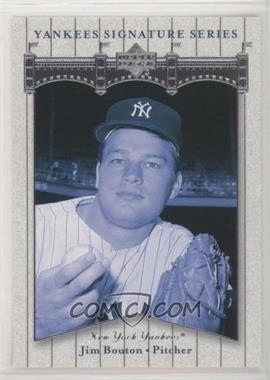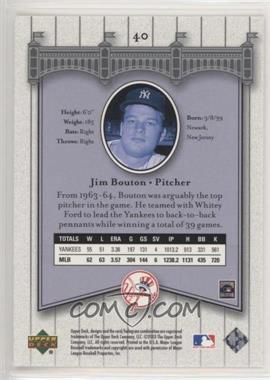 1 Al Downing
2 Al Gettel
3 Art Ditmar
4 Babe Ruth
5 Bill Virdon
6 Billy Martin
7 Bob Cerv
8 Bob Turley
9 Bobby Cox
10 Bobby Richardson
11 Bobby Shantz
12 Bucky Dent
13 Bud Metheny
14 Casey Stengel
15 Charlie Hayes
16 Charlie Silvera
17 Chris Chambliss
18 Danny Cater
19 Dave Kingman
20 Dave Righetti
21 Dave Winfield
22 David Cone
23 Dick Tidrow
24 Doc Medich
25 Dock Ellis
26 Don Gullett
27 Don Mattingly
28 Dwight Gooden
29 Eddie Robinson
30 Felipe Alou
31 Fred Sanford
32 Fred Stanley
33 Gene Michael
34 Hank Bauer
35 Hector Lopez
36 Horace Clarke
37 Jake Gibbs
38 Jerry Coleman
39 Jerry Lumpe
40 Jim Bouton
41 Jim Kaat
42 Jim Mason
43 Jimmy Key
44 Joe DiMaggio
45 Joe Torre
46 John Montefusco
47 Johnny Blanchard
48 Johnny Callison
49 Lew Burdette
50 Johnny Kucks
51 Steve Balboni
52 Ken Singleton
53 Lee Mazzilli
54 Lou Gehrig
55 Lou Piniella
56 Luis Tiant
57 Marius Russo
58 Mel Stottlemyre
59 Mickey Mantle
60 Mike Pagliarulo
61 Mike Torrez
62 Miller Huggins
63 Norm Siebern
64 Paul O'Neill
65 Phil Niekro
66 Phil Rizzuto
67 Ralph Branca
68 Ralph Houk
69 Ralph Terry
70 Randy Gumpert
71 Roger Maris
72 Ron Blomberg
73 Ron Guidry
74 Ruben Amaro
75 Ryne Duren
76 Sam McDowell
77 Sparky Lyle
78 Thurman Munson
79 Tom Sturdivant
80 Tom Tresh
81 Tommy Byrne
82 Tommy Henrich
83 Tommy John
84 Tony Kubek
85 Tony Lazzeri
86 Virgil Trucks
87 Wade Boggs
88 Whitey Ford
89 Willie Randolph
90 Yogi Berra
Autographs
Pride of New York Autographs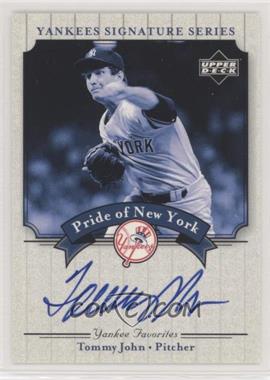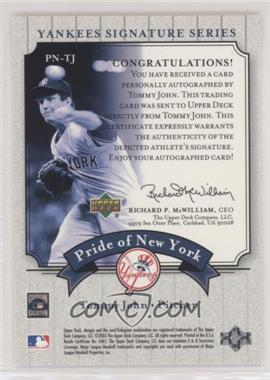 Inserted at a stated rate of one per pack, these 88 cards feature authentic autographs from either retired Yankee players or people associated with the franchise in some way. This set included the first certified autographed cards for figures such as Yankee GM Brian Cashman, and actors John Goodman and Jason Alexander. Bud Metheny was supposed to sign cards for this product but he passed away before he could sign his cards. In addition, Cashman, Goodman, Dwight Gooden, and Yogi Berra did not return their cards in time for inclusion in this product and we have notated that information with an EXCH in our checklist. David Cone signed some of his cards in time for inclusion and others were available as an exchange card. Collectors could redeem those cards until March 27th, 2006. Upper Deck announced some shorter print runs and we have put that stated print run information next to the player's name in our checklist.
AD Al Downing
AG Al Gettel
BD Brian Doyle
BL Johnny Blanchard
BR Bobby Richardson
BS Bobby Shantz
BT Bob Turley
BV Bill Virdon
CA1 Johnny Callison
CA2 Brian Cashman EXCH 100
CC Chris Chambliss
CE Bob Cerv
CH Charlie Hayes
CO David Cone
CS Charlie Silvera
CX Bobby Cox
DC Danny Cater
DE Bucky Dent
DG Don Gullett
DI Art Ditmar
DK Dave Kingman
DM Doc Medich
DR Dave Righetti
DT Dick Tidrow
DW Dave Winfield 350
DZ Don Zimmer
EL Dock Ellis
ER Eddie Robinson
FA Felipe Alou
FS Fred Sanford
GM Gene Michael
GO Dwight Gooden EXCH
HB Hank Bauer
HC Horace Clarke
HL Hector Lopez
HR Hal Reniff
JA Jason Alexander 50
JB Jim Bouton
JC Jerry Coleman
JG1 Jake Gibbs
JG2 John Goodman EXCH 100
JK Jim Kaat
JL Jerry Lumpe
JM Jim Mason
JT Joe Torre
JW Jim Wynn
KE Jimmy Key
KS Ken Singleton
KU Johnny Kucks
LB Lew Burdette
LM Lee Mazzilli
LP Lou Piniella 542
LT Luis Tiant
MA Don Mattingly
MO John Montefusco
MP Mike Pagliarulo
MR Marius Russo
MS Mel Stottlemyre
MT Mike Torrez
NS Norm Siebern
PN Phil Niekro
PO Paul O'Neill 500
PR Phil Rizzuto
RA Ruben Amaro
RB1 Ron Blomberg
RB2 Ralph Branca
RD Ryne Duren
RG1 Ron Guidry
RG2 Randy Gumpert
RH Ralph Houk
RT Ralph Terry
SB Steve Balboni
SL Sparky Lyle
SM Sam McDowell
ST Fred Stanley
TB Tommy Byrne
TC Tom Carroll
TH Tommy Henrich
TJ Tommy John
TK Tony Kubek
TS Tom Sturdivant
TT Tom Tresh
VT Virgil Trucks
WB Wade Boggs
WF Whitey Ford
WR Willie Randolph 283
YB Yogi Berra EXCH
Pinstripe Excellence Autographs
Each Pinstripe Excellence Autograph is serial-numbered to 125 copies.
AA Felipe Alou / Ruben Amaro
BA Hank Bauer / Felipe Alou
BP Wade Boggs / Mike Pagliarulo
BR1 Hank Bauer / Phil Rizzuto
BR2 Tommy Byrne / Marius Russo
BT Jim Bouton / Ralph Terry
CK Chris Chambliss / Dave Kingman
DC Bucky Dent / Chris Chambliss
DR Bucky Dent / Willie Randolph
DS Ryne Duren / Tom Sturdivant
FB Whitey Ford / Yogi Berra
GB Jake Gibbs / Johnny Blanchard
GM Ron Guidry / John Montefusco
GR Ron Guidry / Willie Randolph
JK Tommy John / Jim Kaat
LG Sparky Lyle / Ron Guidry
LM Jerry Lumpe / Jim Mason
MC John Montefusco / Chris Chambliss
MK Gene Michael / Tony Kubek
ML Sam McDowell / Sparky Lyle
MR Don Mattingly / Dave Righetti
NT Phil Niekro / Luis Tiant
RB Bobby Richardson / Hank Bauer
RC Bobby Richardson / Jerry Coleman
SC Ken Singleton / Jerry Coleman
ST Tom Sturdivant / Bob Turley
TK Luis Tiant / Jim Kaat
TM Mike Torrez / Lee Mazzilli
Yankees Forever Autographs
Each Yankees Forever Autograph is serial-numbered to 50 copies. The following cards were issued as exchange cards of which could be redeemed until March 27th, 2006: GCK, GRJ, MTT, TCO, WMG, WPC.
ALB Felipe Alou / Hector Lopez / Hank Bauer
AOM Felipe Alou / Paul O'Neill / Lee Mazzilli
BSB Yogi Berra / Bobby Shantz / Hank Bauer
DFB Al Downing / Whitey Ford / Yogi Berra
DRC Bucky Dent / Willie Randolph / Chris Chambliss
EMG Dock Ellis / Doc Medich / Don Gullett
FKB Whitey Ford / Johnny Kucks / Jim Bouton
GCK Dwight Gooden / David Cone / Jimmy Key EXCH
GRJ Ron Guidry / Dave Righetti / Tommy John EXCH
HMC Ralph Houk / Gene Michael / Bobby Cox
HRB Tommy Henrich / Phil Rizzuto / Ralph Branca
JKL Tommy John / Jim Kaat / Sparky Lyle
KCC Dave Kingman / Chris Chambliss / Danny Cater
KGT Jim Kaat / Don Gullet / Mike Torrez
KJB Jim Kaat / Tommy John / Jim Bouton
MTT John Montefusco / Mike Torrez / Dick Tidrow EXCH
OBK Paul ONeill / Wade Boggs / Jimmy Key
PTV Lou Piniella / Joe Torre / Bill Virdon
RBC Phil Rizzuto / Yogi Berra / Jerry Coleman
RKD Phil Rizzuto / Tony Kubek / Bucky Dent
RRC Dominic Rich / Willie Randolph / Jerry Coleman
RSB Paul Russo / Tom Sturdivant / Tommy Byrne
SSB Fred Stanley / Charlie Silvera / John Blanchard
STE Mel Stottlemyre / Luis Tiant / Dock Ellis
TCO Joe Torre / David Cone / Paul O'Neill EXCH
TLN Luis Tiant / Sparky Lyle / Phil Niekro
TMT Luis Tiant / Sparky McDowell / Ralph Terry
WHM Dave Winfield / Tommy Henrich / Lee Mazzilli
WMG Dave Winfield / Don Mattingly / Ron Guidry EXCH
WPC Dave Winfield / Lou Piniella / Chris Chambliss EXCH
Monumental Cuts
BM Billy Martin 9
BR Babe Ruth 1
CS Casey Stengel 3
JD Joe DiMaggio 4
LG Lou Gehrig 1
MH Miller Huggins 2
MM Mickey Mantle 1
RM Roger Maris 6
TL Tony Lazzeri 2
TM Thurman Munson 1