2003 Topps Traded & Rookies
Description
The 2003 Topps Traded and Rookies (with Topps Chrome) set is a 275-card set released in October, 2003. Once again, Topps Traded came "bundled" with Topps Chrome Traded, with each ten-card pack yielded two Chrome cards. Each 24-pack waxbox or 10-pack HTA box should yield either a relic or an autograph.
The first 120 cards focuses on players and managers who changed teams. The next 45 cards make up a "Prospects" subset, while the final 110 cards consist of First-Year Players. Notable rookies include: Brandon Webb, Hanley Ramirez, Robinson Cano, Shane Victorino, Brian McCann and Cheng-Ming Wang.
Distribution
Hobby/Retail: 24 packs per box, 10 cards (two Chromes) per pack. (MSRP $3)
HTA: 10 packs per box, 35 cards (two Chromes, and Gold parallel) per pack. (MSRP $10)
Reviews
Insertion Ratios
| Cards | Total Cards | Numbered To | Hobby/Retail Odds | HTA Odds |
| --- | --- | --- | --- | --- |
| Base | 275 | - | 8:1 | 29:1 |
| Chrome | 275 | - | two-per-pack | two-per-pack |
| Gold | 275 | 2003 | 1:2 | one-per-pack |
| Refractors | 275 | - | 1:12 | 1:4 |
| Uncirculated X-Fractors | 275 | 25 | N/A | one-per-box |
| Future Phenoms Relics | 15 | - | REL | REL |
| Transactions Bat Relics | 25 | - | REL | REL |
| Transactions Dual Bat Relics | 3 | - | 1:421 REL | 1:120 REL |
| Hall of Fame Relics | 2 | - | 1:1009 REL | 1:289 REL |
| Hall of Fame Dual Relic | 1 | - | 1:2015 REL | 1:578 REL |
| Signature Moves Autographs | 20 | - | AU | AU |
| Topps Blue Chips Autographs | 24 | - | 1:631 AU | AU |
REL: Odds of finding a Relic: 1:35 Hobby/retail packs; 1:10 HTA packs.
AU: Odds of finding an autograph: 1:71 Hobby/retail packs; 1:20 HTA packs.
Checklist
Base Set
Traded Players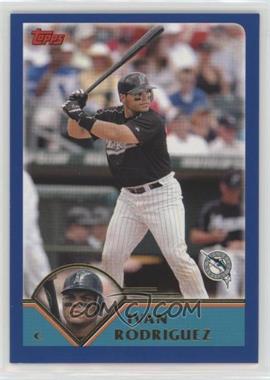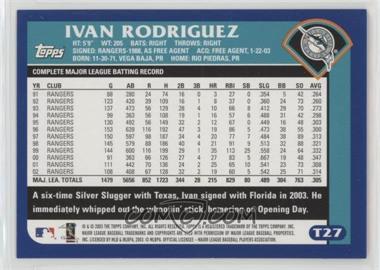 T1 Juan Pierre
T2 Mark Grudzielanek
T3 Tanyon Sturtze
T4 Greg Vaughn
T5 Greg Myers
T6 Randall Simon
T7 Todd Hundley
T8 Marlon Anderson
T9 Jeff Reboulet
T10 Alex Sanchez
T11 Mike Rivera
T12 Todd Walker
T13 Ray King
T14 Shawn Estes
T15 Gary Matthews, Jr.
T16 Jaret Wright
T17 Edgardo Alfonzo
T18 Omar Daal
T19 Ryan Rupe
T20 Tony Clark
T21 Jeff Suppan
T22 Mike Stanton
T23 Ramon Martinez
T24 Armando Rios
T25 Johnny Estrada
T26 Joe Girardi
T27 Ivan Rodriguez
T28 Robert Fick
T29 Rick White
T30 Robert Person
T31 Alan Benes
T32 Chris Carpenter
T33 Chris Widger
T34 Travis Hafner
T35 Mike Venafro
T36 Jon Lieber
T37 Orlando Hernandez
T38 Aaron Myette
T39 Paul Bako
T40 Erubiel Durazo
T41 Mark Guthrie
T42 Steve Avery
T43 Damian Jackson
T44 Rey Ordonez
T45 John Flaherty
T46 Byung-Hyun Kim
T47 Tom Goodwin
T48 Elmer Dessens
T49 Al Martin
T50 Gene Kingsale
T51 Lenny Harris
T52 David Ortiz
T53 Jose Lima
T54 Mike Difelice
T55 Jose Hernandez
T56 Todd Zeile
T57 Roberto Hernandez
T58 Albie Lopez
T59 Roberto Alomar
T60 Russ Ortiz
T61 Brian Daubach
T62 Carl Everett
T63 Jeromy Burnitz
T64 Mark Bellhorn
T65 Ruben Sierra
T66 Mike Fetters
T67 Armando Benitez
T68 Deivi Cruz
T69 Jose Cruz, Jr.
T70 Jeremy Fikac
T71 Jeff Kent
T72 Andres Galarraga
T73 Rickey Henderson
T74 Royce Clayton
T75 Troy O'Leary
T76 Ron Coomer
T77 Greg Colbrunn
T78 Wes Helms
T79 Kevin Millwood
T80 Damion Easley
T81 Bobby Kielty
T82 Keith Osik
T83 Ramiro Mendoza
T84 Shea Hillenbrand
T85 Shannon Stewart
T86 Eddie Perez
T87 Ugueth Urbina
T88 Orlando Palmeiro
T89 Graeme Lloyd
T90 John Vander Wal
T91 Gary Bennett
T92 Shane Reynolds
T93 Steve Parris
T94 Julio Lugo
T95 John Halama
T96 Carlos Baerga
T97 Jim Parque
T98 Mike Williams
T99 Fred McGriff
T100 Kenny Rogers
T101 Matt Herges
T102 Jay Bell
T103 Esteban Yan
T104 Eric Owens
T105 Aaron Fultz
T106 Rey Sanchez
T107 Jim Thome
T108 Aaron Boone
T109 Raul Mondesi
T110 Kenny Lofton
T111 Jose Guillen
T112 Aramis Ramirez
T113 Sidney Ponson
T114 Scott Williamson
T115 Robin Ventura
Managers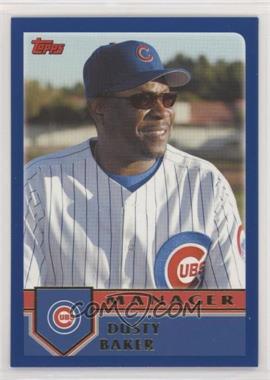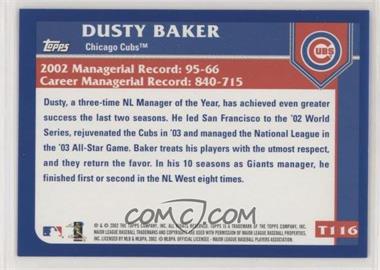 T116 Dusty Baker
T117 Felipe Alou
T118 Buck Showalter
T119 Jack McKeon
T120 Art Howe
Prospects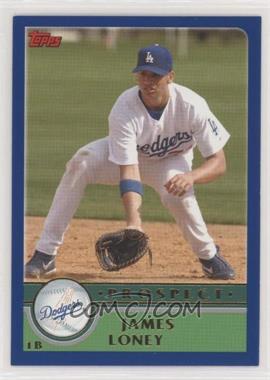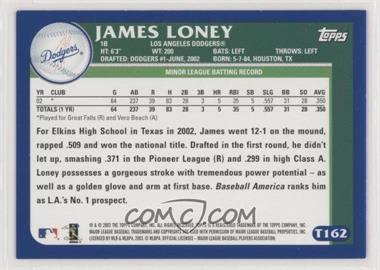 T121 Bobby Crosby
T122 Adrian Gonzalez
T123 Kevin Cash
T124 Shin-Soo Choo
T125 Chin-Feng Chen
T126 Miguel Cabrera
T127 Jason Young
T128 Alex Herrera
T129 Jason Dubois
T130 Jeff Mathis
T131 Casey Kotchman
T132 Ed Rogers
T133 Wilson Betemit
T134 Jim Kavourias
T135 Taylor Buchholz
T136 Adam LaRoche
T137 Dallas McPherson
T138 Jesus Cota
T139 Clint Nageotte
T140 Boof Bonser
T141 Walter Young
T142 Joe Crede
T143 Denny Bautista
T144 Victor Diaz
T145 Chris Narveson
T146 Gabe Gross
T147 Jimmy Journell
T148 Rafael Soriano
T149 Jerome Williams
T150 Aaron Cook
T151 Anastacio Martinez
T152 Scott Hairston
T153 John Buck
T154 Ryan Ludwick
T155 Chris Bootcheck
T156 John Rheinecker
T157 Jason Lane
T158 Shelley Duncan
T159 Adam Wainwright
T160 Jason Arnold
T161 Jonny Gomes
T162 James Loney
T163 Mike Fontenot
T164 Khalil Greene
T165 Sean Burnett
First Year Players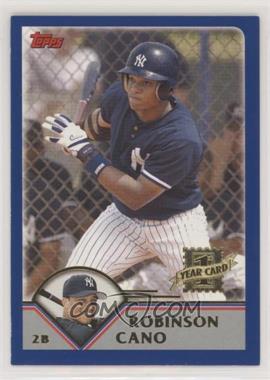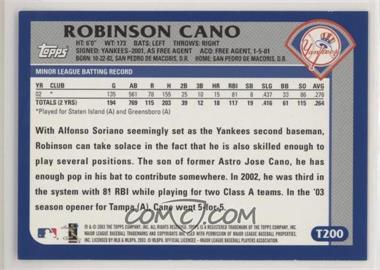 T166 David Martinez RC*
T167 Felix Pie RC
T168 Joe Valentine RC
T169 Brandon Webb RC
T170 Matt Diaz RC
T171 Lew Ford RC
T172 Jeremy Griffiths RC
T173 Matt Hensley RC
T174 Charlie Manning RC
T175 Elizardo Ramirez RC
T176 Greg Aquino RC
T177 Felix Sanchez RC
T178 Kelly Shoppach RC
T179 Bubba Nelson RC*
T180 Mike O'Keefe RC*
T181 Hanley Ramirez RC
T182 Todd Wellemeyer RC
T183 Dustin Moseley RC
T184 Eric Crozier RC
T185 Ryan Shealy RC
T186 Jeremy Bonderman RC
T187 Thomari Story-Harden RC*
T188 Dusty Brown RC
T189 Robby Hammock RC
T190 Jorge Piedra RC
T191 Chris De La Cruz RC*
T192 Eli Whiteside RC
T193 Jason Kubel RC
T194 Jon Schuerholz, Jr. RC*
T195 Stephen Randolph RC
T196 Andy Sisco RC
T197 Sean Smith RC*
T198 Jon-Mark Sprowl RC*
T199 Matt Kata RC
T200 Robinson Cano RC
T201 Nook Logan RC
T202 Ben Francisco RC
T203 Arnie Munoz RC
T204 Ozzie Chavez RC*
T205 Eric Riggs RC*
T206 Beau Kemp RC*
T207 Travis Wong RC*
T208 Dustin Yount RC*
T209 Brian McCann RC
T210 Wilton Reynolds RC*
T211 Matt Bruback RC*
T212 Andrew Brown RC
T213 Edgar Gonzalez RC
T214 Eider Torres RC
T215 Aquilino Lopez RC
T216 Bobby Basham RC*
T217 Tim Olson RC
T218 Nathan Panther RC*
T219 Bryan Grace RC*
T220 Dusty Gomon RC*
T221 Wil Ledezma RC
T222 Josh Willingham RC
T223 David Cash RC*
T224 Oscar Villarreal RC
T225 Jeff Duncan RC
T226 Kade Johnson RC*
T227 Luke Steidlmayer RC*
T228 Brandon Watson RC
T229 Jose Morales RC
T230 Mike Gallo RC
T231 Tyler Adamczyk RC*
T232 Adam Stern RC
T233 Brennan King RC*
T234 Dan Haren RC
T235 Michel Hernandez RC
T236 Ben Fritz RC*
T237 Clay Hensley RC
T238 Tyler Johnson RC
T239 Pete LaForest RC
T240 Tyler Martin RC*
T241 J.D. Durbin RC
T242 Shane Victorino RC
T243 Rajai Davis RC
T244 Ismael Castro RC*
T245 Chien-Ming Wang RC
T246 Travis Ishikawa RC
T247 Corey Shafer RC*
T248 Gary Schneidmiller RC*
T249 Dave Pember RC
T250 Keith Stamler RC*
T251 Tyson Graham RC*
T252 Ryan Cameron RC*
T253 Eric Eckenstahler
T254 Matthew Peterson RC*
T255 Dustin McGowan RC
T256 Prentice Redman RC
T257 Haj Turay RC*
T258 Carlos Guzman RC*
T259 Matt DeMarco RC*
T260 Derek Michaelis RC*
T261 Brian Burgamy RC*
T262 Jay Sitzman RC*
T263 Chris Fallon RC*
T264 Mike Adams RC
T265 Clint Barmes RC
T266 Eric Reed RC
T267 Willie Eyre RC
T268 Carlos Duran RC*
T269 Nick Trzesniak RC*
T270 Ferdin Tejeda RC*
T271 Michael Garciaparra RC*
T272 Michael Hinckley RC
T273 Branden Florence RC*
T274 Trent Oeltjen RC
T275 Mike Neu RC
Parallels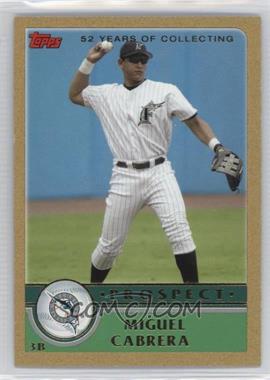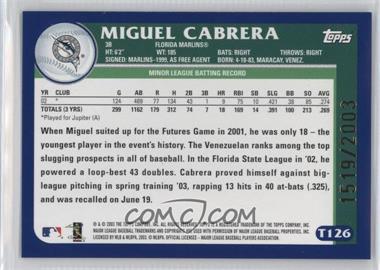 All 275 base cards are available in a Gold parallel, which is serial-numbered to 2003 copies.
Chrome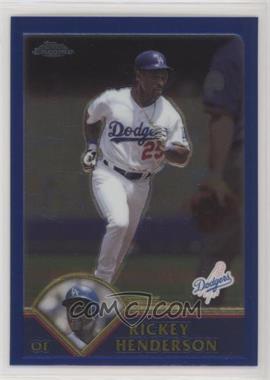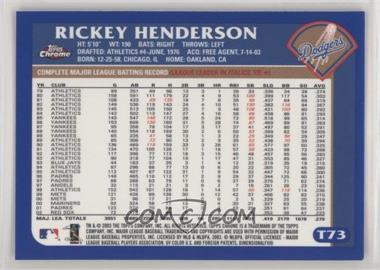 All 275 Traded cards are available in a Chrome parallel, which are seeded at the rate of two-per-pack.
Refractors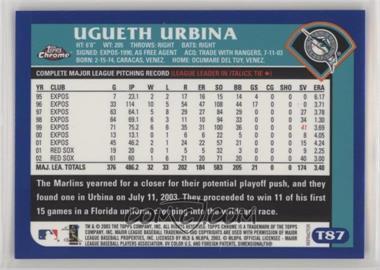 All 275 Chrome cards are available in a Refractor parallel.
Uncirculated X-Fractors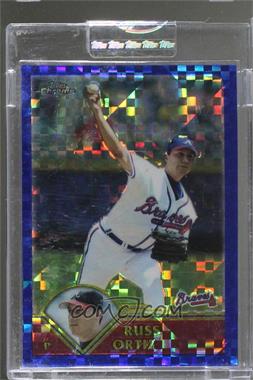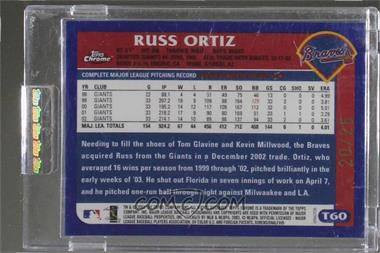 Each HTA box contained one Uncirculated X-Fractor, packed as a box topper. All 275 base cards are available and each is serial-numbered to 25 copies.
Autographs & Game-Used
Future Phenoms Relics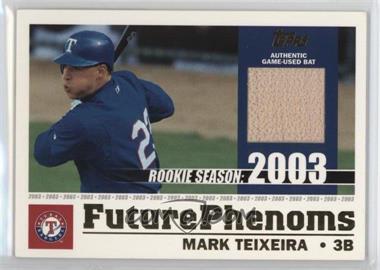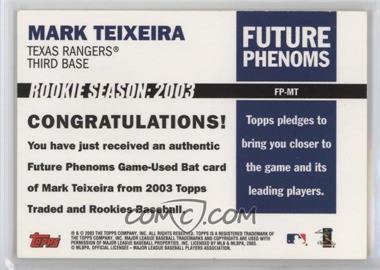 The stated odds of finding a specific Future Phenoms Relic are as follows.
Group A: 1:2330 Hobby/retail; 1:669 HTA
Group B: 1:505 Hobby/retail; 1:144 HTA
Group C: 1:101 Hobby/retail; and 1:29 HTA
FP-BP Brandon Phillips BAT B
FP-CC Chin-Feng Chen JSY C
FP-CDC Carl Crawford BAT C
FP-CS Chris Snelling BAT C
FP-HB Hank Blalock BAT C
FP-JM Justin Morneau BAT C
FP-JT Joe Thurston JSY C
FP-MB Marlon Byrd BAT C
FP-MR Michael Restovich BAT B
FP-MT Mark Teixeira BAT B
FP-RB Rocco Baldelli BAT B
FP-TAH Trey Hodges JSY C
FP-TH Travis Hafner BAT C
FP-WB Wilson Betemit BAT C
FP-WPB Willie Bloomquist BAT A
Transactions Bat Relics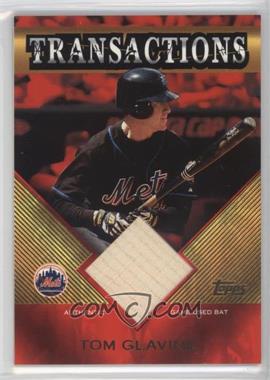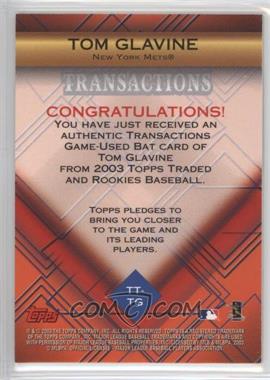 The specific odds of finding a Transactions Bat Relic are as follows.
Group A: 1:168 Hobby/retail; 1:48 HTA
Group B: 1:78 Hobby/retail; and 1:22 HTA.
TT-AG Andres Galarraga A
TTCF Cliff Floyd B
TT-DB David Bell B
TT-EA Edgardo Alfonzo B
TT-ED Erubiel Durazo B
TT-EK Eric Karros B
TT-FL Felipe Lopez A
TT-FM Fred McGriff B
TT-JC Jose Cruz, Jr. B
TT-JG Jeremy Giambi A
TT-JK Jeff Kent B
TT-JP Juan Pierre B
TT-JT Jim Thome A
TT-KL Kenny Lofton A
TT-KM Kevin Millar B
TT-PW Preston Wilson A
TT-RD Ray Durham A
TT-RF Robert Fick A
TT-RO Rey Ordonez B
TT-RS Ruben Sierra A
TT-RW Rondell White B
TT-SH Tsuyoshi Shinjo B
TT-SS Shane Spencer A
TT-TG Tom Glavine A
TT-TZ Todd Zeile A
Dual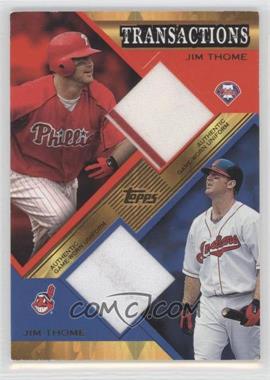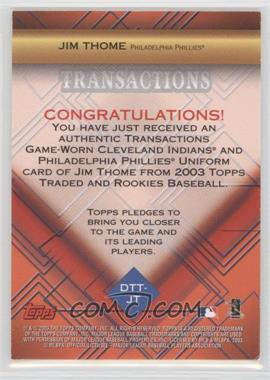 DTT-IR Ivan Rodriguez FLA / TEX
DTT-JT Jim Thome PHL / CLE
DTT-KM Kevin Millwood PHL / ATL
Hall of Fame Relics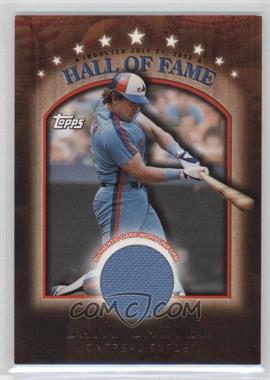 HF-EM Eddie Murray BAT
HF-GC Gary Carter UNI
Dual
HF-CM Gary Carter / Eddie Murray UNI / BAT
Signature Moves Autographs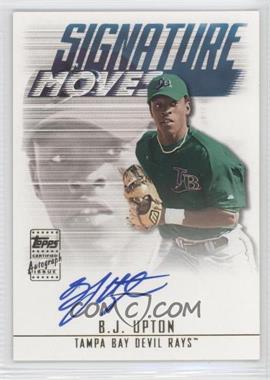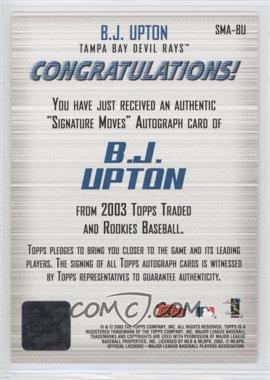 The stated odds of finding a specific Signature Moves Autograph are as follows.
Group A: 1:280 Hobby/retail; 1:80 HTA
Group B: 1:114 Hobby/retail; 1:33 HTA.
SMA-BC Bartolo Colon A
SMA-BU B.J. Upton B
SMA-CF Cliff Floyd A
SMA-DB David Bell A
SMA-EA Erick Almonte B
SMA-ER Elizardo Ramirez B
SMA-FP Felix Pie B
SMA-IR Robert Fick A
SMA-JB Joe Borchard B
SMA-JC Jose Cruz, Jr. A
SMA-JF Jesse Foppert B
SMA-JG Joey Gomes B
SMA-JJC Jack Cust A
SMA-JL James Loney B
SMA-JR Jose Reyes B
SMA-JS Jason Stokes A
SMA-KG Khalil Greene A
SMA-MT Mark Teixeira A
SMA-VM Victor Martinez B
SMA-WY Walter Young B
Topps Blue Chips
NOTE: In addition to Topps Traded, these cards were also randomly inserted into packs of 2003 Bowman Draft Picks & Prospects, Bowman Heritage, and Topps Series Two. The stated odds of finding a Blue Chip Autograph in a pack of Topps Traded: 1:631.
AH Aubrey Huff
BC Bobby Crosby
BEP Brandon Phillips
BF Ben Fritz
BJ Bobby Jenks
BS Brian Slocum
CCE Clint Everts
CH Cole Hamels
CN Clint Nageotte
CT Chad Tracy
DL Donald Levinski
GF Gavin Floyd
JB Josh Barfield
JG Jay Gibbons
JHA J.J. Hardy
JHU Justin Huber
JR Jeremy Reed
JRB Jason Bay
KH Kris Honel
MB Milton Bradley
OH Orlando Hudson
RN Ramon Nivar
VM Val Majewski
ZG Zack Greinke