2002 Topps Traded & Rookies
Description
The 2002 Topps Traded set (with Topps Chrome) was released in October 2002. As with 2001 Topps Traded & Rookies, the set was available exclusively in pack form and bundled with Topps Chrome Traded. Each Hobby box yields one autograph or relic and one buyback from a previously released Topps Traded set -- although these cards are not marked as having been bought back.
The 275-card base set consists of 105 players and five managers who changed teams, 155 rookies and prospects, and a ten-card "Who Would Have Thought?" subset. For some inexplicable reason, Topps decided to short-print the 110 traded players and managers -- the first time Topps has purposely SPed base cards in their flagship brand. In the Chrome edition, however, all 275 base cards are printed in equal quantities.
As with most 2002 sets, the avalanche of rookie cards from the year before hurt the rookie card selection. The only notable rookie cards are of Dontrelle Willis, Jose Bautista, and Gavin Floyd.
Distribution
Hobby/Retail: 24 packs per box, 10 cards (8 Traded, 2 Chrome) per pack. MSRP $3
HTA: 10 packs per box, 35 (28 Traded, 7 Chrome) cards per pack. MSRP $10
Reviews
Insertion Ratios
| Cards | Total Cards | Numbered To | Hobby Odds | Retail Odds | Jumbo Odds |
| --- | --- | --- | --- | --- | --- |
| Base | 275 | - | 8:1 | 8:1 | 27:1 |
| Veterans & Managers | 110 | - | one-per-pack | one-per-pack | one-per-pack |
| Rookies & Prospects/Who Would Have Thought? | 165 | - | 7:1 | 7:1 | 26:1 |
| Gold | 275 | 2002 | 1:3 | 1:3 | one-per-pack |
| Chrome | 275 | - | 2:1 | 2:1 | 7:1 |
| Chrome Refractor | 275 | - | 1:12 | 1:12 | 1:12 |
| Chrome Black Refractor | 275 | 100 | 1:56 | 1:56 | 1:16 |
| Tools of the Trade Bat | 32 | - | 1:34 | 1:34 | 1:10 |
| Tools of the Trade Jersey | 3 | - | 1:426 | 1:427 | 1:122 |
| Tools of the Trade Dual Jersey | 3 | - | 1:539 | 1:542 | 1:155 |
| Jose Canseco Farewell Relic | 1 | - | 1:590 | 1:595 | 1:169 |
| Ozzie Smith HOF Relic | 1 | - | 1:1533 | 1:1574 | 1:439 |
| Signature Moves | 26 | - | 1:91 | 1:91 | 1:26 |
Checklist
Base Set
Traded Players & New Managers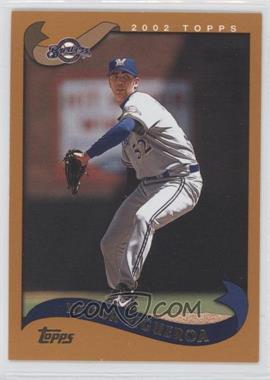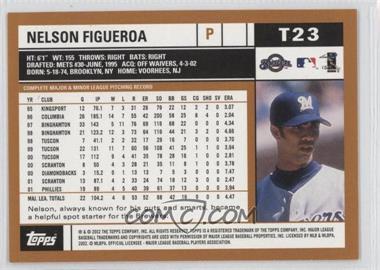 NOTE: The stated odds of finding a traded player or manager is one-per-pack.
T1 Jeff Weaver SP
T2 Jay Powell SP
T3 Alex Gonzalez SP
T4 Jason Isringhausen SP
T5 Tyler Houston SP
T6 Ben Broussard SP
T7 Chuck Knoblauch SP
T8 Brian L. Hunter SP
T9 Dustan Mohr SP
T10 Eric Hinske SP
T11 Roger Cedeno SP
T12 Eddie Perez SP
T13 Jeromy Burnitz SP
T14 Bartolo Colon SP
T15 Rick Helling SP
T16 Dan Plesac SP
T17 Scott Strickland SP
T18 Antonio Alfonseca SP
T19 Ricky Gutierrez SP
T20 John Valentin SP
T21 Raul Mondesi SP
T22 Ben Davis SP
T23 Nelson Figueroa SP
T24 Earl Snyder SP
T25 Robin Ventura SP
T26 Jimmy Haynes SP
T27 Kenny Kelly SP
T28 Morgan Ensberg SP
T29 Reggie Sanders SP
T30 Shigetoshi Hasegawa SP
T31 Mike Timlin SP
T32 Russell Branyan SP
T33 Alan Embree SP
T34 D'Angelo Jimenez SP
T35 Kent Mercker SP
T36 Jesse Orosco SP
T37 Greg Zaun SP
T38 Reggie Taylor SP
T39 Andres Galarraga SP
T40 Chris Truby SP
T41 Bruce Chen SP
T42 Darren Lewis SP
T43 Ryan Kohlmeier SP
T44 John McDonald SP
T45 Omar Daal SP
T46 Matt Clement SP
T47 Glendon Rusch SP
T48 Chan Ho Park SP
T49 Benny Agbayani SP
T50 Juan Gonzalez SP
T51 Carlos Baerga SP
T52 Tim Raines SP
T53 Kevin Appier SP
T54 Marty Cordova SP
T55 Jeff D'Amico SP
T56 Dmitri Young SP
T57 Roosevelt Brown SP
T58 Dustin Hermanson SP
T59 Jose Rijo SP
T60 Todd Ritchie SP
T61 Lee Stevens SP
T62 Placido Polanco SP
T63 Eric Young SP
T64 Chuck Finley SP
T65 Dicky Gonzalez SP
T66 Jose Macias SP
T67 Gabe Kapler SP
T68 Sandy Alomar SP
T69 Henry Blanco SP
T70 Julian Tavarez SP
T71 Paul Bako SP
T72 Scott Rolen SP
T73 Brian Jordan SP
T74 Rickey Henderson SP
T75 Kevin Mench SP
T76 Hideo Nomo SP
T77 Jeremy Giambi SP
T78 Brad Fullmer SP
T79 Carl Everett SP
T80 David Wells SP
T81 Aaron Sele SP
T82 Todd Hollandsworth SP
T83 Vicente Padilla SP
T84 Kenny Lofton SP
T85 Corky Miller SP
T86 Josh Fogg SP
T87 Cliff Floyd SP
T88 Craig Paquette SP
T89 Jay Payton SP
T90 Carlos Pena SP
T91 Juan Encarnacion SP
T92 Rey Sanchez SP
T93 Ryan Dempster SP
T94 Mario Encarnacion SP
T95 Jorge Julio SP
T96 John Mabry SP
T97 Todd Zeile SP
T98 Johnny Damon SP
T99 Deivi Cruz SP
T100 Gary Sheffield SP
T101 Ted Lilly SP
T102 Todd Van Poppel SP
T103 Shawn Estes SP
T104 Cesar Izturis SP
T105 Ron Coomer SP
T106 Grady Little SP MGR RC
T107 Jimy Williams SP MGR
T108 Tony Pena SP MGR
T109 Frank Robinson SP MGR
T110 Ron Gardenhire SP MGR
Rookies & Prospects/Who Would Have Thought?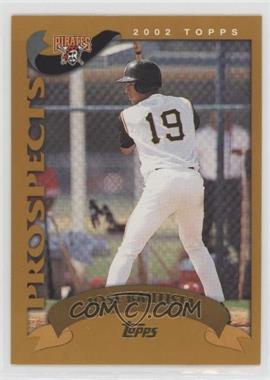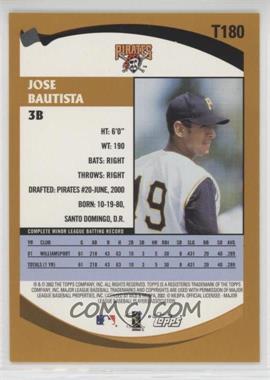 T111 Dennis Tankersley
T112 Alejandro Cadena RC*
T113 Justin Reid RC*
T114 Nate Field RC
T115 Rene Reyes RC
T116 Nelson Castro RC*
T117 Miguel Olivo
T118 David Espinosa
T119 Chris Bootcheck RC
T120 Rob Henkel RC*
T121 Steve Bechler RC
T122 Mark Outlaw RC*
T123 Henry Pichardo RC*
T124 Michael Floyd RC*
T125 Richard Lane RC*
T126 Pete Zamora RC*
T127 Javier Colina
T128 Greg Sain RC*
T129 Ronnie Merrill
T130 Gavin Floyd RC
T131 Josh Bonifay RC*
T132 Tommy Marx RC*
T133 Gary Cates, Jr. RC*
T134 Neal Cotts RC
T135 Angel Berroa
T136 Elio Serrano RC*
T137 J.J. Putz RC
T138 Ruben Gotay RC
T139 Eddie Rogers
T140 Wily Mo Pena
T141 Tyler Yates RC
T142 Colin Young RC*
T143 Chance Caple
T144 Ben Howard RC
T145 Ryan Bukvich RC
T146 Cliff Bartosh RC
T147 Brandon Claussen
T148 Cristian Guerrero
T149 Derrick Lewis
T150 Eric Miller RC*
T151 Justin Huber RC
T152 Adrian Gonzalez
T153 Brian West RC*
T154 Chris Baker RC*
T155 Drew Henson
T156 Scott Hairston RC
T157 Jason Simontacchi RC
T158 Jason Arnold RC*
T159 Brandon Phillips
T160 Adam Roller RC*
T161 Scotty Layfield RC*
T162 Freddie Money RC*
T163 Noochie Varner RC*
T164 Terrance Hill RC*
T165 Jeremy Hill RC
T166 Alfredo Simon RC (Listed as "Carlos Cabrera")
T167 Jose Morban RC
T168 Kevin Frederick RC
T169 Mark Teixeira
T170 Brian Rogers
T171 Anastacio Martinez PROS RC
T172 Bobby Jenks PROS RC
T173 David Gil RC*
T174 Andres Torres
T175 James Barrett RC*
T176 Jimmy Journell
T177 Brett Kay RC*
T178 Jason Young RC
T179 Mark Hamilton RC*
T180 Jose Bautista RC
T181 Blake McGinley RC*
T182 Ryan Mottl RC*
T183 Jeff Austin RC
T184 Xavier Nady
T185 Kyle Kane RC*
T186 Travis Foley RC*
T187 Nathan Kaup RC*
T188 Eric Cyr
T189 Josh Cisneros RC*
T190 Brad Nelson RC
T191 Clint Weibl RC*
T192 Ron Calloway RC
T193 Jung Bong
T194 Rolando Viera RC*
T195 Jason Bulger RC
T196 Chone Figgins RC
T197 Jimmy Alvarez RC*
T198 Joel Crump RC*
T199 Ryan Doumit RC
T200 Demetrius Heath RC*
T201 John Ennis RC
T202 Doug Sessions RC*
T203 Clinton Hosford RC*
T204 Chris Narveson RC
T205 Ross Peeples RC*
T206 Alex Requena RC*
T207 Matt Erickson RC
T208 Brian Forystek RC*
T209 Dewon Brazelton
T210 Nathan Haynes
T211 Jack Cust
T212 Jesse Foppert RC
T213 Jesus Cota RC*
T214 Juan M. Gonzalez RC*
T215 Tim Kalita RC*
T216 Manny Delcarmen RC
T217 Jim Kavourias RC*
T218 C.J. Wilson RC
T219 Edwin Yan RC*
T220 Andy Van Hekken
T221 Michael Cuddyer
T222 Jeff Verplancke RC*
T223 Mike Wilson RC UER
T224 Corwin Malone RC*
T225 Chris Snelling RC
T226 Joe Rogers RC*
T227 Jason Bay RC
T228 Ezequiel Astacio RC
T229 Joey Hammond RC
T230 Chris Duffy RC
T231 Mark Prior
T232 Hansel Izquierdo
T233 Franklyn German RC
T234 Alexis Gomez
T235 Jorge Padilla RC
T236 Ryan Snare RC
T237 Deivis Santos
T238 Taggert Bozied RC*
T239 Mike Peeples RC*
T240 Ronald Acuña, Sr. RC*
T241 Koyie Hill
T242 Garrett Guzman RC*
T243 Ryan Church RC
T244 Tony Fontana RC
T245 Keto Anderson RC*
T246 Brad Bouras RC*
T247 Jason Dubois RC
T248 Angel Guzman RC
T249 Joel Hanrahan RC
T250 Joe Jiannetti RC*
T251 Sean Pierce RC*
T252 Jake Mauer RC*
T253 Marshall McDougall RC
T254 Edwin Almonte RC
T255 Shawn Riggans RC
T256 Steven Shell RC
T257 Kevin Hooper RC
T258 Michael Frick RC*
T259 Travis Chapman RC
T260 Tim Hummel RC
T261 Adam Morrissey RC*
T262 Dontrelle Willis RC
T263 Justin Sherrod RC*
T264 Gerald Smiley RC*
T265 Tony Miller RC*
T266 Nolan Ryan WWHT
T267 Reggie Jackson WWHT
T268 Steve Garvey WWHT
T269 Wade Boggs WWHT
T270 Sammy Sosa WWHT
T271 Curt Schilling WWHT
T272 Mark Grace WWHT
T273 Jason Giambi WWHT
T274 Ken Griffey, Jr. WWHT
T275 Roberto Alomar WWHT
Parallels
Gold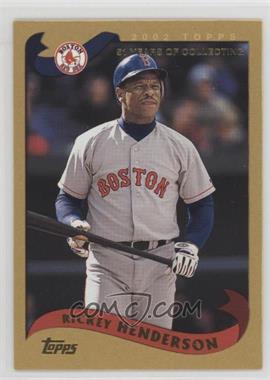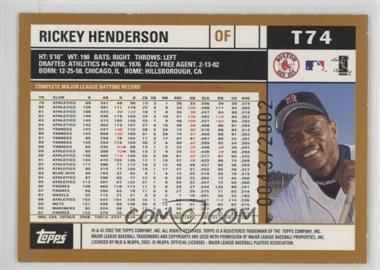 All 275 cards are available in a Gold parallel, serial-numbered to 2002 copies each.
Topps Chrome Traded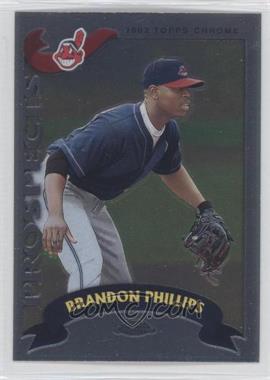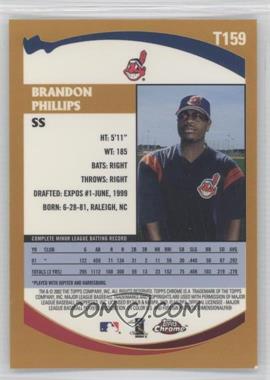 Seeded into Hobby and Retail packs at the rate of 2:1 and HTA packs at 7:1, this set is a Chrome parallel of Topps Traded. Unlike the Topps Traded set, all 275 cards are printed in equal quantities. All Chrome Traded parallels are available in the following parallels.
Refractors (1:12 packs)
Black Refractors (1:56 Hobby/Retail, 1:16 HTA; serial-numbered to 100)
Autographs & Game-Used
Farewell Relic
This bat card commemorates the career of Jose Canseco who retired after failing to make the Montreal Expos' roster. It is seeded into Hobby packs at the rate of 1:590, retail at 1:595, and HTA at 1:169.
Hall of Fame Relic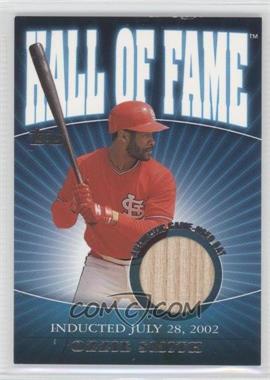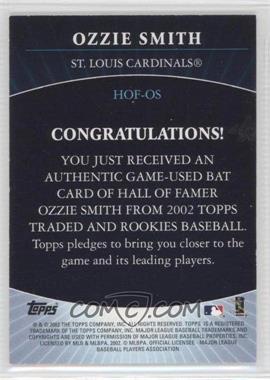 This bat relic card commemorates Ozzie Smith's 2002 induction into the Hall of Fame. It is seeded into Hobby packs at the rate of 1:1533 packs, retail at 1:1574, and HTA at 1:439.
Tools of the Trade Relics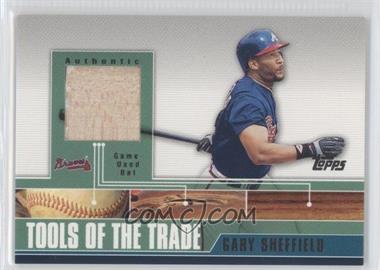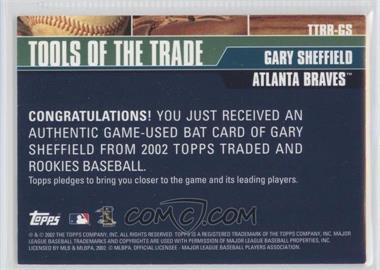 These 35 relics cards all feature players who changed teams in 2002. The odds of finding a Bat Relic are 1:33 Hobby/retail and 1:10 HTA; of finding a jersey 1:426 Hobby, 1:427 retail, and 1:122 HTA.
TTRR-AB Roberto Alomar BAT C
TTRR-AG Andres Galarraga BAT C
TTRR-BF Brad Fullmer BAT C
TTRR-BJ Brian Jordan BAT C
TTRR-CE Carl Everett BAT C
TTRR-CK Chuck Knoblauch BAT C
TTRR-CP Carlos Pena BAT A
TTRR-DB David Bell BAT C
TTRR-DJ Dave Justice BAT C
TTRR-EY Eric Young BAT C
TTRR-GS Gary Sheffield BAT C
TTRR-HB Rickey Henderson BAT C
TTRR-JBU Jeromy Burnitz BAT C
TTRR-JCI Jeff Cirillo BAT B
TTRR-JDB Johnny Damon BAT C
TTRR-JG Juan Gonzalez JSY
TTRR-JP Josh Phelps JSY
TTRR-JV John Vander Wal BAT C
TTRR-KL Kenny Lofton BAT C
TTRR-MA Moises Alou BAT C
TTRR-MLB Matt Lawton BAT C
TTRR-MT Michael Tucker BAT C
TTRR-MVB Mo Vaughn BAT C
TTRR-MVJ Mo Vaughn JSY
TTRR-PP Placido Polanco BAT A
TTRR-RS Reggie Sanders BAT C
TTRR-RV Robin Ventura BAT C
TTRR-RW Rondell White BAT C
TTRR-SI Ruben Sierra BAT C
TTRR-SR Scott Rolen BAT A
TTRR-TC Tony Clark BAT C
TTRR-TM Tino Martinez BAT C
TTRR-TR Tim Raines BAT C
TTRR-TS Tsuyoshi Shinjo BAT C
TTRR-VC Vinny Castilla BAT C
Tools of the Trade Dual Relics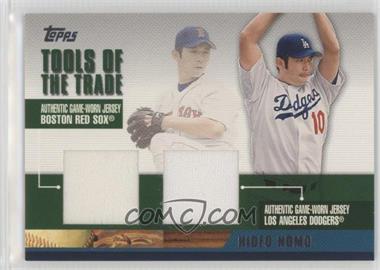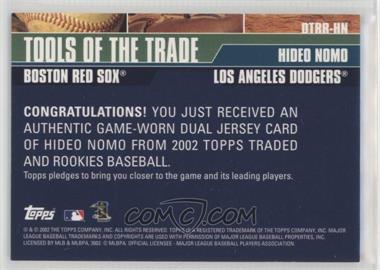 These three dual jersey cards were seeded into packs at the rate of 1:539 Hobby, 1:542 retail, and 1:155 HTA.
DTRR-CP Chan Ho Park JSY / JSY B
DTRR-HN Hideo Nomo JSY / JSY A
DTRR-MO Moises Alou JSY / JSY B
Signature Moves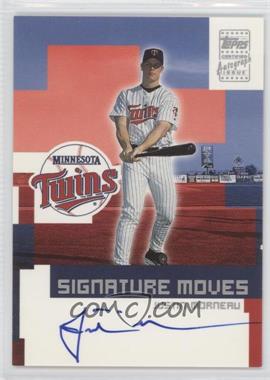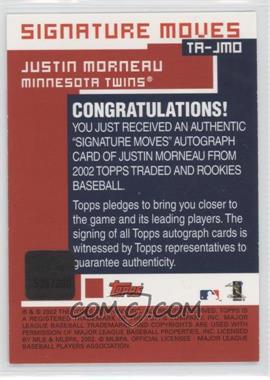 Randomly seeded into Hobby and retail packs at the rate of 1:91 packs and HTA at 1:26 features various prospects and players who changed teams.
TR-JM Jake Mauer G
TR-JD Johnny Damon B
TR-AC Antoine Cameron D
TR-AM Andy Morales H
TR-BB Boof Bonser E
TR-BC Brandon Claussen E
TR-CS Chris Smith G
TR-CU Chase Utley E
TR-CM Corwin Malone H
TR-DT Dennis Tankersley F
TR-FJ Forrest Johnson E
TR-JP Juan Pena E
TR-JS Juan Silvestre D
TR-JW Justin Wayne E
TR-KI Kazuhisa Ishii A
TR-MC Matt Cooper E
TR-MO Moises Alou B
TR-MT Marcus Thames G
TR-RA Roberto Alomar C
TR-RH Ryan Hannaman E
TR-RM Ramon Moreta H
TR-TB Tony Blanco E
TR-TL Todd Linden H
TR-VD Victor Diaz H
TR-JMO Justin Mouneau H
TR-JDA Jeff DaVanon I
Team Topps Legends Autographs