2001 Upper Deck Twizzlers
Description
2001 Upper Deck Twizzlers is a ten-card set featuring players involved in the made-for-TV Big League Challenge which was traditionally held before spring training. One card was available in specially-marked packs of Twizzlers. In addition to the cards, an album, with a $2 cost, was available to sleeve each card.
Players are depicted in their Big League Challenge uniforms, and as such, is not licensed by MLB Properties.
Distribution
One card per specially-marked package of Twizzlers.
Reviews
Insertion Ratios
| Cards | Total Cards | Numbered To | Odds |
| --- | --- | --- | --- |
| Base | 10 | - | 1 card per marked package |
Checklist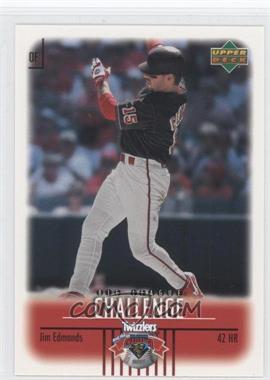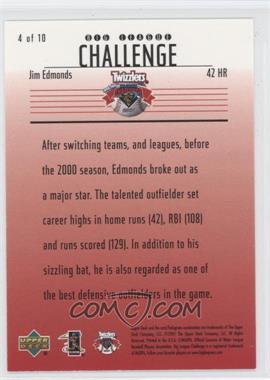 1 Jason Giambi
2 Carlos Delgado
3 Troy Glaus
4 Jim Edmonds
5 Richard Hidalgo
6 Gary Sheffield
7 Todd Helton
8 Jose Canseco
9 Frank Thomas
10 Barry Bonds