2000 Upper Deck A Piece of History 3000 Hit Club
Description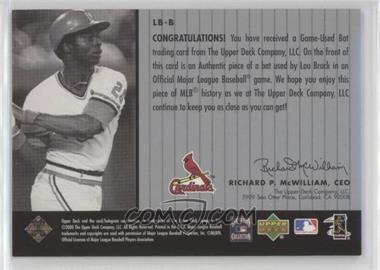 2000 Upper Deck A Piece of History 3000 Hit Club is a multi-brand, game-used set featuring all members (except Pete Rose) of the 3000 Hit Club. Upper Deck inserted into various 2000 baseball products cards featuring a piece of a game-used bat and/or game-used jersey.
A Piece of History cards were released in the following products:
2000 SP Authentic: Tris Speaker and Paul Waner
2000 SPx: Ty Cobb
2000 UD Ionix: Roberto Clemente
2000 Upper Deck Series Two: Hank Aaron
2000 Upper Deck Gold Reserve: Al Kaline
2000 Upper Deck Hitter's Club: Wade Boggs and Tony Gwynn
2000 Upper Deck HoloGrFX: George Brett and Robin Yount
2000 Upper Deck Legends: Paul Molitor and Carl Yastrzemski
2000 Upper Deck MVP: Stan Musial
2000 Upper Deck Ovation: Willie Mays
2000 Upper Deck Pros & Prospects: Lou Brock and Rod Carew
2000 Upper Deck Yankees Legends: Dave Winfield
2001 Upper Deck Series One: Eddie Murray and Cal Ripken, Jr.
Checklist
AKB Al Kaline BAT 400
BGB Wade Boggs / Tony Gywnn BAT 99
BYB George Brett / Robin Yount BAT 99
BYJ George Brett / Robin Yount JSY 99
CRB Cal Ripken, Jr. BAT 350
CRJ Cal Ripken, Jr. JSY 350
CRJB Cal Ripken, Jr. BAT/JSY 100
CYB Carl Yastrzemski BAT 350
CYJ Carl Yastrzemski JSY 350
CYJB Carl Yastrzemski BAT/JSY 100
DWB Dave Winfield BAT 350
DWJ Dave Winfield JSY 350
DWJB Dave Winfield BAT/JSY 100
EMB Eddie Murray BAT 350
EMJ Eddie Murray JSY 350
EMJB Eddie Murray BAT/JSY 100
GBB George Brett BAT 350
GBJ George Brett JSY 350
HAB Hank Aaron BAT 350
HAJ Hank Aaron JSY 350
HAJB Hank Aaron BAT/JSY 100
LBB Lou Brock BAT 350
LBJ Lou Brock JSY 350
LBJB Lou Brock BAT/JSY 100
PMB Paul Molitor BAT 350
PWB Paul Waner BAT 250
RCAB Rod Carew BAT 350
RCABJ Rod Carew BAT/JSY 100
RCAJ Rod Carew JSY 350
RCLB Roberto Clemente BAT 350
RYB Robin Yount BAT 350
RYJ Robin Yount JSY 350
SMB Stan Musial BAT 350
SMJ Stan Musial JSY 350
SMJB Stan Musial BAT/JSY 100
TCB Ty Cobb BAT 350
TGB Tony Gwynn BAT 350
TGBC Tony Gwynn BAT/HAT 50
TSB Tris Speaker BAT 350
WBB Wade Boggs BAT 350
WBBC Wade Boggs BAT/HAT 50
WMB Willie Mays BAT 300
WMJ Willie Mays JSY 350
WMJB Willie Mays BAT/JSY 50
Autographs
As part of the Upper Deck A Piece of History 3000 Hit Club Club series, Upper Deck had most of the living members of the 500 homer club sign a number of their bat cards. Each player's autographed card was inserted into the same product as the un-autographed versions listed above.
In most cases, each autographed version is serial-numbered to the player's uniform number. Unlike the non-autographed version, each autographed card is hand-numbered.
For deceased players, cut signatures were used.
Card #AKBS packed out as a redemption card, which expired April 10, 2001. Cards #CRJBS and EMJBS also packed out as redemptions which expired August 22, 2001.
AKBS Al Kaline BAT EXCH 6
BYBJ George Brett / Robin Yount JSY 10
BYBS George Brett / Robin Yount BAT 10
CRJBS Cal Ripken, Jr. BAT/JSY EXCH 8
CYJBS Carl Yastrzemski BAT/JSY 8
DWJBS Dave Winfield BAT/JSY 31
EMJBS Eddie Murray BAT/JSY EXCH 33
RCAJS Rod Carew BAT/JSY 30
RCLBC Roberto Clemente CUT/BAT 5
RCLC Roberto Clemente CUT 4
SMJBS Stan Musial BAT/JSY 6
TCBC Ty Cobb CUT/BAT 1
TCC Ty Cobb CUT 3
TGBS Tony Gwynn BAT 19
TSBC Tris Speaker CUT/BAT 5
WBBS Wade Boggs BAT 12
WMJBS Willie Mays BAT/JSY 24