Difference between revisions of "2000 Opening Day 2K"
 

Line 24:
Line 24:
 
 
 

==Base Set==

 

==Base Set==

 
+
 
+
 
+
 
 
 

<sql2wiki database="carddb">

 

<sql2wiki database="carddb">
---
Latest revision as of 15:56, 16 August 2018
Description
2000 Opening Day 2K is a 32-card, cross-brand, insert set. All four MLB licensed card manufacturers (Fleer, Pacific, Topps and Upper Deck) participated in this cross-company retail-only promotion to honor Opening Day 2000. The cards were distributed at K-Mart in March and April of 2000. Each manufacturer selected eight players of their choice. Cards 1-8 were issued in 2000 Topps Opening Day, 9-16 were issued in 2000 Fleer Tradition, cards 17-24 were issued in 2000 Victory and 2000 Upper Deck Hitter's Club, and 25-32 were issued in 2000 Pacific. Each card shares similar design elements to the base brand they're sourced from, but all have been given a bold unifying, gold foil strip stating "Opening Day 2K" on the right side of the card front. These cards were seeded at a rate of one in five packs across all participating brands.
Distribution
Reviews
Insertion Ratios
| Cards | Total Cards | Numbered To | Hobby Odds | Retail Odds |
| --- | --- | --- | --- | --- |
| Base | 32 | - | ? | ? |
Checklist
Base Set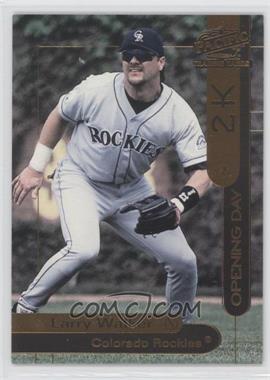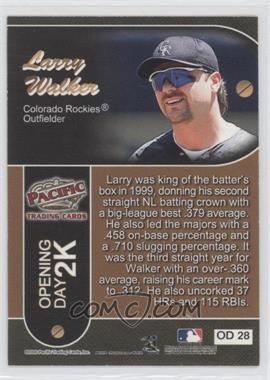 OD1 Mark McGwire
OD2 Barry Bonds
OD3 Ivan Rodriguez
OD4 Sean Casey
OD5 Derek Jeter
OD6 Vladimir Guerrero
OD7 Preston Wilson
OD8 Ben Grieve
OD9 Cal Ripken, Jr.
OD10 Alex Rodriguez
OD11 Mike Piazza
OD12 Jeff Bagwell
OD13 Randy Johnson
OD14 Jason Kendall
OD15 Magglio Ordonez
OD16 Carlos Delgado
OD17 Ken Griffey, Jr.
OD18 Sammy Sosa
OD19 Pedro Martinez
OD20 Manny Ramirez
OD21 Shawn Green
OD22 Carlos Beltran
OD23 Juan Gonzalez
OD24 Jeromy Burnitz
OD25 Mo Vaughn
OD26 Chipper Jones
OD27 Nomar Garciaparra
OD28 Larry Walker
OD29 Corey Koskie
OD30 Scott Rolen
OD31 Tony Gwynn
OD32 Jose Canseco