1999 Topps Tek
Description
1999 Topps TEK (stylized in CAPS) is a massive 2700-card set released exclusively to Hobby stores participating in Topps' Home Team Advantage program. As with the previous year's product each card is printed on acetate, and has multiple background pattern variations.
Each of the 45 players has two cards: Card "A" depicts the player in his Home uniform, while card "B" shows him in his "Away" jersey. Each of the 90 cards has 30 patterns (down from 90 in 1998) for a grand total of 2700 unique cards. Each card is sequentially-numbered twice: First by card number then by pattern number.
Distribution
20 packs per box, four cards per pack (MSRP: $5). Home Team Advantage stores only.
Each pack contains either a green (A) or orange (B) paper fold-out checklist.
Reviews
Insertion Ratios
| Cards | Total Cards | Numbered To | Hobby Odds | Retail Odds |
| --- | --- | --- | --- | --- |
| Base | 2700 | - | ? | ? |
| Gold | 2700 | 10 | 1:15 | ? |
| FantasTEK Phenoms | 10 | - | 1:18 | ? |
| TEKnicians | 10 | - | 1:18 | ? |
Checklist
Promo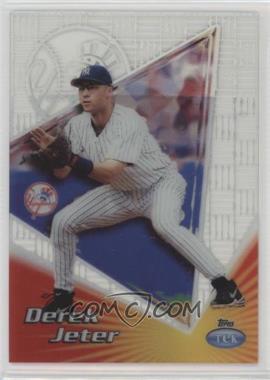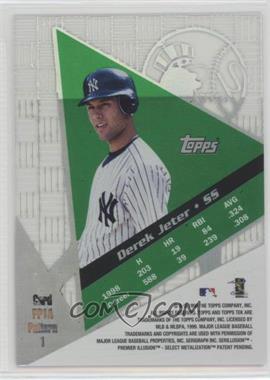 This three-card set was issued to dealers and The Hobby media promote the 1999 Topps Tek. The cards have the same design as the regular Topps Tek cards will have but are differentiated by having a "PP" prefix before the card number. In addition, each card is available in one of three background patterns: Team Logo (1); Hat Logo (2); or Wordmark (3).
PP1A Derek Jeter
PP2A Moises Alou
PP3A Tony Clark
Base Set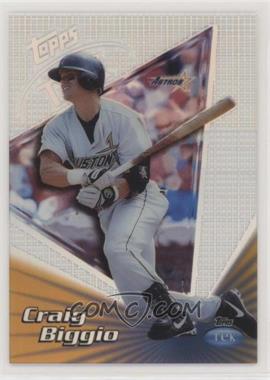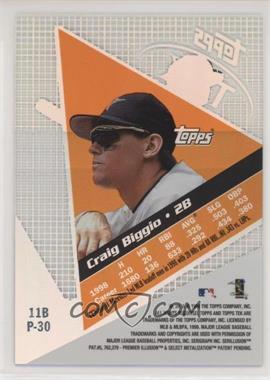 NOTES
Each player has two cards: "A" (Home uniform) and "B" (Away)
Each card has 30 different background patterns.
A complete master set consists of 2700 unique cards (45 x 2 X 30).
A Mark Grace collector's fan site has displayed all 30 different background patterns. Please use this site as a visual guide to all 30 patterns.
1A Ben Grieve
1B Ben Grieve
2A Andres Galarraga
2B Andres Galarraga
3A Travis Lee
3B Travis Lee
4A Larry Walker
4B Larry Walker
5A Ken Griffey, Jr.
5B Ken Griffey, Jr.
6A Sammy Sosa
6B Sammy Sosa
7A Mark McGwire
7B Mark McGwire
8A Roberto Alomar
8B Roberto Alomar
9A Wade Boggs
9B Wade Boggs
10A Troy Glaus
10B Troy Glaus
11A Craig Biggio
11B Craig Biggio
12A Kerry Wood
12B Kerry Wood
13A Vladimir Guerrero
13B Vladimir Guerrero
14A Albert Belle
14B Albert Belle
15A Mike Piazza
15B Mike Piazza
16A Chipper Jones
16B Chipper Jones
17A Randy Johnson
17B Randy Johnson
18A Adrian Beltre
18B Adrian Beltre
19A Barry Bonds
19B Barry Bonds
20A Jim Thome
20B Jim Thome
21A Greg Vaughn
21B Greg Vaughn
22A Scott Rolen
22B Scott Rolen
23A Ivan Rodriguez
23B Ivan Rodriguez
24A Derek Jeter
24B Derek Jeter
25A Cal Ripken, Jr.
25B Cal Ripken, Jr.
26A Mark Grace
26B Mark Grace
27A Bernie Williams
27B Bernie Williams
28A Darin Erstad
28B Darin Erstad
29A Eric Chavez
29B Eric Chavez
30A Tom Glavine
30B Tom Glavine
31A Jeff Bagwell
31B Jeff Bagwell
32A Manny Ramirez
32B Manny Ramirez
33A Tino Martinez
33B Tino Martinez
34A Todd Helton
34B Todd Helton
35A Jason Kendall
35B Jason Kendall
36A Pat Burrell
36B Pat Burrell
37A Tony Gwynn
37B Tony Gwynn
38A Nomar Garciaparra
38B Nomar Garciaparra
39A Frank Thomas
39B Frank Thomas
40A Orlando Hernandez
40B Orlando Hernandez
41A Juan Gonzalez
41B Juan Gonzalez
42A Alex Rodriguez
42B Alex Rodriguez
43A Greg Maddux
43B Greg Maddux
44A Mo Vaughn
44B Mo Vaughn
45A Roger Clemens
45B Roger Clemens
Parallels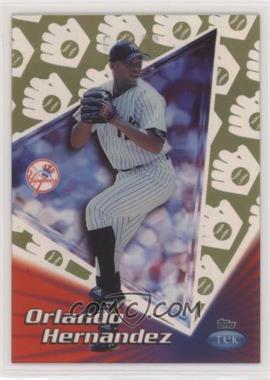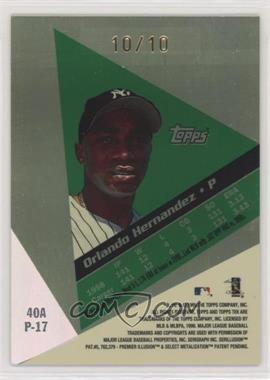 Each of the 2700 unique cards has a Gold parallel which is serial-numbered to ten copies.
Inserts
NOTE: For both insert sets, each card is available in only one background pattern. We estimate that 2250 copies of each insert in both sets were produced.
FantasTEK Phenoms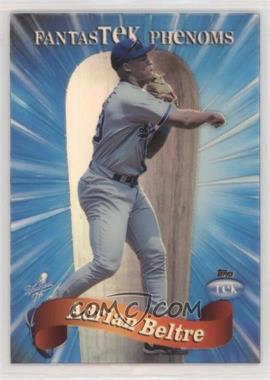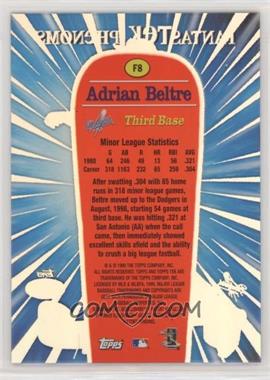 F1 Eric Chavez
F2 Troy Glaus
F3 Pat Burrell
F4 Alex Gonzalez
F5 Carlos Lee
F6 Ruben Mateo
F7 Carlos Beltran
F8 Adrian Beltre
F9 Bruce Chen
F10 Ryan Anderson
TEKnicians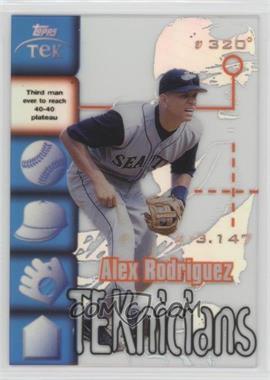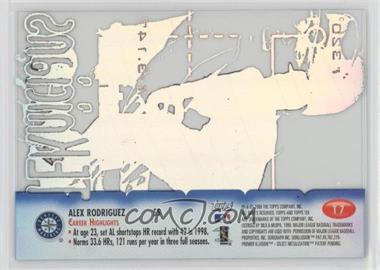 T1 Ken Griffey, Jr.
T2 Mark McGwire
T3 Kerry Wood
T4 Ben Grieve
T5 Sammy Sosa
T6 Derek Jeter
T7 Alex Rodriguez
T8 Roger Clemens
T9 Nomar Garciaparra
T10 Vladimir Guerrero
Topps TEK/High Tek
Topps TEK:
Topps High Tek:
Bowman High Tek: