1998 Donruss Days
Description
1998 Donruss Days is a 14-card set released as a special mid-season promotion and were distributed to selected Hobby shops in fourteen different areas of the nation. To obtain these cards, collectors had to redeem a special exchange card of which was handed out at local ballparks upon entrance into the stadium.
Each Hobby shop was supplied with a complete selection of all fourteen players, but received larger supplies of their local stars. Collectors were free to choose any player they wished until supplies ran out.
The cards are somewhat similar in design to standard 1998 Donruss but have been upgraded with 20 point cardboard stock and foil fronts. According to Donruss representatives, no more than 10,000 copies of any of these cards were produced.
Distribution
Reviews
Checklist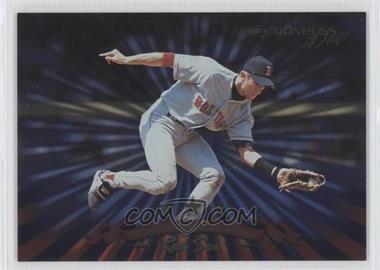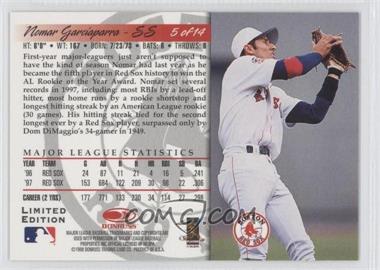 1 Frank Thomas
2 Tony Clark
3 Ivan Rodriguez
4 Dave Justice
5 Nomar Garciaparra
6 Mark McGwire
7 Travis Lee
8 Cal Ripken, Jr.
9 Jeff Bagwell
10 Barry Bonds
11 Ken Griffey, Jr.
12 Derek Jeter
13 Raul Mondesi
14 Greg Maddux