1997 Fleer Million Dollar Moments
Description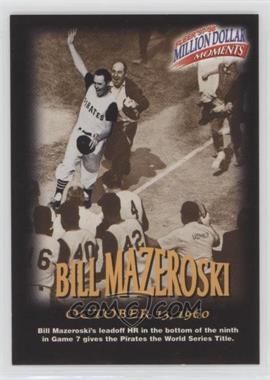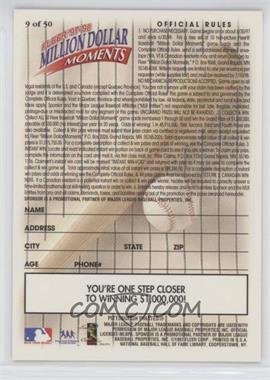 1997 Fleer Million Dollar Moments is a 50-card, cross-brand, insert set included in a variety of late-year 1997 and early-year 1998 baseball packs. These 50 cards have a mix of retired legends with contemporary stars, highlighting some of the key moments in baseball history. The first 45 cards in the set are, by far, the most common to find. Cards 46-50 are extremely short-printed with each card being tougher to find than the next (It is believed that Fleer only produced a single copy of Joel Youngblood's card.). Prior to the July 31st, 1998 deadline, collectors could mail in their 45-card sets (plus $5.99 for postage and handling) and receive a complete 50-card exchange set.
Lucky collectors that managed to obtain one or more of the SPed cards could receive a shopping spree at selected Hobby shops. Each SP card had to be mailed in along with a complete 45-card set to receive the following shopping allowances:
46 cards: $100
47 cards: $250
48 cards: $500
49 cards: $1000
A grand prize of $1,000,000 cash (payable in an annuity of 20 annual $50,000 increments) was available for the one lucky collector that could obtain and redeem the complete 50-card set. It is unclear is anyone ever claimed the million dollar prize.
Fleer also produced similar Million Dollar Moments sets for basketball and football, with those sports also offering a $1,000,000 grand prize. Like with baseball, it is unclear if the football and basketball million dollar prizes were won.
In addition, 10,000 instant winner cards per sport (good for an assortment of stuff including shopping sprees, video games, and, of course, Fleer cards) were randomly seeded into packs.
Distribution
One card in every pack of...
Checklist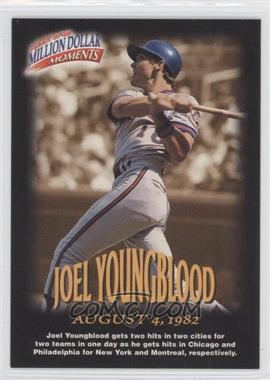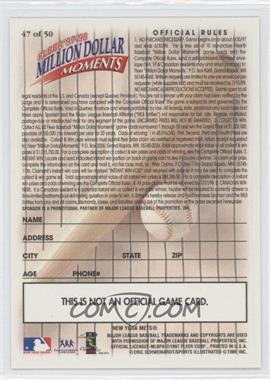 NOTE: The 50-card Redemption set is IDENTICAL to the cards inserted into packs EXCEPT...
All 50 Redemption cards are produced in equal quantities, and
The redemption cards have the statement "THIS IS NOT AN OFFICIAL GAME CARD" on the back.
In an act of extreme laziness, the backs of the Redemption cards have the same legalese and fine print as the pack-inserted cards.
1 Checklist
2 Derek Jeter
3 Babe Ruth
4 Barry Bonds
5 Brooks Robinson
6 Todd Hundley
7 Johnny VanderMeer
8 Cal Ripken, Jr.
9 Bill Mazeroski
10 Chipper Jones
11 Frank Robinson
12 Roger Clemens
13 Bob Feller
14 Mike Piazza
15 Joe Nuxhall
16 Hideo Nomo
17 Jackie Robinson
18 Orel Hershiser
19 Bobby Thomson
20 Joe Carter
21 Al Kaline
22 Bernie Williams
23 Don Larsen
24 Rickey Henderson
25 Maury Wills
26 Andruw Jones
27 Bobby Richardson
28 Alex Rodriguez
29 Jim Bunning
30 Ken Caminiti
31 Bob Gibson
32 Frank Thomas
33 Mickey Lolich
34 John Smoltz
35 Ron Swoboda
36 Albert Belle
37 Chris Chambliss
38 Juan Gonzalez
39 Ron Blomberg
40 John Wetteland
41 Carlton Fisk
42 Mo Vaughn
43 Bucky Dent
44 Greg Maddux
45 Willie Stargell
46 Tony Gwynn SP
47 Joel Youngblood SP
48 Andy Pettitte SP
49 Mookie Wilson SP
50 Jeff Bagwell SP