1996 Pacific Prism
Description
1996 Pacific Prism is a 144-card set. Each pack contain one Prism base card and one "bonus" card -- usually a team logo.
Distribution
36 packs per box, two cards per pack.
Reviews
Insertion Ratios
| Cards | Total Cards | Numbered To | Odds |
| --- | --- | --- | --- |
| Base | 144 | - | one-per-pack |
| Gold | 144 | - | 1:18 |
| Team Logos | 30 | - | one-per-pack |
| Red Hot Stars | 20 | - | 1:37 |
| Fence Busters | 20 | - | 1:37 |
| Flame Throwers | 10 | - | 1:73 |
Checklist
Base Set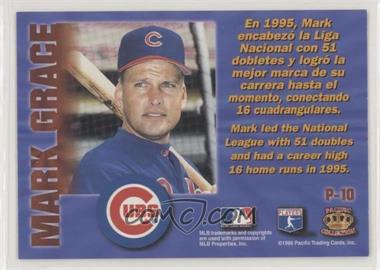 P1 Tom Glavine
P2 Chipper Jones
P3 Dave Justice
P4 Ryan Klesko
P5 Javy Lopez
P6 Greg Maddux
P7 Fred McGriff
P8 Frank Castillo
P9 Luis Gonzalez
P10 Mark Grace
P11 Brian McRae
P12 Jaime Navarro
P13 Sammy Sosa
P14 Bret Boone
P15 Ron Gant
P16 Barry Larkin
P17 Reggie Sanders
P18 Benito Santiago
P19 Dante Bichette
P20 Vinny Castilla
P21 Andres Galarraga
P22 Bryan Rekar
P23 Roberto Alomar
P24 Jeff Conine
P25 Andre Dawson
P26 Charles Johnson
P27 Gary Sheffield
P28 Quilvio Veras
P29 Jeff Bagwell
P30 Derek Bell
P31 Craig Biggio
P32 Tony Eusebio
P33 Karim Garcia
P34 Eric Karros
P35 Ramon Martinez
P36 Raul Mondesi
P37 Hideo Nomo
P38 Mike Piazza
P39 Ismael Valdes
P40 Moises Alou
P41 Wil Cordero
P42 Pedro Martinez
P43 Mel Rojas
P44 David Segui
P45 Edgardo Alfonzo
P46 Rico Brogna
P47 John Franco
P48 Jason Isringhausen
P49 Jose Vizcaino
P50 Ricky Bottalico
P51 Darren Daulton
P52 Lenny Dykstra
P53 Tyler Green
P54 Gregg Jefferies
P55 Jay Bell
P56 Jason Christiansen
P57 Carlos Garcia
P58 Esteban Loaiza
P59 Orlando Merced
P60 Andujar Cedeno
P61 Tony Gwynn
P62 Melvin Nieves
P63 Phil Plantier
P64 Fernando Valenzuela
P65 Barry Bonds
P66 J.R. Phillips
P67 Deion Sanders
P68 Matt Williams
P69 Bernard Gilkey
P70 Tom Henke
P71 Brian Jordan
P72 Ozzie Smith
P73 Manny Alexander
P74 Bobby Bonilla
P75 Mike Mussina
P76 Rafael Palmeiro
P77 Cal Ripken, Jr.
P78 Jose Canseco
P79 Roger Clemens
P80 John Valentin
P81 Mo Vaughn
P82 Tim Wakefield
P83 Garret Anderson
P84 Damion Easley
P85 Jim Edmonds
P86 Tim Salmon
P87 Wilson Alvarez
P88 Alex Fernandez
P89 Ozzie Guillen
P90 Roberto Hernandez
P91 Frank Thomas
P92 Robin Ventura
P93 Carlos Baerga
P94 Albert Belle
P95 Kenny Lofton
P96 Dennis Martinez
P97 Eddie Murray
P98 Manny Ramirez
P99 Omar Vizquel
P100 Chad Curtis
P101 Cecil Fielder
P102 Felipe Lira
P103 Alan Trammell
P104 Kevin Appier
P105 Johnny Damon
P106 Gary Gaetti
P107 Wally Joyner
P108 Ricky Bones
P109 John Jaha
P110 B.J. Surhoff
P111 Jose Valentin
P112 Fernando Vina
P113 Marty Cordova
P114 Chuck Knoblauch
P115 Scott Leius
P116 Pedro Munoz
P117 Kirby Puckett
P118 Wade Boggs
P119 Don Mattingly
P120 Jack McDowell
P121 Paul O'Neill
P122 Ruben Rivera
P123 Bernie Williams
P124 Geronimo Berroa
P125 Rickey Henderson
P126 Mark McGwire
P127 Terry Steinbach
P128 Danny Tartabull
P129 Jay Buhner
P130 Joey Cora
P131 Ken Griffey, Jr.
P132 Randy Johnson
P133 Edgar Martinez
P134 Tino Martinez
P135 Will Clark
P136 Juan Gonzalez
P137 Dean Palmer
P138 Ivan Rodriguez
P139 Mickey Tettleton
P140 Larry Walker
P141 Joe Carter
P142 Carlos Delgado
P143 Alex Gonzalez
P144 Paul Molitor
Parallels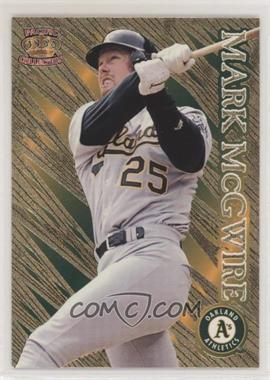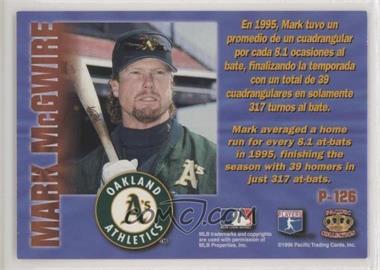 All 144 base cards are also available in a Gold parallel.
Inserts
Team Logos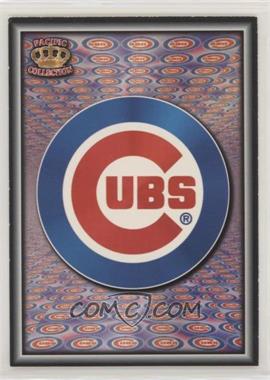 PB-1 Oakland Athletics
PB-2 California Angels
PB-3 Houston Astros
PB-4 Toronto Blue Jays
PB-5 Atlanta Braves
PB-6 Milwaukee Brewers
PB-7 St. Louis Cardinals
PB-8 Chicago Cubs
PB-9 Tampa Bay Devil Rays
PB-10 Arizona Diamondbacks
PB-11 Los Angeles Dodgers
PB-12 Montreal Expos
PB-13 San Francisco Giants
PB-14 Cleveland Indians
PB-15 Seattle Mariners
PB-16 Florida Marlins
PB-17 New York Mets
PB-18 Baltimore Orioles
PB-19 San Diego Padres
PB-20 Philadelphia Phillies
PB-21 Pittsburgh Pirates
PB-22 Texas Rangers
PB-23 Boston Red Sox
PB-24 Cincinnati Reds
PB-25 Colorado Rockies
PB-26 Kansas City Royals
PB-27 Detroit Tigers
PB-28 Minnesota Twins
PB-29 Chicago White Sox
PB-30 New York Yankees
Red Hot Stars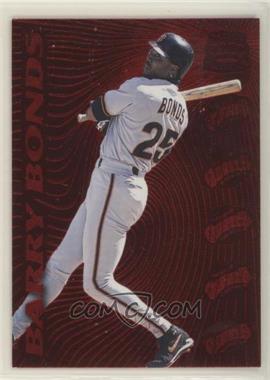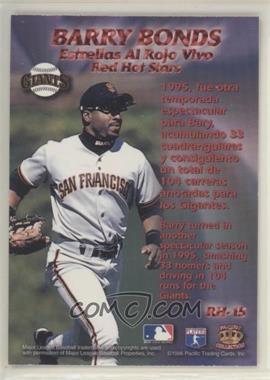 RH1 Roberto Alomar
RH2 Jose Canseco
RH3 Chipper Jones
RH4 Mike Piazza
RH5 Tim Salmon
RH6 Jeff Bagwell
RH7 Ken Griffey, Jr.
RH8 Greg Maddux
RH9 Kirby Puckett
RH10 Frank Thomas
RH11 Albert Belle
RH12 Tony Gwynn
RH13 Edgar Martinez
RH14 Manny Ramirez
RH15 Barry Bonds
RH16 Wade Boggs
RH17 Randy Johnson
RH18 Don Mattingly
RH19 Cal Ripken, Jr.
RH20 Mo Vaughn
Fence Busters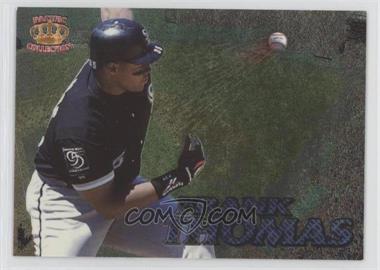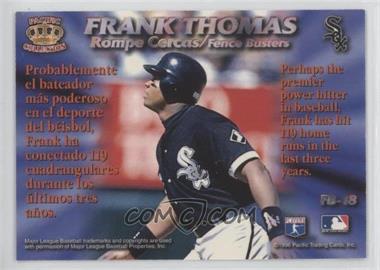 FB1 Albert Belle
FB2 Dante Bichette
FB3 Barry Bonds
FB4 Jay Buhner
FB5 Jose Canseco
FB6 Ken Griffey, Jr.
FB7 Chipper Jones
FB8 Dave Justice
FB9 Eric Karros
FB10 Edgar Martinez
FB11 Mark McGwire
FB12 Eddie Murray
FB13 Mike Piazza
FB14 Kirby Puckett
FB15 Cal Ripken, Jr.
FB16 Tim Salmon
FB17 Sammy Sosa
FB18 Frank Thomas
FB19 Mo Vaughn
FB20 Larry Walker
Flame Throwers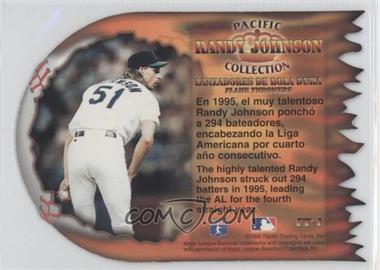 FT1 Randy Johnson
FT2 Mike Mussina
FT3 Roger Clemens
FT4 Tom Glavine
FT5 Hideo Nomo
FT6 Jose Rijo
FT7 Greg Maddux
FT8 David Cone
FT9 Ramon Martinez
FT10 Jose Mesa