1994 Fleer Sunoco
Description
For the third consecutive year, Fleer partnered with a national gasoline retailer for a promotional set. The result was 1994 Fleer Sunoco, a 25-card set made available through 5-card packs given to customers that purchased gasoline from participating Sunoco and Atlantic stations in the Northeast and Midwestern United States.
Cards featured the exact same design as the 1994 Fleer base set but featured completely different player photos on the front and back of the cards. The card-backs also featured the Sunoco and Atlantic logos for further distinction.
Distribution
Packs of five cards were available to customers that purchased fuel at participating Sunoco and Atlantic gas stations.
Insertion Ratios
| Cards | Total Cards | Numbered To | Odds |
| --- | --- | --- | --- |
| Base | 25 | - | 5:1 |
Checklist
Base Set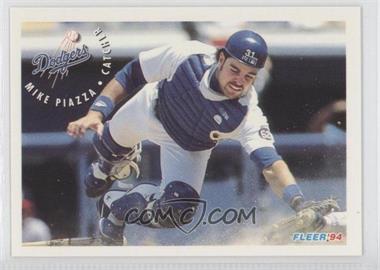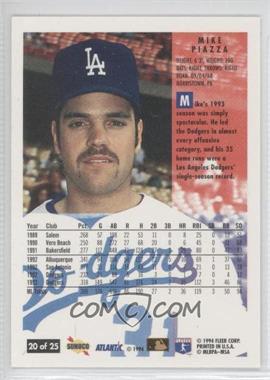 1 Roberto Alomar
2 Carlos Baerga
3 Jeff Bagwell
4 Jay Bell
5 Barry Bonds
6 Joe Carter
7 Roger Clemens
8 Darren Daulton
9 Lenny Dykstra
10 Cecil Fielder
11 Tom Glavine
12 Juan Gonzalez
13 Ken Griffey, Jr.
14 Dave Justice
15 John Kruk
16 Greg Maddux
17 Don Mattingly
18 Jack McDowell
19 John Olerud
20 Mike Piazza
21 Kirby Puckett
22 Tim Salmon
23 Frank Thomas
24 Andy Van Slyke
25 Checklist