1993 Fleer Atlantic
Description
1993 Fleer Atlantic was a 25-card set released in the Summer of 1993. Similar to the 1992 Fleer Citgo The Performer set, customers that purchased eight of more gallons of gasoline at any Atlantic filling station in the Greater New York City or Philadelphia areas could receive a pack of five cards from this set. Each pack contained four player cards and the checklist, and the promotion lasted from June 14th to July 25th, 1993.
The design was virtually identical to the 1993 Fleer set, with the exception of gold borders (instead of the silver borders used in the Fleer base set) and an "Atlantic Collectors Edition" logo on the front.
This set was notable for having the first Fleer card of Barry Bonds in his new San Francisco Giants uniform.
Distribution
Packs of five cards were available to customers that purchased at least eight gallons of fuel at participating Atlantic gas stations.
Insertion Ratios
| Cards | Total Cards | Numbered To | Odds |
| --- | --- | --- | --- |
| Base | 25 | - | 5:1 |
Checklist
Base Set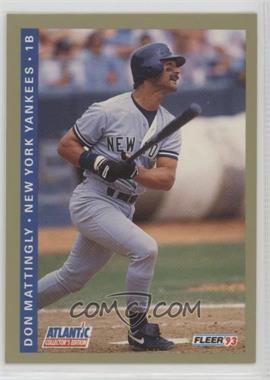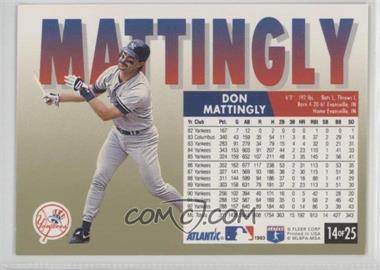 1 Roberto Alomar
2 Barry Bonds
3 Bobby Bonilla
4 Will Clark
5 Roger Clemens
6 Darren Daulton
7 Dennis Eckersley
8 Cecil Fielder
9 Tom Glavine
10 Juan Gonzalez
11 Ken Griffey, Jr.
12 John Kruk
13 Greg Maddux
14 Don Mattingly
15 Fred McGriff
16 Mark McGwire
17 Terry Pendleton
18 Kirby Puckett
19 Cal Ripken, Jr.
20 Nolan Ryan
21 Ryne Sandberg
22 Gary Sheffield
23 Frank Thomas
24 Andy Van Slyke
25 Checklist 1-25