1992 Score Proctor and Gamble
Description
The 1992 Score Proctor and Gamble set is 18 cards and features the starting lineups for that year's All-Star Game. The set was distributed exclusively via mail order.
To order the set, collectors had to send $1.49, proofs of purchase from three P&G products, and a coupon that was distributed in most Sunday August 16th, 1992 newspapers.
2,000,000 sets and 25 uncut sheets were produced for this promotion.
Distribution
Mail order only.
Reviews
Checklist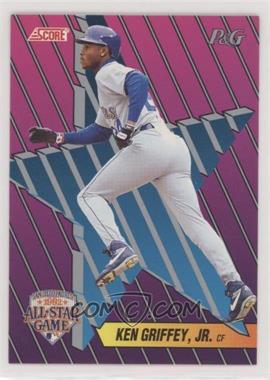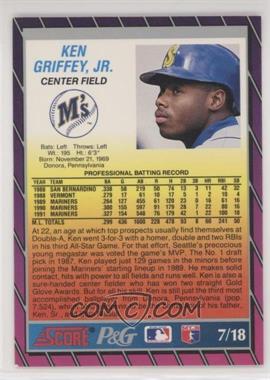 1 Sandy Alomar
2 Mark McGwire
3 Roberto Alomar
4 Wade Boggs
5 Cal Ripken, Jr.
6 Kirby Puckett
7 Ken Griffey, Jr.
8 Jose Canseco
9 Kevin Brown
10 Benito Santiago
11 Fred McGriff
12 Ryne Sandberg
13 Terry Pendleton
14 Ozzie Smith
15 Barry Bonds
16 Tony Gwynn
17 Andy Van Slyke
18 Tom Glavine