1992 Donruss McDonald's
Description
1992 Donruss McDonald's is a 33-card set, produced by Donruss for distribution at McDonald's Restaurants in the Greater Toronto Area. For C$0.39 and the purchase of any sandwich or breakfast entree, the collector received a four-card pack.
The set consists of 26 "Team MVP" cards (one player for each MLB team), six "Blue Jay Gold" cards and a checklist. In addition, randomly inserted into packs was a redemption card good for one of 1000 serial-numbered Roberto Alomar autograph cards.
The set has the same design as the 1992 Donruss set, with the exception of an MVP logo and the McDonald's "Golden Arches" trademark on both sides. The Blue Jays Gold subset cards feature full-bleed color player photos accented by gold foil stamping. The gold cards are listed below with a "G" prefix below for reference although a "G" prefix does not appear anywhere on the cards.
Distribution
Four cards for C$0.39 with the purchase of a sandwich.
Reviews
Checklist
Team MVPs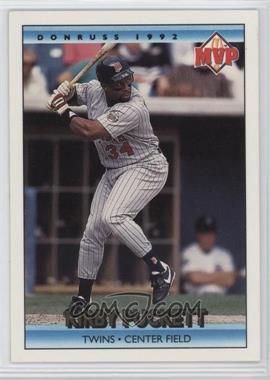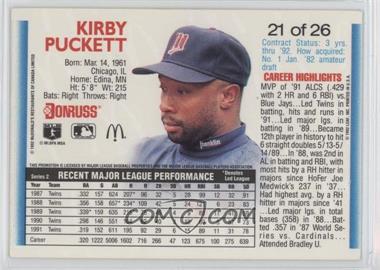 1 Cal Ripken, Jr.
2 Frank Thomas
3 George Brett
4 Roberto Kelly
5 Nolan Ryan
6 Ryne Sandberg
7 Darryl Strawberry
8 Lenny Dykstra
9 Fred McGriff
10 Roger Clemens
11 Sandy Alomar, Jr.
12 Robin Yount
13 Jose Canseco
14 Jimmy Key
15 Barry Larkin
16 Dennis Martinez
17 Andy Van Slyke
18 Will Clark
19 Mark Langston
20 Cecil Fielder
21 Kirby Puckett
22 Ken Griffey, Jr.
23 Dave Justice
24 Jeff Bagwell
25 Howard Johnson
26 Ozzie Smith
Blue Jays Gold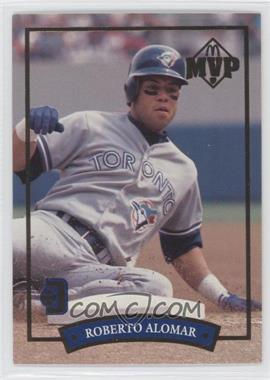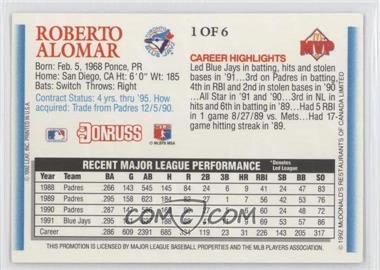 G1 Roberto Alomar
G2 Joe Carter
G3 Kelly Gruber
G4 Jack Morris
G5 Tom Henke
G6 Devon White
Autographs
Randomly inserted into packs were 1000 redemption cards good for an autograph of Blue Jays second baseman Roberto Alomar. According to McDonald's, 1000 redemptions were seeded into packs, but it is unclear just how many were claimed.