1991 Upper Deck Final Edition
Description
1991 Upper Deck Final Edition is a 100-card update set. In lieu of releasing the Hi-Series set as its own factory set, for 1991 Upper Deck released a distinct "update" style set -- not unlike Topps Traded, Fleer Update, Score Rookie/Traded. It is packaged in the same type of box as the 1989 and 1990 Hi-Series factory sets.
In addition to the usual late season traded and impact rookie cards (#22F-#78F), the set includes two special subsets: Diamond Skills cards (#1F-#21F), depicting the best Minor League prospects, and All-Star cards (#80F-#99F). Six assorted team logo hologram cards were issued with each set. The cards are sequentially-numbered on the back with an "F" suffix.
The set contains the only "true" rookie card of Pedro Martinez and one of only two RCs of Jim Thome.
Distribution
Factory Sets only.
Reviews
Insertion Ratios
| Cards | Total Cards | Numbered To | Odds |
| --- | --- | --- | --- |
| Base | 100 | - | ? |
Checklist
Base Set
Minor League Diamond Skills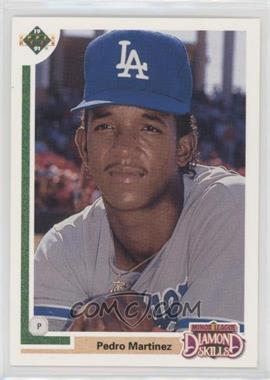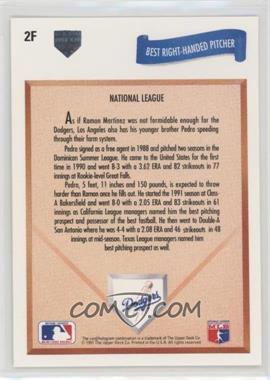 1F Ryan Klesko / Reggie Sanders CL
2F Pedro Martinez RC
3F Lance Dickson
4F Royce Clayton
5F Scott Bryant
6F Dan Wilson RC
7F Dmitri Young RC
8F Ryan Klesko RC
9F Tom Goodwin
10F Rondell White RC
11F Reggie Sanders
12F Todd van Poppel
13F Arthur Rhodes RC
14F Eddie Zosky
15F Gerald Williams RC
16F Robert Eenhoorn RC
17F Jim Thome RC
18F Marc Newfield RC
19F Kerwin Moore RC
20F Jeff McNeely RC
21F Frank Rodriguez RC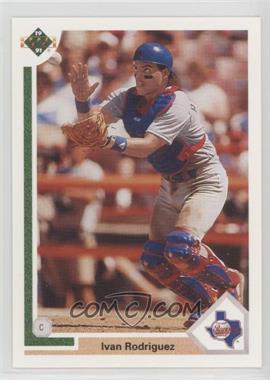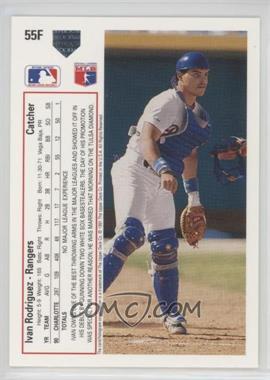 22F Andy Mota RC
23F Chris Haney RC
24F Kenny Lofton RC
25F Dave Nilsson RC
26F Derek Bell
27F Frank Castillo RC
28F Candy Maldonado
29F Chuck McElroy
30F Chito Martinez RC
31F Steve Howe
32F Freddie Benavides RC
33F Scott Kamieniecki RC
34F Denny Neagle RC
35F Mike Humphreys RC
36F Mike Remlinger
37F Scott Coolbaugh
38F Darren Lewis
39F Thomas Howard
40F John Candelaria
41F Todd Benzinger
42F Wilson Alvarez
43F Patrick Lennin RC
44F Rusty Meacham RC
45F Ryan Bowen RC
46F Rick Wilkins RC
47F Ed Sprague
48F Bob Scanlan RC
49F Tom Candiotti
50F Dennis Martinez Perfect Game
51F Oil Can Boyd
52F Glenallen Hill
53F Scott Livingstone RC
54F Brian R. Hunter RC
55F Ivan Rodriguez RC
56F Keith Mitchell RC
57F Roger McDowell
58F Otis Nixon
59F Juan Bell
60F Bill Krueger
61F Chris Donnels RC
62F Tommy Greene
63F Doug Simons RC
64F Andy Ashby RC
65F Anthony Young RC
66F Kevin Morton RC
67F Bret Barberie RC
68F Scott Servais RC
69F Ron Darling
70F Tim Burke
71F Vincente Palacios
72F Gerald Alexander RC
73F Reggie Jefferson
74F Dean Palmer
75F Mark Whiten
76F Randy Tomlin RC
77F Mark Wohlers RC
78F Brook Jacoby
1991 All-Stars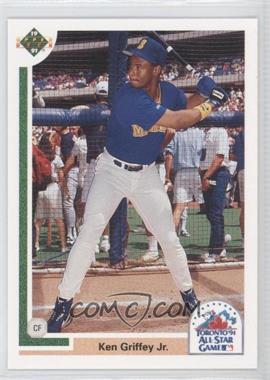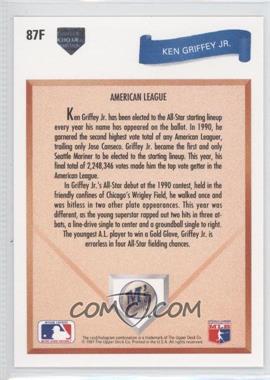 79F Ken Griffey, Jr.
80F Jack Morris
81F Sandy Alomar, Jr.
82F Cecil Fielder
83F Roberto Alomar
84F Wade Boggs
85F Cal Ripken, Jr.
86F Rickey Henderson
87F Ken Griffey, Jr.
88F Dave Henderson
89F Danny Tartabull
90F Tom Glavine
91F Benito Santiago
92F Will Clark
93F Ryne Sandberg
94F Chris Sabo
95F Ozzie Smith
96F Ivan Calderon
97F Tony Gwynn
98F Andre Dawson
99F Bobby Bonilla
100F Checklist 1-100