1991 Studio
Description
1991 Studio, issued by Donruss/Leaf, is a 264-card set. The Studio card fronts feature posed black and white head-and-shoulders player photos with mauve borders. This was the first set in 40 years to feature all black-and-white photography. The backs of each card do not contain any statistics; rather, an "Up Close and Personal" look at the player's personal interests. The cards are ordered alphabetically within and according to teams for each league with American League teams preceding National League.
Rookie Cards in the set include Jeff Bagwell, Jeff Conine and Brian McRae
Distribution
48 packs per box, eight cards per pack.
Reviews
Insertion Ratios
| Cards | Total Cards | Numbered To | Odds |
| --- | --- | --- | --- |
| Base | 264 | - | ? |
Checklist
Promos
See 1991 Donruss.
Base Set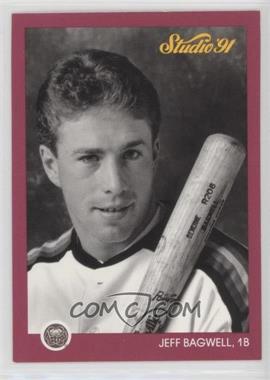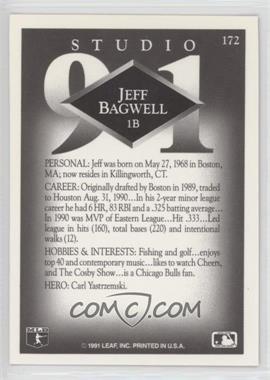 NNO Title Card
1 Glenn Davis
2 Dwight Evans
3 Leo Gomez
4 Chris Hoiles
5 Sam Horn
6 Ben McDonald
7 Randy Milligan
8 Gregg Olson
9 Cal Ripken, Jr.
10 David Segui
11 Wade Boggs
12 Ellis Burks
13 Jack Clark
14 Roger Clemens
15 Mike Greenwell
16 Tim Naehring
17 Tony Pena
18 Phil Plantier RC
19 Jeff Reardon
20 Mo Vaughn
21 Jimmie Reese
22 Jim Abbott
23 Bert Blyleven
24 Chuck Finley
25 Gary Gaetti
26 Wally Joyner
27 Mark Langston
28 Kirk McCaskill
29 Lance Parrish
30 Dave Winfield
31 Alex Fernandez
32 Carlton Fisk
33 Scott Fletcher
34 Greg Hibbard
35 Charlie Hough
36 Jack McDowell
37 Tim Raines
38 Sammy Sosa
39 Bobby Thigpen
40 Frank Thomas
41 Sandy Alomar
42 John Farrell
43 Glenallen Hill
44 Brook Jacoby
45 Chris James
46 Doug Jones
47 Eric King
48 Mark Lewis
49 Greg Swindell (Photo is Turner Ward)
50 Mark Whiten
51 Milt Cuyler
52 Rob Deer
53 Cecil Fielder
54 Travis Fryman
55 Bill Gullickson
56 Lloyd Moseby
57 Frank Tanana
58 Mickey Tettleton
59 Alan Trammell
60 Lou Whitaker
61 Mike Boddicker
62 George Brett
63 Jeff Conine RC
64 Warren Cromartie
65 Storm Davis
66 Kirk Gibson
67 Mark Gubicza
68 Brian McRae RC
69 Bret Saberhagen
70 Kurt Stillwell
71 Tim McIntosh
72 Candy Maldonado
73 Paul Molitor
74 Willie Randolph
75 Ron Robinson
76 Gary Sheffield
77 Franklin Stubbs
78 B.J. Surhoff
79 Greg Vaughn
80 Robin Yount
81 Rick Aguilera
82 Steve Bedrosian
83 Scott Erickson
84 Greg Gagne
85 Dan Gladden
86 Brian Harper
87 Kent Hrbek
88 Shane Mack
89 Jack Morris
90 Kirby Puckett
91 Jesse Barfield
92 Steve Farr
93 Steve Howe
94 Roberto Kelly
95 Tim Leary
96 Kevin Maas
97 Don Mattingly
98 Hensley Meulens
99 Scott Sanderson
100 Steve Sax
101 Jose Canseco
102 Dennis Eckersley
103 Dave Henderson
104 Rickey Henderson
105 Rick Honeycutt
106 Mark McGwire
107 Dave Stewart
108 Eric Show
109 Todd Van Poppel
110 Bob Welch
111 Alvin Davis
112 Ken Griffey, Jr.
113 Ken Griffey, Sr.
114 Erik Hanson
115 Brian Holman
116 Randy Johnson
117 Edgar Martinez
118 Tino Martinez
119 Harold Reynolds
120 Dave Valle
121 Kevin Belcher
122 Scott Chiamparino
123 Julio Franco
124 Juan Gonzalez
125 Rich Gossage
126 Jeff Kunkel
127 Rafael Palmeiro
128 Nolan Ryan
129 Ruben Sierra
130 Bobby Witt
131 Roberto Alomar
132 Tom Candiotti
133 Joe Carter
134 Ken Dayley
135 Kelly Gruber
136 John Olerud
137 Dave Stieb
138 Turner Ward RC
139 Devon White
140 Mookie Wilson
141 Steve Avery
142 Sid Bream
143 Nick Esasky
144 Ron Gant
145 Tom Glavine
146 Dave Justice
147 Kelly Mann
148 Terry Pendleton
149 John Smoltz
150 Jeff Treadway
151 George Bell
152 Shawn Boskie
153 Andre Dawson
154 Lance Dickson RC
155 Shawon Dunston
156 Joe Girardi
157 Mark Grace
158 Ryne Sandberg
159 Gary Scott RC
160 Dave Smith
161 Tom Browning
162 Eric Davis
163 Rob Dibble
164 Mariano Duncan
165 Chris Hammond
166 Billy Hatcher
167 Barry Larkin
168 Hal Morris
169 Paul O'Neill
170 Chris Sabo
171 Eric Anthony
172 Jeff Bagwell RC
173 Craig Biggio
174 Ken Caminiti
175 Jim Deshaies
176 Steve Finley
177 Pete Harnisch
178 Darryl Kile
179 Curt Schilling
180 Mike Scott
181 Brett Butler
182 Gary Carter
183 Orel Hershiser
184 Ramon Martinez
185 Eddie Murray
186 Jose Offerman
187 Bob Ojeda
188 Juan Samuel
189 Mike Scioscia
190 Darryl Strawberry
191 Moises Alou
192 Brian Barnes RC
193 Dennis Boyd
194 Ivan Calderon
195 Delino DeShields
196 Mike Fitzgerald
197 Andres Galarraga
198 Marquis Grissom
199 Bill Sampen
200 Tim Wallach
201 Daryl Boston
202 Vince Coleman
203 John Franco
204 Dwight Gooden
205 Tom Herr
206 Gregg Jefferies
207 Howard Johnson
208 Dave Magadan
209 Kevin McReynolds
210 Frank Viola
211 Wes Chamberlain RC
212 Darren Daulton
213 Lenny Dykstra
214 Charlie Hayes
215 Ricky Jordan
216 Steve Lake
217 Roger McDowell
218 Mickey Morandini
219 Terry Mulholland
220 Dale Murphy
221 Jay Bell
222 Barry Bonds
223 Bobby Bonilla
224 Doug Drabek
225 Bill Landrum
226 Mike LaValliere
227 Jose Lind
228 Don Slaught
229 John Smiley
230 Andy Van Slyke
231 Bernard Gilkey
232 Pedro Guerrero
233 Rex Hudler
234
235 Joe Magrane
236 Jose Oquendo
237 Lee Smith
238 Ozzie Smith
239 Milt Thompson
240 Todd Zeile
241 Larry Andersen
242 Andy Benes
243 Paul Faries RC
244 Tony Fernandez
245 Tony Gwynn
246 Charlie Haag
247 Fred McGriff
248 Bip Roberts
249 Benito Santiago
250 Ed Whitson
251 Dave Anderson
252 Mike Benjamin
253 John Burkett (Front Photo is Trevor Wilson)
254 Will Clark
255 Scott Garrelts
256 Willie McGee
257 Kevin Mitchell
258 Dave Righetti
259 Matt Williams
260 Bud Black / Steve Decker "Black and Decker" RC
261 Sparky Anderson CL 1-88
262 Tom Lasorda CL 89-176
263 Tony LaRussa CL