1991 Score Rookie/Traded
Description
The annual 110-card Score Rookie/Traded set was released in late 1991. As usual, it was grossly overproduced. Rookies include Jeff Bagwell and Ivan Rodriguez.
Distribution
Reviews
Checklist
Base Set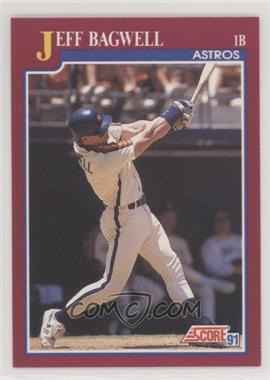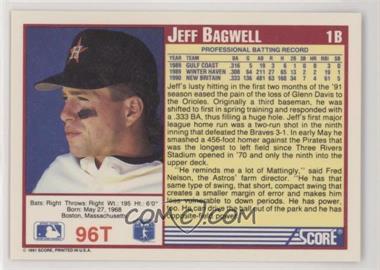 1T Bo Jackson
2T Mike Flanagan
3T Pete Incaviglia
4T Jack Clark
5T Hubie Brooks
6T Ivan Calderon
7T Glenn Davis
8T Wally Backman
9T Dave Smith
10T Tim Raines
11T Joe Carter
12T Sid Bream
13T George Bell
14T Steve Bedrosian
15T Willie Wilson
16T Darryl Strawberry
17T Danny Jackson
18T Kirk Gibson
19T Willie McGee
20T Junior Felix
21T Steve Farr
22T Pat Tabler
23T Brett Butler
24T Danny Darwin
25T Mickey Tettleton
26T Gary Carter
27T Mitch Williams
28T Candy Maldonado
29T Otis Nixon
30T Brian Downing
31T Tom Candiotti
32T John Candelaria
33T Rob Murphy
34T Deion Sanders
35T Willie Randolph
36T Pete Harnisch
37T Dante Bichette
38T Garry Templeton
39T Gary Gaetti
40T John Cerutti
41T Rick Cerone
42T Mike Pagliarulo
43T Ron Hassey
44T Roberto Alomar
45T Mike Boddicker
46T Bud Black
47T Rob Deer
48T Devon White
49T Luis Sojo
50T Terry Pendleton
51T Kevin Gross
52T Mike Huff
53T Dave Righetti
54T Matt Young
55T Earnest Riles
56T Bill Gullickson
57T Vince Coleman
58T Fred McGriff
59T Franklin Stubbs
60T Eric King
61T Cory Snyder
62T Dwight Evans
63T Gerald Perry
64T Eric Show
65T Shawn Hillegas
66T Tony Fernandez
67T Tim Teufel
68T Mitch Webster
69T Mike Heath
70T Chili Davis
71T Larry Andersen
72T Gary Varsho
73T Juan Berenguer
74T Jack Morris
75T Barry Jones
76T Rafael Belliard
77T Steve Buechele
78T Scott Sanderson
79T Bob Ojeda
80T Curt Schilling
81T Brian Drahman
82T Ivan Rodriguez RC
83T David Howard
84T Heathcliff Slocumb
85T Mike Timlin RC
86T Darryl Kile
87T Pete Schourek RC
88T Bruce Walton
89T Al Osuna
90T Gary Scott RC
91T Doug Simons RC
92T Chris Jones
93T Chuck Knoblauch
94T Dana Allison
95T Erik Pappas
96T Jeff Bagwell RC
97T Kirk Dressendorfer RC
98T Freddie Benavides
99T Luis Gonzalez RC
100T Wade Taylor RC
101T Ed Sprague
102T Bob Scanlan
103T Rick Wilkins
104T Chris Donnels
105T Joe Slusarski
106T Mark Lewis
107T Pat Kelly RC
108T John Briscoe
109T Luis Lopez
110T Jeff Johnson RC
Inserts
World Series Trivia II
An additional 56 World Series "Magic Motion" Trivia cards were commissioned for the Rookie/Traded set. Unlike in previous Score Rookie/Traded sets where the trivia cards were the same as the ones inserted into the flagship brand's packs, the '91 R/T Trivia cards were all new -- in fact, Score refers to these cards as the "World Series Trivia II" set. All 56 cards carry the "Q & A" format.
Score
---
Rookie/Traded:
Hottest 100 Sets:
Young Superstars:
Other Score Sets: