1991 Bowman
Description
1991 Bowman is a 704-card single-series set (produced by Topps) which most notably features 166 rookie cards. Bowman is a prospect driven product that wasn't branded as such officially until 1997 when "Home of the Rookie Card" appeared on the boxes.
The most prominent rookie cards are of Jeff Bagwell, Chipper Jones, Ivan Rodriguez, Mike Mussina and Jim Thome. However, since virtually every card company also had these players in their set their Bowman rookie cards are valued and sought after the least. This has been established by Price Guide book values and graded card population reports as of 2011.
Most of the other rookie card players had either completely indistinguishable brief careers or never appeared in a major league game. (Those never to appear are noted in checklist. 19 total)
The set opens up with a 5-card subset tribute to Rod Carew in light of his 3000 career hits. The set features two other subsets of note. One is the Silver Slugger Award Winners. This is the first time that a card company devoted cards to recognizing this award that had be handed out since 1980. The other recognizes minor league MVPs. Each subset features a gold emblem in the front left corner. This is one of the earliest major issue sets to feature gold.
The set is arranged in random team order by division. (AL East, AL West, NL East, NL West)
1991 Bowman is the final year they use the brown 'cardboard' paper stock. The card fronts are non-glossy and feature a color player photograph with a white border. The card backs are unfinished, mostly horizontal, and feature the player stats against opposing teams in 1990.
Distribution
Wax: 36 packs per box, 14 cards per pack, 1 Stick of Bubble Gum
Cello: 24 packs per box, 29 cards cello per pack (SRP .99¢)
Rack: 24 packs per box, 38 cards per pack
Factory Set
Reviews
Insertion Ratios
No Insert Cards appeared in this set.
| Cards | Total Cards | Numbered To | Odds |
| --- | --- | --- | --- |
| Base | 704 | - | - |
Checklist
NOTE: RC* = A true rookie card of a player who never played in the Major Leagues.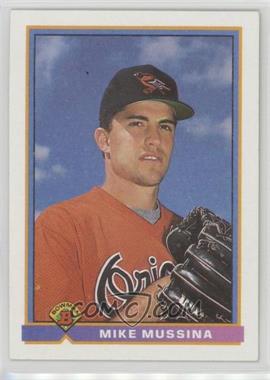 1 Rod Carew
2 Rod Carew
3 Rod Carew
4 Rod Carew
5 Rod Carew
6 Willie Fraser
7 John Olerud
8 William Suero RC
9 Roberto Alomar
10 Todd Stottlemyre
11 Joe Carter
12 Steve Karsay RC
13 Mark Whiten
14 Pat Borders
15 Mike Timlin RC
16 Tom Henke
17 Eddie Zosky
18 Kelly Gruber
19 Jimmy Key
20 Jerry Schunk RC*
21 Manny Lee
22 Dave Stieb
23 Pat Hentgen RC
24 Glenallen Hill
25 Rene Gonzales
26 Ed Sprague
27 Ken Dayley
28 Pat Tabler
29 Denis Boucher RC
30 Devon White
31 Dante Bichette
32 Paul Molitor
33 Greg Vaughn
34 Dan Plesac
35 Chris George RC
36 Tim McIntosh
37 Franklin Stubbs
38 Bo Dodson RC
39 Ron Robinson
40 Ed Nunez
41 Greg Brock
42 Jaime Navarro
43 Chris Bosio
44 B.J. Surhoff
45 Chris Johnson RC*
46 Willie Randolph
47 Narciso Elvira RC
48 Jim Gantner
49 Kevin Brown
50 Julio Machado
51 Chuck Crim
52 Gary Sheffield
53 Angel Miranda RC
54 Ted Higuera
55 Robin Yount
56 Cal Eldred
57 Sandy Alomar, Jr.
58 Greg Swindell
59 Brook Jacoby
60 Efrain Valdez RC
61 Ever Magallanes RC
62 Tom Candiotti
63 Eric King
64 Alex Cole
65 Charles Nagy
66 Mitch Webster
67 Chris James
68 Jim Thome RC
69 Carlos Baerga
70 Mark Lewis
71 Jerry Browne
72 Jesse Orosco
73 Mike Huff
74 Jose Escobar RC
75 Jeff Manto
76 Turner Ward RC
77 Doug Jones
78 Bruce Egloff RC
79 Tim Costo RC
80 Beau Allred
81 Albert Belle
82 John Farrell
83 Glenn Davis
84 Joe Orsulak
85 Mark Williamson
86 Ben McDonald
87 Billy Ripken
88 Leo Gomez UER
89 Bob Melvin
90 Jeff M. Robinson
91 Jose Mesa
92 Gregg Olson
93 Mike Devereaux
94 Luis Mercedes RC
95 Arthur Rhodes RC
96 Juan Bell
97 Mike Mussina RC
98 Jeff Ballard
99 Chris Hoiles
100 Brady Anderson
101 Bob Milacki
102 David Segui
103 Dwight Evans
104 Cal Ripken, Jr.
105 Mike Linskey RC*
106 Jeff Tackett RC
107 Jeff Reardon
108 Dana Kiecker
109 Ellis Burks
110 Dave Owen
111 Danny Darwin
112 Mo Vaughn
113 Jeff McNeely RC
114 Tom Bolton
115 Greg Blosser
116 Mike Greenwell
117 Phil Plantier RC
118 Roger Clemens
119 John Marzano
120 Jody Reed
121 Scott Taylor RC
122 Jack Clark
123 Derek Livernois RC*
124 Tony Pena
125 Tom Brunansky
126 Carlos Quintana
127 Tim Naehring
128 Matt Young
129 Wade Boggs
130 Kevin Morton RC
131 Pete Incaviglia
132 Rob Deer
133 Bill Gullickson
134 Rico Brogna
135 Lloyd Moseby
136 Cecil Fielder
137 Tony Phillips
138 Mark Leiter RC
139 John Cerutti
140 Mickey Tettleton
141 Milt Cuyler
142 Greg Gohr
143 Tony Bernazard
144 Dan Gakeler RC
145 Travis Fryman
146 Dan Petry
147 Scott Aldred
148 John DeSilva RC
149 Rusty Meacham RC
150 Lou Whitaker
151 Dave Haas RC
152 Luis de los Santos
153 Ivan Cruz RC
154 Alan Trammell
155 Pat Kelly RC
156 Carl Everett RC
157 Greg Cadaret
158 Kevin Maas
159 Jeff Johnson RC
160 Willie Smith
161 Gerald Williams RC
162 Mike Humphreys RC
163 Alvaro Espinoza
164 Matt Nokes
165 Wade Taylor RC
166 Roberto Kelly
167 John Habyan
168 Steve Farr
169 Jesse Barfield
170 Steve Sax
171 Jim Leyritz
172 Robert Eenhoorn
173 Bernie Williams
174 Scott Lusader
175 Torey Lovullo
176 Chuck Cary
177 Scott Sanderson
178 Don Mattingly
179 Mel Hall
180 Juan Gonzalez
181 Hensley Meulens
182 Jose Offerman
183 Jeff Bagwell RC
184 Jeff Conine RC
185 Henry Rodriguez RC
186 Jimmy Reese CO
187 Kyle Abbott
188 Lance Parrish
189 Rafael Montalvo RC
190 Floyd Bannister
191 Dick Schofield
192 Scott Lewis RC
193 Jeff D. Robinson
194 Kent Anderson
195 Wally Joyner
196 Chuck Finley
197 Luis Sojo
198 Jeff Richardson RC
199 Dave Parker
200 Jim Abbott
201 Junior Felix
202 Mark Langston
203 Tim Salmon RC
204 Cliff Young
205 Scott Bailes
206 Bobby Rose
207 Gary Gaetti
208 Ruben Amaro, Jr. RC
209 Luis Polonia
210 Dave Winfield
211 Bryan Harvey
212 Mike Moore
213 Rickey Henderson
214 Steve Chitren RC
215 Bob Welch
216 Terry Steinbach
217 Earnest Riles
218 Todd Van Poppel RC
219 Mike Gallego
220 Curt Young
221 Todd Burns
222 Vance Law
223 Eric Show
224 Don Peters RC*
225 Dave Stewart
226 Dave Henderson
227 Jose Canseco
228 Walt Weiss
229 Dann Howitt
230 Willie Wilson
231 Harold Baines
232 Scott Hemond
233 Joe Slusarski RC
234 Mark McGwire
235 Kirk Dressendorfer RC
236 Craig Paquette RC
237 Dennis Eckersley
238 Dana Allison RC
239 Scott Bradley
240 Brian Holman
241 Mike Schooler
242 Rich DeLucia RC
243 Edgar Martinez
244 Henry Cotto
245 Omar Vizquel
246 Ken Griffey, Jr.
247 Jay Buhner
248 Bill Krueger
249 Dave Fleming RC
250 Patrick Lennon RC
251 Dave Valle
252 Harold Reynolds
253 Randy Johnson
254 Scott Bankhead
255 Ken Griffey, Sr. UER (numbered 246 on back)
256 Greg Briley
257 Tino Martinez
258 Alvin Davis
259 Pete O'Brien
260 Erik Hanson
261 Bret Boone RC
262 Roger Salkeld
263 Dave Burba RC
264 Kerry Woodson RC
265 Julio Franco
266 Dan Peltier RC
267 Jeff Russell
268 Steve Buechele
269 Donald Harris
270 Robb Nen
271 Rich Gossage
272 Ivan Rodriguez RC
273 Jeff Huson
274 Kevin Brown
275 Dan Smith RC
276 Gary Pettis
277 Jack Daugherty
278 Mike Jeffcoat
279 Brad Arnsberg
280 Nolan Ryan
281 Eric McCray RC*
282 Scott Chiamparino
283 Ruben Sierra
284 Geno Petralli
285 Monty Fariss
286 Rafael Palmeiro
287 Bobby Witt
288 Dean Palmer UER (photo is Dan Peltier)
289 Tony Scruggs RC
290 Kenny Rogers
291 Bret Saberhagen
292 Brian McRae RC
293 Storm Davis
294 Danny Tartabull
295 David Howard RC
296 Mike Boddicker
297 Joel Johnston RC
298 Tim Spehr RC
299 Hector Wagner RC
300 George Brett
301 Mike Macfarlane
302 Kirk Gibson
303 Harvey Pulliam RC
304 Jim Eisenreich
305 Kevin Seitzer
306 Mark Davis
307 Kurt Stillwell
308 Jeff Montgomery
309 Kevin Appier
310 Bob Hamelin
311 Tom Gordon
312 Kerwin Moore RC
313 Hugh Walker
314 Terry Shumpert
315 Warren Cromartie
316 Gary Thurman
317 Steve Bedrosian
318 Danny Gladden
319 Jack Morris
320 Kirby Puckett
321 Kent Hrbek
322 Kevin Tapani
323 Denny Neagle RC
324 Rich Garces RC
325 Larry Casian RC
326 Shane Mack
327 Allan Anderson
328 Junior Ortiz
329 Paul Abbott RC
330 Chuck Knoblauch
331 Chili Davis
332 Todd Ritchie RC
333 Brian Harper
334 Rick Aguilera
335 Scott Erickson
336 Pedro Munoz RC
337 Scott Leius
338 Greg Gagne
339 Mike Pagliarulo
340 Terry Leach
341 Willie Banks
342 Bobby Thigpen
343 Roberto Hernandez RC
344 Melido Perez
345 Carlton Fisk
346 Norberto Martin RC
347 Johnny Ruffin RC
348 Jeff Carter
349 Lance Johnson
350 Sammy Sosa
351 Alex Fernandez
352 Jack McDowell
353 Bob Wickman RC
354 Wilson Alvarez
355 Charlie Hough
356 Ozzie Guillen
357 Cory Snyder
358 Robin Ventura
359 Scott Fletcher
360 Cesar Bernhardt RC*
361 Dan Pasqua
362 Tim Raines
363 Brian Drahman RC
364 Wayne Edwards
365 Scott Radinsky
366 Frank Thomas
367 Cecil Fielder SLUG
368 Julio Franco SLUG
369 Kelly Gruber SLUG
370 Alan Trammell SLUG
371 Rickey Henderson SLUG
372 Jose Canseco SLUG
373 Ellis Burks SLUG
374 Lance Parrish SLUG
375 Dave Parker SLUG
376 Eddie Murray SLUG
377 Ryne Sandberg SLUG
378 Matt Williams SLUG
379 Barry Larkin SLUG
380 Barry Bonds SLUG
381 Bobby Bonilla SLUG
382 Darryl Strawberry SLUG
383 Benito Santiago SLUG
384 Don Robinson SLUG
385 Paul Coleman
386 Milt Thompson
387 Lee Smith
388 Ray Lankford
389 Tom Pagnozzi
390 Ken Hill
391 Jamie Moyer
392 Greg Carmona RC
393 John Ericks
394 Bob Tewksbury
395 Jose Oquendo
396 Rheal Cormier RC
397 Mike Milchin RC
398 Ozzie Smith
399 Aaron Holbert RC
400 Jose DeLeon
401 Felix Jose
402 Juan Agosto
403 Pedro Guerrero
404 Todd Zeile
405 Gerald Perry
406 Donovan Osborne RC UER (card number 410)
407 Bryn Smith
408 Bernard Gilkey
409 Rex Hudler
410 Thomson / Ralph Branca "The Shot Heard 'Round The World)
411 Lance Dickson RC
412 Danny Jackson
413 Jerome Walton
414 Sean Cheetham RC*
415 Joe Girardi
416 Ryne Sandberg
417 Mike Harkey
418 George Bell
419 Rick Wilkins RC
420 Earl Cunningham
421 Heathcliff Slocumb RC
422 Mike Bielecki
423 Jessie Hollins RC
424 Shawon Dunston
425 Dave Smith
426 Greg Maddux
427 Jose Vizcaino
428 Luis Salazar
429 Andre Dawson
430 Rick Sutcliffe
431 Paul Assenmacher
432 Erik Pappas RC
433 Mark Grace
434 Dennis Martinez
435 Marquis Grissom
436 Wilfredo Cordero RC
437 Tim Wallach
438 Brian Barnes RC
439 Barry Jones
440 Ivan Calderon
441 Stan Spencer RC
442 Larry Walker
443 Chris Haney RC
444 Hector Rivera RC*
445 Delino DeShields
446 Andres Galarraga
447 Gilberto Reyes
448 Willie Greene
449 Greg Colbrunn RC
450 Rondell White RC
451 Steve Frey
452 Shane Andrews RC
453 Mike Fitzgerald
454 Spike Owen
455 Dave Martinez
456 Dennis Boyd
457 Eric Bullock
458 Reid Cornelius RC
459 Chris Nabholz
460 David Cone
461 Hubie Brooks
462 Sid Fernandez
463 Doug Simons RC
464 Howard Johnson
465 Chris Donnels RC
466 Anthony Young RC
467 Todd Hundley
468 Rick Cerone
469 Kevin Elster
470 Wally Whitehurst
471 Vince Coleman
472 Dwight Gooden
473 Charlie O'Brien
474 Jeromy Burnitz RC
475 John Franco
476 Daryl Boston
477 Frank Viola
478 D.J. Dozier
479 Kevin McReynolds
480 Tom Herr
481 Gregg Jefferies
482 Pete Schourek RC
483 Ron Darling
484 Dave Magadan
485 Andy Ashby RC
486 Dale Murphy
487 Von Hayes
488 Kim Batiste RC
489 Tony Longmire RC
490 Wally Backman
491 Jeff Jackson
492 Mickey Morandini
493 Darrel Akerfelds
494 Ricky Jordan
495 Randy Ready
496 Darrin Fletcher
497 Chuck Malone
498 Pat Combs
499 Dickie Thon
500 Roger McDowell
501 Lenny Dykstra
502 Joe Boever
503 John Kruk
504 Terry Mulholland
505 Wes Chamberlain RC
506 Mike Lieberthal RC
507 Darren Daulton
508 Charlie Hayes
509 John Smiley
510 Gary Varsho
511 Curt Wilkerson
512 Orlando Merced RC
513 Barry Bonds
514 Mike LaValliere
515 Doug Drabek
516 Gary Redus
517 William Pennyfeather RC
518 Randy Tomlin RC
519 Mike Zimmerman RC*
520 Jeff King
521 Kurt Miller RC
522 Jay Bell
523 Bill Landrum
524 Zane Smith
525 Bobby Bonilla
526 Bob Walk
527 Austin Manahan
528 Joe Ausanio RC
529 Andy Van Slyke
530 Jose Lind
531 Carlos Garcia RC
532 Don Slaught
533 Colin Powell GEN
534 Frank Bolick RC
535 Gary Scott RC
536 Nikco Riesgo RC
537 Reggie Sanders RC
538 Tim Howard RC*
539 Ryan Bowen RC
540 Eric Anthony
541 Jim Deshaies
542 Tom Nevers RC*
543 Ken Caminiti
544 Karl Rhodes
545 Xavier Hernandez
546 Mike Scott
547 Jeff Juden
548 Darryl Kile
549 Willie Ansley
550 Luis Gonzalez RC
551 Mike Simms RC
552 Mark Portugal
553 Jimmy Jones
554 Jim Clancy
555 Pete Harnisch
556 Craig Biggio
557 Eric Yelding
558 Dave Rohde
559 Casey Candaele
560 Curt Schilling
561 Steve Finley
562 Javier Ortiz
563 Andujar Cedeno
564 Rafael Ramirez
565 Kenny Lofton RC
566 Steve Avery
567 Lonnie Smith
568 Kent Mercker
569 Chipper Jones RC
570 Terry Pendleton
571 Otis Nixon
572 Juan Berenguer
573 Charlie Leibrandt
574 Dave Justice
575 Keith Mitchell RC
576 Tom Glavine
577 Greg Olson
578 Rafael Belliard
579 Ben Rivera RC
580 John Smoltz
581 Tyler Houston
582 Mark Wohlers RC
583 Ron Gant
584 Ramon Caraballo RC
585 Sid Bream
586 Jeff Treadway
587 Javy Lopez RC
588 Deion Sanders
589 Mike Heath
590 Ryan Klesko RC
591 Bob Ojeda
592 Alfredo Griffin
593 Raul Mondesi RC
594 Greg Smith
595 Orel Hershiser
596 Juan Samuel
597 Brett Butler
598 Gary Carter
599 Stan Javier
600 Kal Daniels
601 Jamie McAndrew RC
602 Mike Sharperson
603 Jay Howell
604 Eric Karros RC
605 Tim Belcher
606 Dan Opperman RC*
607 Lenny Harris
608 Tom Goodwin
609 Darryl Strawberry
610 Ramon Martinez
611 Kevin Gross
612 Zakary Shinall RC
613 Mike Scioscia
614 Eddie Murray
615 Ron Walden RC*
616 Will Clark
617 Adam Hyzdu RC
618 Matt Williams
619 Don Robinson
620 Jeff Brantley
621 Greg Litton
622 Steve Decker RC
623 Robby Thompson
624 Mark Leonard RC
625 Kevin Bass
626 Scott Garrelts
627 Jose Uribe
628 Eric Gunderson
629 Steve Hosey
630 Trevor Wilson
631 Terry Kennedy
632 Dave Righetti
633 Kelly Downs
634 Johnny Ard
635 Eric Christopherson RC*
636 Kevin Mitchell
637 John Burkett
638 Kevin Rogers RC
639 Bud Black
640 Willie McGee
641 Royce Clayton
642 Tony Fernandez
643 Ricky Bones RC
644 Thomas Howard
645 Dave Staton RC
646 Jim Presley
647 Tony Gwynn
648 Marty Barrett
649 Scott Coolbaugh
650 Craig Lefferts
651 Ed Whitson
652 Oscar Azocar
653 Wes Gardner
654 Bip Roberts
655 Robbie Beckett RC
656 Benito Santiago
657 Greg W. Harris
658 Jerald Clark
659 Fred McGriff
660 Larry Andersen
661 Bruce Hurst
662 Steve Martin RC* UER (card says "pitched at Waterloo;" was an OF)
663 Rafael Valdez
664 Paul Faries RC
665 Andy Benes
666 Randy Myers
667 Rob Dibble
668 Glenn Sutko RC
669 Glenn Braggs
670 Billy Hatcher
671 Joe Oliver
672 Freddie Benavides RC
673 Barry Larkin
674 Chris Sabo
675 Mariano Duncan
676 Chris Jones RC
677 Gino Minutelli RC
678 Reggie Jefferson
679 Jack Armstrong
680 Chris Hammond
681 Jose Rijo
682 Bill Doran
683 Terry Lee RC
684 Tom Browning
685 Paul O'Neill
686 Eric Davis
687 Dan Wilson RC
688 Ted Power
689 Tim Layana
690 Norm Charlton
691 Hal Morris
692 Rickey Henderson RB
693 Sam Militello RC
694 Matt Mieske RC
695 Paul Russo RC*
696 Domingo Mota RC*
697 Todd Guggiana RC*
698 Marc Newfield RC
699 Checklist CL 1-122
700 Checklist CL 123-244
701 Checklist CL 245-366
702 Checklist CL 367-471
703 Checklist CL 472-593
704 Checklist CL 594-704
Classic Era:
Junk Wax Era:
Post-Strike Era:
Exclusive License Era:
---
Bowman Update Sets
Draft Picks & Prospects:
Draft:
Bowman Parallel Brands
Chrome:
Chrome Mega Box:
Sapphire Chrome:
Other Bowman Sets