1990 Score Rookie/Traded
Description
1990 Score Rookie/Traded is a 110-card set and marked the third consecutive year Score had issued an end of the year set to note trades and give rookies their first card. The set was issued through Hobby accounts and only in factory set form. The first 66 cards are traded players while the last 44 cards are rookie cards. Rookie Cards in the set include Derek Bell, Todd Hundley and Ray Lankford.
A card (#100T) of hockey prospect Eric Lindros taking batting practice with the Toronto Blue Jays is included in this set. Lindros was expected to be the first pick in the 1991 NHL Draft and had already signed an endorsement deal with Score.
Distribution
Factory Sets only. Hobby only.
Reviews
Checklist
Base Set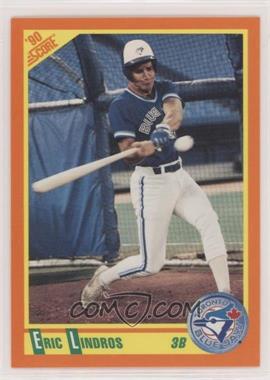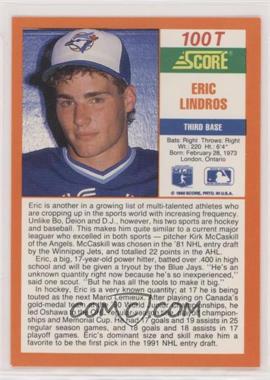 1T Dave Winfield
2T Kevin Bass
3T Nick Esasky
4T Mitch Webster
5T Pascual Perez
6T Gary Pettis
7T Tony Pena
8T Candy Maldonado
9T Cecil Fielder
10T Carmelo Martinez
11T Mark Langston
12T Dave Parker
13T Don Slaught
14T Tony Phillips
15T John Franco
16T Randy Myers
17T Jeff Reardon
18T Sandy Alomar, Jr.
19T Joe Carter
20T Fred Lynn
21T Storm Davis
22T Craig Lefferts
23T Pete O'Brien
24T Dennis Boyd
25T Lloyd Moseby
26T Mark Davis
27T Tim Leary
28T Gerald Perry
29T Don Aase
30T Ernie Whitt
31T Dale Murphy
32T Alejandro Pena
33T Juan Samuel
34T Hubie Brooks
35T Gary Carter
36T Jim Presley
37T Wally Backman
38T Matt Nokes
39T Dan Petry
40T Franklin Stubbs
41T Jeff Huson
42T Billy Hatcher
43T Terry Leach
44T Phil Bradley
45T Claudell Washington
46T Luis Polonia
47T Daryl Boston
48T Lee Smith
49T Tom Brunansky
50T Mike Witt
51T Willie Randolph
52T Stan Javier
53T Brad Komminsk
54T John Candelaria
55T Bryn Smith
56T Glenn Braggs
57T Keith Hernandez
58T Ken Oberkfell
59T Steve Jeltz
60T Chris James
61T Scott Sanderson
62T Bill Long
63T Rick Cerone
64T Scott Bailes
65T Larry Sheets
66T Junior Ortiz
67T Francisco Cabrera
68T Gary DiSarcina RC
69T Greg Olson RC
70T Beau Allred RC
71T Oscar Azocar RC
72T Kent Mercker RC
73T John Burkett
74T Carlos Baerga RC
75T Dave Hollins RC
76T Todd Hundley RC
77T Rick Parker RC
78T Steve Cummings RC
79T Bill Sampen RC
80T Jerry Kutzler RC
81T Derek Bell RC
82T Kevin Tapani RC
83T Jim Leyritz RC
84T Ray Lankford RC
85T Wayne Edwards RC
86T Frank Thomas
87T Tim Naehring RC
88T Willie Blair RC
89T Alan Mills RC
90T Scott Radinsky RC
91T Howard Farmer RC
92T Julio Machado RC
93T Rafael Valdez RC
94T Shawn Boskie RC
95T David Segui RC
96T Chris Hoiles RC
97T D. J.Dozier RC
98T Hector Villanueva RC
99T Eric Gunderson RC
100T Eric Lindros
101T Dave Otto
102T Dana Kiecker RC
103T Tim Drummond RC
104T Mickey Pina RC*
105T Craig Grebeck RC
106T Bernard Gilkey RC
107T Tim Layana RC
108T Scott Chiamparino RC
109T Steve Avery
110T Terry Shumpert RC
Score
---
Rookie/Traded:
Hottest 100 Sets:
Young Superstars:
Other Score Sets: