1987 Sportflics
Description
1987 Sportflics is a 195-card all-lenticular set. It owns the distinction of being first baseball card with a color photo on the back of the card.
In a rather curious variation, all cards distributed in factory sets have a 1986 copyright on the back. This despite the fact that the factory sets were released after the foilpacks. Cards from foilpacks have either a 1986 copyright, a 1987 copyright, or no copyright at all.
Distribution
Foil: 36 packs per box, three cards plus one Magic Motion Trivia Card per pack (MSRP: $0.59). 12 boxes per case.
Factory sets.
Reviews
Insertion Ratios
| Cards | Total Cards | Numbered To | Odds |
| --- | --- | --- | --- |
| Base | 195 | - | ? |
Checklist
Promos
Dealer Panels
Sportflics produced four, 4-card panels to dealers who purchased a set number of Sportflics products. Each panel measures 4 7/8" X 6 7/8" and feature slightly under-sized representations of 1987 Sportflics cards. Some dealers did cut-up their panels and sold the cards individually. Each card has a 1986 copyright.
Base Set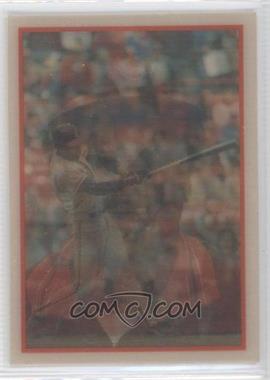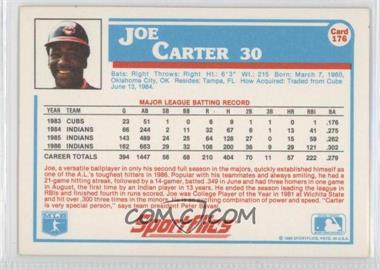 1 Don Mattingly
2 Wade Boggs
3 Dale Murphy
4 Rickey Henderson
5 George Brett
6 Eddie Murray
7 Kirby Puckett
8 Ryne Sandberg
9 Cal Ripken, Jr.
10 Roger Clemens
11 Teddy Higuera
12 Steve Sax
13 Chris Brown
14 Jesse Barfield
15 Kent Hrbek
16 Robin Yount
17 Glenn Davis
18 Hubie Brooks
19 Mike Scott
20 Darryl Strawberry
21 Alvin Davis
22 Eric Davis
23 Danny Tartabull
24 Cory Snyder COR
24 Cory Snyder ERR (Pat Tabler on Back)
25 Pete Rose
26 Wally Joyner
27 Pedro Guerrero
28 Tom Seaver
29 Bob Knepper
30 Mike Schmidt
31 Tony Gwynn
32 Don Slaught
33 Todd Worrell
34 Tim Raines
35 Dave Parker
36 Bob Ojeda
37 Pete Incaviglia
38 Bruce Hurst
39 Bobby Witt
40 Steve Garvey
41 Dave Winfield
42 Jose Cruz
43 Orel Hershiser
44 Reggie Jackson
45 Chili Davis
46 Robby Thompson
47 Dennis Boyd
48 Kirk Gibson
49 Fred Lynn
50 Gary Carter
51 George Bell
52 Pete O'Brien
53 Ron Darling
54 Paul Molitor
55 Mike Pagliarulo
56 Mike Boddicker
57 Dave Righetti
58 Len Dykstra
59 Mike Witt
60 Tony Bernazard
61 John Kruk
62 Mike Krukow
63 Sid Fernandez
64 Gary Gaetti
65 Vince Coleman
66 Pat Tabler
67 Mike Scioscia
68 Scott Garrelts
69 Brett Butler
70 Bill Buckner
71 Dennis Rasmussen
72 Tim Wallach
73 Bob Horner
74 Willie McGee
75 Don Mattingly / Wally Joyner / Eddie Murray TRI
76 Jessie Orosco
77 Todd Worrell / Jeff Reardon / Dave Smith TRI
78 Candy Maldonado
79 Ozzie Smith / Hubie Brooks / Shawon Dunston TRI UER (No copyright on reverse)
80 Jim Rice / Jose Canseco / George Bell TRI
81 Bert Blyleven
82 Mike Marshall
83 Ron Guidry
84 Julio Franco
85 Willie Wilson
86 Lee Lacy
87 Jack Morris
88 Ray Knight
89 Phil Bradley
90 Jose Canseco
91 Gary Ward
92 Mike Easler
93 Tony Pena
94 Dave Smith
95 Will Clark
96 Lloyd Moseby
97 Jim Rice
98 Shawon Dunston
99 Don Sutton
100 Dwight Gooden
101 Lance Parrish
102 Mark Langston
103 Floyd Youmans
104 Lee Smith
105 Willie Hernandez
106 Doug DeCinces
107 Ken Schrom
108 Don Carman
109 Brook Jacoby
110 Steve Bedrosian
111 Roger Clemens / Teddy Higuera / Jack Morris TRI
112 Marty Barrett / Tony Bernazard / Lou Whitaker TRI
113 Cal Ripken, Jr. / Tony Fernandez / Scott Fletcher TRI
114 Wade Boggs / George Brett / Gary Gaetti TRI
115 Mike Schmidt / Chris Brown / Tim Wallach TRI
116 Ryne Sandberg / Bill Doran / Johnny Ray TRI
117 Dave Parker / Tony Gwynn / Kevin Bass TRI
118 Terry Steinbach / Benito Santiago / Pat Dodson / Ty Gainey / Phil Lombardi / Dave Clark BIG 6
119 Mike Scott / Dave Righetti / Fernando Valenzuela TRI
120 Dwight Gooden / Mike Scott / Fernando Valenzuela TRI
121 Johnny Ray
122 Keith Moreland
123 Juan Samuel
124 Wally Backman
125 Nolan Ryan
126 Greg Harris
127 Kirk McCaskill
128 Dwight Evans
129 Rick Rhoden
130 Bill Madlock
131 Oddibe McDowell
132 Darrell Evans
133 Keith Hernandez
134 Tom Brunansky
135 Kevin McReynolds
136 Scott Fletcher
137 Lou Whitaker
138 Carney Lansford
139 Andre Dawson
140 Carlton Fisk
141 Buddy Bell
142 Ozzie Smith
143 Dan Pasqua
144 Kevin Mitchell
145 Bret Saberhagen
146 Charlie Kerfeld
147 Phil Niekro
148 John Candelaria
149 Rich Gedman
150 Fernando Valenzuela
151 Gary Carter / Tony Pena / Mike Scioscia TRI
152 Tim Raines / Jose Cruz / Vince Coleman TRI
153 Jesse Barfield / Harold Baines / Dave Winfield TRI
154 Lance Parrish / Don Slaught / Rich Gedman TRI
155 Dale Murphy / Eric Davis / Kevin McReynolds TRI
156 Mike Schmidt / Don Sutton / Jim Deshaies TRI
157 Rickey Henderson / John Cangelosi / Gary Pettis TRI
158 Rafael Palmeiro / Kevin Seitzer / Randy Asadoor / Casey Candaele / Tim Pyznarski / Dave Cochrane BIG 6
159 Don Mattingly / Roger Clemens / Rickey Henderson / Dale Murphy / Eddie Murray / Dwight Gooden BIG 6
160 Roger McDowell
161 Brian Downing
162 Bill Doran
163 Don Baylor
164 Alfredo Griffin
165 Don Aase
166 Glenn Wilson
167 Dan Quisenberry
168 Frank White
169 Cecil Cooper
170 Jody Davis
171 Harold Baines
172 Rob Deer
173 John Tudor
174 Larry Parrish
175 Kevin Bass
176 Joe Carter
177 Mitch Webster
178 Dave Kingman
179 Jim Presley
180 Mel Hall
181 Shane Rawley
182 Marty Barrett
183 Damaso Garcia
184 Bobby Grich
185 Leon Durham
186 Ozzie Guillen
187 Tony Fernandez
188 Alan Trammell
189 Jim Clancy
190 Bo Jackson
191 Bob Forsch
192 John Franco
193 Von Hayes
194 Don Aase / Dave Righetti / Mark Eichhorn TRI
195 Will Clark / Keith Hernandez / Glenn Davis TRI
196 Roger Clemens / Joe Cowley / Bob Horner TRI
197 George Brett / Tony Gwynn / Ryne Sandberg / Wade Boggs / Hubie Brooks / Tim Raines BIG 6
198 Kirby Puckett / Rickey Henderson / Fred Lynn TRI
199 Tim Raines / Vince Coleman / Eric Davis TRI
200 Steve Carlton
Sportflics
Boxed Sets:
Rookies:
Other Sportflics Sets: