1987 Leaf Special Olympics
Description
1987 Leaf Special Olympics is an 18-card set featuring 12 Hall of Fame baseball players and six cards of various Special Olympics sports. The set's design is modeled after the 1983 Donruss HOF Heroes set, but has a "Leaf Candy City Team" logo on the front. In fact, this set is commonly referred to as the "Candy City" set.
Proceeds from the set went to the Special Olympics. Leaf Candy was a sponsor of Special Olympics World Games VII, which took place in the summer of '87 on the campus of The University of Notre Dame.
Distribution
Three cards cello packs.
Factory sets.
Reviews
http://sanjosefuji.blogspot.com/2015/07/very-special-cards.html
Insertion Ratios
| Cards | Total Cards | Numbered To | Odds |
| --- | --- | --- | --- |
| Base | 18 | - | 3:1 |
Checklist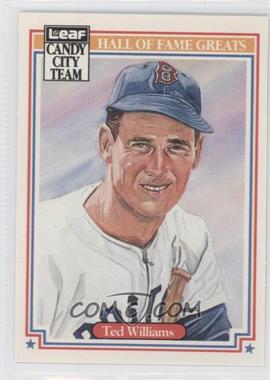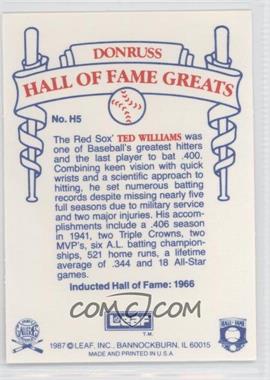 Hall of Famers
H1 Mickey Mantle
H2 Yogi Berra
H3 Roy Campanella
H4 Stan Musial
H5 Ted Williams
H6 Duke Snider
H7 Hank Aaron
H8 Pee Wee Reese
H9 Brooks Robinson
H10 Al Kaline
H11 Willie McCovey
H12 James Bell
Sports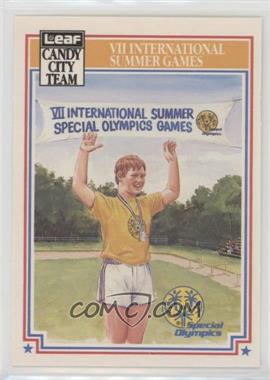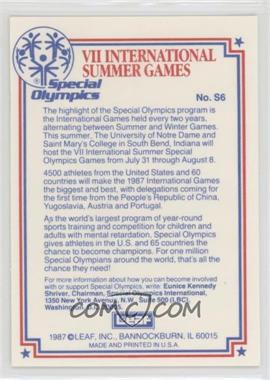 S1 Basketball
S2 Softball
S3 Track And Field
S4 Soccer
S5 Gymnastics
S6 VII International Summer Games