1986 Fleer Update
Description
1986 Fleer Update is a 132-card set distributed in factory set form through Hobby dealers. In addition to the complete set of 132 cards, the box also contains 25 team logo stickers. The card fronts look very similar to the 1986 Fleer regular issue. Due to the navy blue borders, these cards are just as condition sensitive with most cards having chipped edges straight out of the box.
The set is sequentially-numbered (with a U prefix) alphabetically according to player's last name.
The XRCs in this set include Barry Bonds, Bobby Bonilla, Will Clark, Wally Joyner and John Kruk.
Distribution
Factory sets only. 50 sets per case.
Reviews
Checklist
Base Set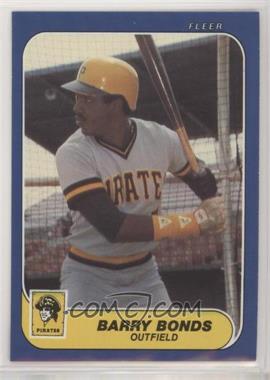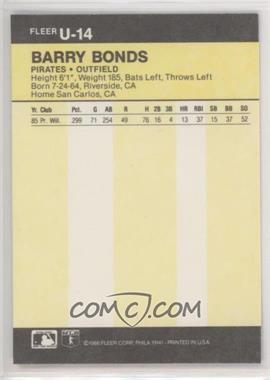 1 Mike Aldrete
2 Andy Allanson XRC
3 Neil Allen
4 Joaquin Andujar
5 Paul Assenmacher
6 Scott Bailes
7 Jay Baller
8 Scott Bankhead
9 Bill Bathe
10 Don Baylor
11 Billy Beane
12 Steve Bedrosian
13 Juan Beniquez
14 Barry Bonds XRC
15 Bobby Bonilla XRC
16 Rich Bordi
17 Bill Campbell
18 Tom Candiotti
19 John Cangelosi
20 Jose Canseco XRC
21 Chuck Cary
22 Juan Castillo
23 Rick Cerone
24 John Cerutti
25 Will Clark XRC
26 Mark Clear
27 Darnell Coles
28 Dave Collins
29 Tim Conroy
30 Ed Correa
31 Joe Cowley
32 Bill Dawley
33 Rob Deer
34 John Denny
35 Jim Deshaies
36 Doug Drabek
37 Mike Easler
38 Mark Eichhorn
39 Dave Engle
40 Mike Fischlin
41 Scott Fletcher
42 Terry Forster
43 Terry Francona
44 Andres Galarraga XRC
45 Lee Guetterman
46 Bill Gullickson
47 Jackie Gutierrez
48 Moose Haas
49 Billy Hatcher
50 Mike Heath
51 Guy Hoffman
52 Tom Hume
53 Pete Incaviglia XRC
54 Dane Iorg
55 Chris James
56 Stan Javier
57 Tommy John
58 Tracy Jones
59 Wally Joyner XRC
60 Wayne Krenchicki
61 John Kruk XRC
62 Mike LaCoss
63 Pete Ladd
64 Dave LaPoint
65 Mike LaValliere
66 Rudy Law
67 Dennis Leonard
68 Steve Lombardozzi
69 Aurelio Lopez
70 Mickey Mahler
71 Candy Maldonado
72 Roger Mason XRC
73 Greg Mathews
74 Andy McGaffigan
75 Joel McKeon
76 Kevin Mitchell XRC
77 Bill Mooneyham
78 Omar Moreno
79 Jerry Mumphrey
80 Al Newman
81 Phil Niekro
82 Randy Niemann
83 Juan Nieves
84 Bob Ojeda
85 Rick Ownbey
86 Tom Paciorek
87 David Palmer
88 Jeff Parrett
89 Pat Perry
90 Dan Plesac
91 Darrell Porter
92 Luis Quinones
93 Rey Quinones
94 Gary Redus
95 Jeff Reed
96 Bip Roberts XRC
97 Billy Jo Robidoux XRC
98 Gary Roenicke
99 Ron Roenicke
100 Angel Salazar
101 Joe Sambito
102 Billy Sample
103 Dave Schmidt
104 Ken Schrom
105 Ruben Sierra
106 Ted Simmons
107 Sammy Stewart
108 Kurt Stillwell
109 Dale Sveum
110 Tim Teufel
111 Bob Tewksbury XRC
112 Andres Thomas
113 Jason Thompson
114 Milt Thompson
115 Robby Thompson XRC
116 Jay Tibbs
117 Fred Toliver
118 Wayne Tolleson
119 Alex Trevino
120 Manny Trillo
121 Ed Vande Berg
122 Ozzie Virgil
123 Tony Walker
124 Gene Walter
125 Duane Ward
126 Jerry Willard
127 Mitch Williams XRC
128 Reggie Williams
129 Bobby Witt XRC
130 Marvell Wynne
131 Steve Yeager
132 Checklist 1-132