1986 Donruss The Rookies
Description
1986 Donruss The Rookies is a 56-card set. The Rookies was Donruss's second attempt at a post-season "update" set, following on the heels of the successful debut of Donruss Highlights the previous year. Unlike Topps Traded or Fleer Update, "DTR" focused exclusively on players who made their Major League debuts during the 1986 season.
Like Highlights, each 56-card set was set was wrapped in cellophane and distributed in a box that resembled a deck of playing cards and came packaged with a 15-piece mini puzzle of Hank Aaron. Unfortunately, the cellophane wrap caused a percentage of the Wally Joyner cards arriving in less than perfect condition, as he was the top card in each "deck." Donruss was able to fix the problem after it was called to their attention and even went so far as to include a card with their customer services department's phone number in their second printing.
The design is similar to the 1986 Donruss set except for the presence of "The Rookies" logo in the lower left corner, a bluish green border, and the application of a glossy coating to the front of each card.
Key XRCs in this set include Barry Bonds, Bobby Bonilla, Will Clark, Bo Jackson, Wally Joyner, John Kruk, and, of course Bip Roberts.
Distribution
Factory set: 56 cards plus one Hank Aaron mini puzzle. Hobby only. 60 sets per case.
Reviews
Checklist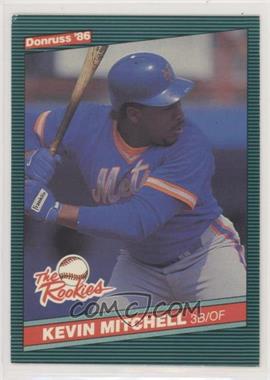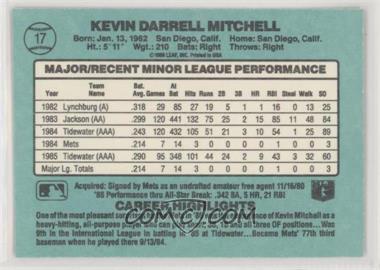 1 Wally Joyner XRC
2 Tracy Jones
3 Allan Anderson
4 Ed Correa
5 Reggie Williams
6 Charlie Kerfeld
7 Andres Galarraga
8 Bob Tewksbury XRC
9 Al Newman
10 Andres Thomas
11 Barry Bonds XRC
12 Juan Nieves
13 Mark Eichhorn
14 Dan Plesac
15 Cory Snyder
16 Kelly Gruber
17 Kevin Mitchell XRC
18 Steve Lombardozzi
19 Mitch Williams XRC
20 John Cerutti
21 Todd Worrell
22 Jose Canseco XRC
23 Pete Incaviglia XRC
24 Jose Guzman XRC
25 Scott Bailes
26 Greg Mathews
27 Eric King
28 Paul Assenmacher
29 Jeff Sellers
30 Bobby Bonilla XRC
31 Doug Drabek
32 Will Clark XRC
33 Bip Roberts XRC
34 Jim Deshaies
35 Mike LaValliere
36 Scott Bankhead
37 Dale Sveum
38 Bo Jackson XRC
39 Robby Thompson XRC
40 Eric Plunk
41 Bill Bathe
42 John Kruk XRC
43 Andy Allanson XRC
44 Mark Portugal
45 Danny Tartabull
46 Bob Kipper
47 Gene Walter
48 Rey Quinones (Misspelled Quinonez)
49 Bobby Witt XRC
50 Bill Mooneyham
51 John Cangelosi
52 Ruben Sierra
53 Rob Woodward
54 Ed Hearn
55 Joel McKeon
56 Checklist 1-56
Donruss
Triopoly Era:
Junk Wax Era:
Post Junk Wax Era:
Pinnacle Brands Era:
Donruss-Playoff Era:
Panini America Era:
---
Parallel Brands:
---
All-Stars:
Highlights:
The Rookies:
Baseball's Best:
---
Other Donruss Brands: