1985 Fleer Star Stickers
Description
1985 Fleer Star Stickers is a 126-sticker set. As with the Topps sticker set, each sticker is meant to be affixed inside a custom album (sold separately). Each sticker measures 1 15/16" X 2 1/2".
The set features rookie-year stickers of Kirby Puckett and Roger Clemens.
Distribution
100 packs per box, six stickers plus one team logo sticker per pack.
Reviews
Checklist
Base Set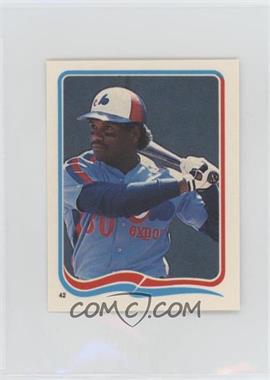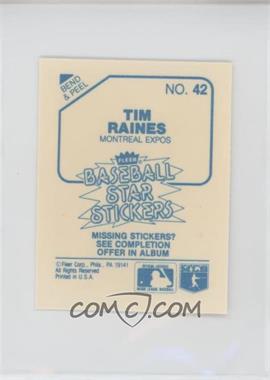 1 Pete Rose
2 Pete Rose
3 Pete Rose
4 Don Mattingly
5 Dave Winfield
6 Wade Boggs
7 Buddy Bell
8 Tony Gwynn
9 Lee Lacy
10 Chili Davis
11 Ryne Sandberg
12 Tony Armas
13 Jim Rice
14 Dave Kingman
15 Alvin Davis
16 Gary Carter
17 Mike Schmidt
18 Dale Murphy
19 Ron Cey
20 Eddie Murray
21 Harold Baines
22 Kirk Gibson
23 Jim Rice
24 Gary Matthews
25 Keith Hernandez
26 Gary Carter
27 George Hendrick
28 Tony Armas
29 Dave Kingman
30 Dwayne Murphy
31 Lance Parrish
32 Andre Thornton
33 Dale Murphy
34 Mike Schmidt
35 Gary Carter
36 Darryl Strawberry
37 Don Mattingly
38 Larry Parrish
39 George Bell
40 Dwight Evans
41 Cal Ripken, Jr.
42 Tim Raines
43 Johnny Ray
44 Juan Samuel
45 Ryne Sandberg
46 Mike Easler
47 Andre Thornton
48 Dave Kingman
49 Don Baylor
50 Rusty Staub
51 Steve Braun
52 Kevin Bass
53 Greg Gross
54 Rickey Henderson
55 Dave Collins
56 Brett Butler
57 Gary Pettis
58 Tim Raines
59 Juan Samuel
60 Alan Wiggins
61 Lonnie Smith
Stop Action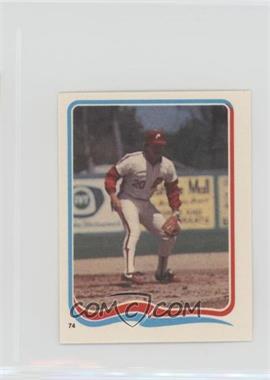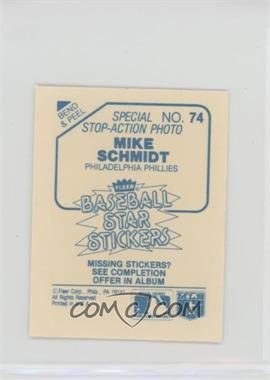 62 Eddie Murray
63 Eddie Murray
64 Eddie Murray
65 Eddie Murray
66 Eddie Murray
67 Eddie Murray
68 Tom Seaver
69 Tom Seaver
70 Tom Seaver
71 Tom Seaver
72 Tom Seaver
73 Tom Seaver
74 Mike Schmidt
75 Mike Schmidt
76 Mike Schmidt
77 Mike Schmidt
78 Mike Schmidt
79 Mike Schmidt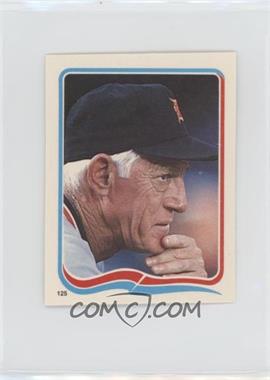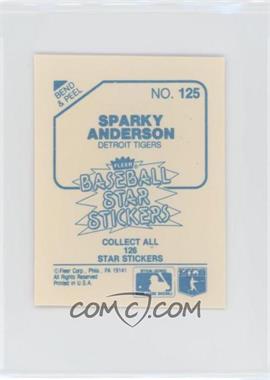 80 Mike Boddicker
81 Bert Blyleven
82 Jack Morris
83 Dan Petry
84 Frank Viola
85 Joaquin Andujar
86 Mario Soto
87 Dwight Gooden
88 Joe Niekro
89 Rick Sutcliffe
90 Mike Boddicker
91 Dave Stieb
92 Bert Blyleven
93 Phil Niekro
94 Alejandro Pena
95 Dwight Gooden
96 Orel Hershiser
97 Rick Rhoden
98 John Candelaria
99 Dan Quisenberry
100 Bill Caudill
101 Willie Hernandez
102 Dave Righetti
103 Ron Davis
104 Bruce Sutter
105 Lee Smith
106 Jesse Orosco
107 Al Holland
108 Goose Gossage
109 Mark Langston
110 Dave Stieb
111 Mike Witt
112 Bert Blyleven
113 Dwight Gooden
114 Fernando Valenzuela
115 Nolan Ryan
116 Mario Soto
117 Ron Darling
118 Dan Gladden
119 Jeff Stone
120 John Franco
121 Barbaro Garbey
122 Kirby Puckett
123 Roger Clemens
124 Bret Saberhagen
125 Sparky Anderson
126 Dick Williams