1983 Topps Traded
Description
1983 Topps Traded is a 132-card update set. Similarly to the previous year's 1982 Topps Traded, Topps sequentially-numbered the Traded series from 1T to 132T. Also repeating a theme from the previous year, the backs of the cards are noticeably offset from the base set, with the traded set being a bright, salmon pink in color with black print, in contrast to 1983 Topps which had brownish backs.
The set features player photos as seen in the uniform of their new team, and new prints of rookies called up during the season. The design is a mix of action shots and portraits coupled with another small circular portrait of the subject of the card located in either the lower left or right corner of the card. To the left (or right, depending on card design) of the portrait is the player's name, position, and team affiliation.
The reverse of the card contains the players standard biography (Name, height, weight, throws, bats, how/when drafted, how acquired, birthdate, birthplace, and home city). It also contained the players career statistics up until 1982. If room allowed, the bottom of the card contained either a small comment regarding the players career, previous seasons major accomplishments. Two silhouettes of players in action were also included, one in the upper left corner which was part of the Topps logo, and a second that may have appeared, if room allowed, in the lower right corner, typically of a pitcher about to throw a pitch. And of course, the card's number in the collated set appears in the uppermost left corner.
Key Rookie Cards in this set include Darryl Strawberry and Julio Franco.
Distribution
Factory set only. 132 cards.
Reviews
Checklist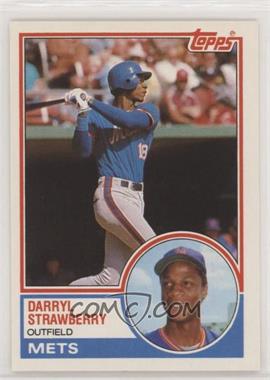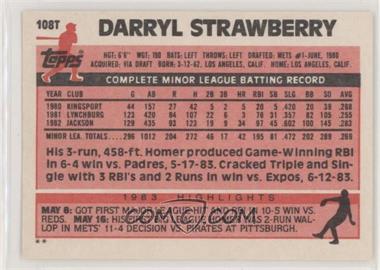 1T Neil Allen
2T Bill Almon
3T Joe Altobelli MGR
4T Tony Armas
5T Doug Bair
6T Steve Baker
7T Floyd Bannister
8T Don Baylor
9T Tony Bernazard
10T Larry Biitner
11T Dann Bilardello
12T Doug Bird
13T Steve Boros MGR
14T Greg Brock
15T Mike C. Brown
16T Tom Burgmeier
17T Randy Bush
18T Bert Campaneris
19T Ron Cey
20T Chris Codiroli
21T Dave Collins
22T Terry Crowley
23T Julio Cruz
24T Mike Davis
25T Frank DiPino
26T Bill Doran XRC
27T Jerry Dybzinski
28T Jamie Easterly
29T Juan Eichelberger
30T Jim Essian
31T Pete Falcone
32T Mike Ferraro MGR
33T Terry Forster
34T Julio Franco XRC
35T Rich Gale
36T Kiko Garcia
37T Steve Garvey
38T Johnny Grubb
39T Mel Hall XRC
40T Von Hayes
41T Danny Heep
42T Steve Henderson
43T Keith Hernandez
44T Leo Hernandez
45T Willie Hernandez
46T Al Holland
47T Frank Howard MGR
48T Bobby Johnson
49T Cliff Johnson
50T Odell Jones
51T Mike Jorgensen
52T Bob Kearney
53T Steve Kemp
54T Matt Keough
55T Ron Kittle XRC
56T Mickey Klutts
57T Alan Knicely
58T Mike Krukow
59T Rafael Landestoy
60T Carney Lansford
61T Joe Lefebvre
62T Bryan Little
63T Aurelio Lopez
64T Mike Madden
65T Rick Manning
66T Billy Martin MGR
67T Lee Mazzilli
68T Andy McGaffigan
69T Craig McMurtry
70T John McNamara MGR
71T Orlando Mercado
72T Larry Milbourne
73T Randy Moffitt
74T Sid Monge
75T Jose Morales
76T Omar Moreno
77T Joe Morgan
78T Mike Morgan
79T Dale Murray
80T Jeff Newman
81T Pete O'Brien XRC
82T Jorge Orta
83T Alejandro Pena XRC
84T Pascual Perez
85T Tony Perez
86T Broderick Perkins
87T Tony Phillips XRC
88T Charlie Puleo
89T Pat Putnam
90T Jamie Quirk
91T Doug Rader MGR
92T Chuck Rainey
93T Bobby Ramos
94T Gary Redus XRC
95T Steve Renko
96T Leon Roberts
97T Aurelio Rodriguez
98T Dick Ruthven
99T Daryl Sconiers
100T Mike Scott
101T Tom Seaver
102T John Shelby
103T Bob Shirley
104T Joe Simpson
105T Doug Sisk
106T Mike Smithson
107T Elias Sosa
108T Darryl Strawberry XRC
109T Tom Tellmann
110T Gene Tenace
111T Gorman Thomas
112T Dick Tidrow
113T Dave Tobik
114T Wayne Tolleson
115T Mike Torrez
116T Manny Trillo
117T Steve Trout
118T Lee Tunnell
119T Mike Vail
120T Ellis Valentine
121T Tom Veryzer
122T George Vukovich
123T Rick Waits
124T Greg Walker
125T Chris Welsh
126T Len Whitehouse
127T Ed Whitson
128T Jim Wohlford
129T Matt Young XRC
130T Joel Youngblood
131T Pat Zachry
132T Checklist 1T-132T