1976 Topps Traded
Description
1976 Topps Traded is a 44-card set featuring players who were traded after the Topps regular set was printed. A "Sports Extra" heading design is found on each picture and is also used to introduce the biographical section of the reverse. Each card is numbered according to the player's regular 1976 Topps card with the addition of "T" to indicate his new status.
As with 1974 Topps Traded, the cards were inserted in all packs toward the end of the production run. According to published reports at the time, they were not released until April, 1976. Because they were produced in large quantities, they are no scarcer than the basic cards.
This set includes the seminal Oscar Gamble "Afro" card (#74T).
Distribution
Reviews
Insertion Ratios
| Cards | Total Cards | Numbered To | Odds |
| --- | --- | --- | --- |
| Base | 44 | - | ? |
Checklist
Base Set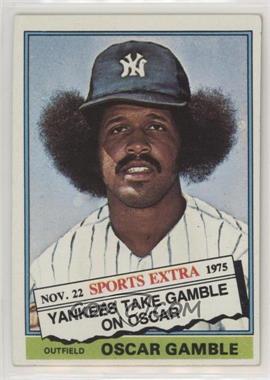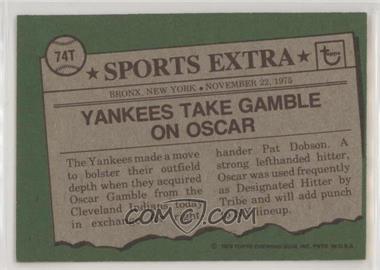 27T Ed Figueroa
28T Dusty Baker
44T Doug Rader
58T Ron Reed
74T Oscar Gamble
80T Jim Kaat
83T Jim Spencer
85T Mickey Rivers
99T Lee Lacy
120T Rusty Staub
127T Larvell Blanks
146T George Medich
158T Ken Reitz
208T Mike Lum
211T Clay Carroll
231T Tom House
250T Fergie Jenkins
259T Darrel Chaney
292T Leon Roberts
296T Pat Dobson
309T Bill Melton
338T Bob Bailey
380T Bobby Bonds
383T John Ellis
385T Mickey Lolich
401T Ken Brett
410T Ralph Garr
411T Bill Singer
428T Jim Crawford
434T Morris Nettles
464T Ken Henderson
497T Joe McIntosh
524T Pete Falcone
527T Mike Anderson
528T Dock Ellis
532T Milt May
554T Ray Fosse
579T Clay Kirby
583T Tommy Helms
592T Willie Randolph
618T Jack Brohamer
632T Rogelio Moret
649T Dave Roberts
NNO Traded Checklist