1960 Fleer Baseball Greats
Description
1960 Fleer Baseball Greats is a 79-card set which is designated as "R418-2" in the American Card Catalog. As they were prohibited by Topps from issuing cards of current players, this set features only one active player: Ted Williams.
There are no known scarcities, although three different versions of an eightieth card (Pepper Martin with either reverse with Eddie Collins, Joe Tinker or Lefty Grove) exists. According to Fleer, card #80 was not issued because of contract problems. A set is considered complete without card #80.
The cards were printed on a 96-card sheet with 17 double prints. These are noted in the checklist below by DP. On the sheet the second Eddie Collins card is typically found in the number 80 position. Some cards have been discovered with wrong backs.
Distribution
24 packs per box, five cards per pack (MSRP: $0.05).
Reviews
Insertion Ratios
| Cards | Total Cards | Numbered To | Odds |
| --- | --- | --- | --- |
| Base | 79 | - | ? |
Checklist
Base Set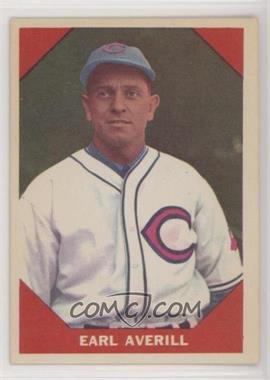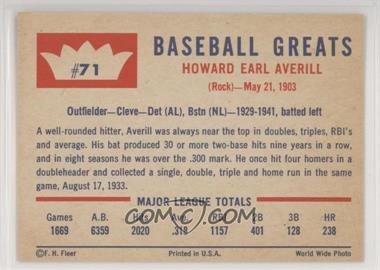 1 Napoleon Lajoie DP
2 Christy Mathewson
3 Babe Ruth
4 Carl Hubbell
5 Grover C. Alexander
6 Walter Johnson DP
7 Chief Bender
8 Roger Bresnahan
9 Mordecai Brown
10 Tris Speaker
11 Arky Vaughan DP
12 Zach Wheat
13 George Sisler
14 Connie Mack
15 Clark Griffith
16 Lou Boudreau DP
17 Ernie Lombardi
18 Heinie Manush
19 Marty Marion
20 Eddie Collins DP
21 Rabbit Maranville DP
22 Joe Medwick
23 Ed Barrow
24 Mickey Cochrane
25 Jimmy Collins
26 Bob Feller DP
27 Luke Appling
28 Lou Gehrig
29 Gabby Hartnett
30 Chuck Klein
31 Tony Lazzeri DP
32 Al Simmons
33 Wilbert Robinson
34 Sam Rice
35 Herb Pennock
36 Mel Ott DP
37 Lefty O'Doul
38 Johnny Mize
39 Bing Miller
40 Joe Tinker
41 Frank Baker DP
42 Ty Cobb
43 Paul Derringer
44 Cap Anson
45 Jim Bottomley
46 Eddie Plank DP
47 Cy Young
48 Hack Wilson
49 Ed Walsh UER (Photo is Ed Walsh, Jr.)
50 Frank Chance
51 Dazzy Vance DP
52 Bill Terry
53 Jimmy Foxx
54 Lefty Gomez
55 Branch Rickey
56 Ray Schalk DP
57 Johnny Evers
58 Charlie Gehringer
59 Burleigh Grimes
60 Lefty Grove
61 Rube Waddell DP
62 Honus Wagner
63 Red Ruffing
64 Kenesaw Mountain Landis
65 Harry Heilmann
66 John McGraw DP
67 Hughie Jennings
68 Hal Newhouser
69 Waite Hoyt
70 Bobo Newsom
71 Earl Averill DP
72 Ted Williams
73 Warren Giles
74 Ford Frick
75 Kiki Cuyler
76 Paul Waner DP
77 Pie Traynor
78 Lloyd Waner
79 Ralph Kiner
80A Pepper Martin / Eddie Collins SP
80B Pepper Martin / Lefty Grove SP
80C Pepper Martin / Joe Tinker SP