2020 Topps Celebration of the Decades Autographs
Description
2020 Topps Celebration of the Decades Autographs are a series of autographed cards distributed exclusively to attendees of a special event which took place in Las Vegas in November 2021. Fifty invitations were randomly inserted into packs of 2020 Topps Series One and Series Two. Those who pulled an invitation were given two tickets (one for themselves and one for a guest) to attend a "Celebration of the Decades."
Each attendee received one of four autographs of the following three players: Frank Thomas, Wade Boggs, and Yordan Alvarez. The four autographs are done in the style of the 1956 (two cards), 1971, and 1991 Topps Baseball sets, and each is serial-numbered to 25 copies. In addition, all 100 attendees received a serial-numbered triple autograph of the three players.
Distribution
Reviews
Checklist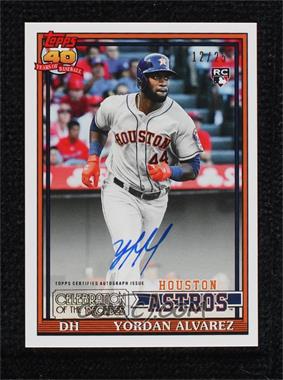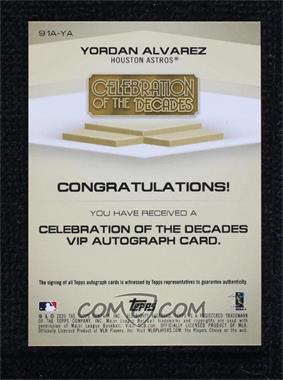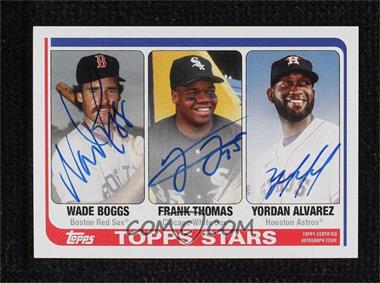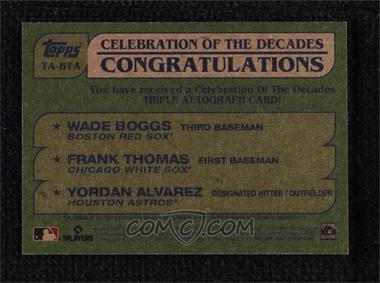 NOTE: Each card sequentially-numbered with a "65A" prefix is done in the style of the 1956 Topps set.
56A-WB Wade Boggs 25
65A-WB Wade Boggs 25
71A-WB Wade Boggs 25
91A-WB Wade Boggs 25
56A-FT Frank Thomas 25
65A-FT Frank Thomas 25
71A-FT Frank Thomas 25
91A-FT Frank Thomas 25
56A-YA Yordan Alvarez 25
65A-YA Yordan Alvarez 25
71A-YA Yordan Alvarez 25
91A-YA Yordan Alvarez 25
TA-BTA Wade Boggs / Frank Thomas / Yordan Alvarez 100