2014 Topps All-Star FanFest
Description
The 2014 Topps All-Star FanFest set was given away at the 2014 T-Mobile All-Star Game FanFest, which took place July 11th to the 15th, 2014 in Minneapolis, MN. Collector's who opened three packs of any 2014 Topps or Bowman baseball product at Topps' corporate booth would receive one of six cards from a seven-card FanFest set with a limit of one card per player each day.
Card #WR-03 of Miguel Cabrera was only available by showing a receipt showing proof of purchase of a 2014 Topps product from a Target store (Target is a sponsor of FanFest). Card #WR-CB is of the cartoon character Charlie Brown.
In addition, a six-card manufactured patch set was also produced. Collector's would receive one patch with a $50 purchase at Topps' booth. Each patch is serial-numbered to 150 copies.
Checklist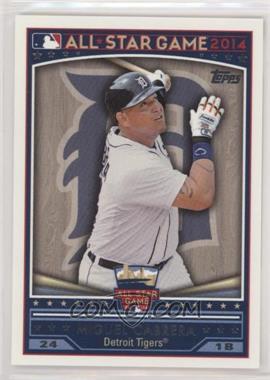 WR-01 Mike Trout
WR-02 Andrew McCutchen
WR-03 Miguel Cabrera SP
WR-04 Derek Jeter
WR-05 Clayton Kershaw
WR-06 Joe Mauer
WR-CB Charlie Brown
Manufactured Patches
Each patch is serial-numbered to 150 copies.
PC-01 Harmon Killebrew
PC-02 Ty Cobb
PC-03 Derek Jeter
PC-04 Rod Carew
PC-05 Robin Yount
PC-06 Joe Mauer