2011 eTopps
Description
2011 eTopps is a series of 45 cards available directly through Topps through their eTopps platform. This was the final year for eTopps, and at 45 cards, the smallest number of cards offered.
Collectors had the option to have their cards held by Topps, whereby they could sell them or buy from other collectors (much like one would buy and sell stocks) on the eTopps "floor" - a special section of eBay created for this product, or have the card mailed to them "in hand" for a nominal shipping and handling fee.
Since the eTopps program ended, all unclaimed cards are still sitting in a warehouse in Delaware.
Distribution
Reviews
Checklist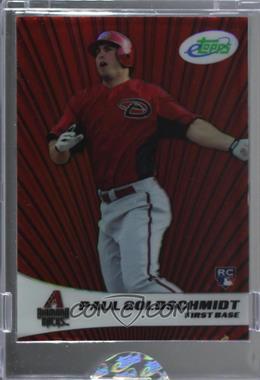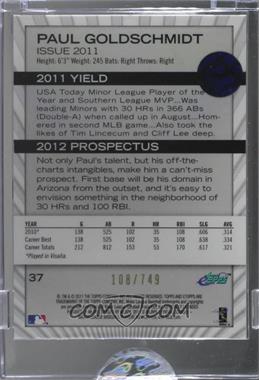 1 Ryan Braun 999
2 Freddie Freeman 1499
3 Kyle Drabek 999
4 Michael Pineda 749
5 Roy Halladay 699
6 Zach Britton 799
7 Nelson Cruz 749
8 Jerry Sands 749
9 Alex White 749
10 Lance Berkman 499
11 Aroldis Chapman 999
12 Curtis Granderson 699
13 Eric Hosmer 999
14 Jered Weaver 499
15 Darwin Barney 699
16 Jose Bautista 749
17 Adrian Gonzalez 699
18 Chris Sale 749
19 Jeremy Hellickson 749
20 Cliff Lee 749
21 Alexi Ogando 699
22 Dee Gordon 799
23 Alex Rodriguez 899
24 Prince Fielder 699
25 Danny Espinosa 749
26 Ryan Howard 749
27 Dustin Ackley 999
28 Mark Teixeira 499
29 Jemile Weeks 749
30 Mike Moustakas 999
31 Lonnie Chisenhall 799
32 Tsuyoshi Nishioka 749
33 Paul Konerko 499
34 Jason Kipnis 749
35 Mike Trout 999
36 Jacob Turner 749
37 Paul Goldschmidt 749
38 Brandon Belt 749
39 Brett Lawrie 799
40 Ubaldo Jimenez 499
41 Brandon Beachy 749
42 Derek Jeter 999
43 Mark Trumbo 749
44 Justin Verlander 749
45 Anthony Rizzo 749