2007 Topps Updates & Highlights
Description
2007 Topps Updates & Highlights is a 330-card set, released in October, 2007. While a few rookies were interspersed throughout the set, most of the 2007 rookies were issued between cards 147-202. The other subset is a Classic Combos grouping (275-284).
Distribution
Hobby/Retail: 36 packs per box, 10 cards per pack (MSRP: $1.59). 12 boxes per case.
HTA: 10 packs per box, 50 cards per pack (MSRP: $10). Six boxes per case.
Factory Set: 330 cards.
Reviews
Insertion Ratios
| Cards | Total Cards | Numbered To | Hobby Odds | Retail Odds | HTA Odds |
| --- | --- | --- | --- | --- | --- |
| Base | 330 | - | ? | ? | ? |
| Gimmicks | 4 | - | ? | ? | ? |
| Red Letters | 330 | - | two per pack | N/A | two per pack |
| Gold | 330 | 2007 | 1:4 | 1:4 | one-per-pack |
| 1st Edition | 330 | - | 1:36 | N/A | 1:5 |
| Copper | 330 | 56 | N/A | N/A | 1:4 |
| Platinum | 330 | one-of-one | 1:9700 | 1:9700 | 1:1085 |
| Printing Plates | 330 | four for each | N/A | N/A | 1:54 |
| Chrome Rookies | 55 | 415 | one-per-box | N/A | one-per-box |
| Generation Now | 188 | - | 1:4 | 1:4 | one-per-pack |
| Mickey Mantle Home Run History | 100 | - | 1:9 | 1:9 | 1:2 |
| Barry Bonds Home Run History | 22 | - | 1:12 | 1:12 | 1:2 |
| Alex Rodriguez Road to 500 | 25 | - | 1:36 | 1:36 | 1:5 |
| Mickey Mantle Story | 10 | - | 1:18 | 1:18 | 1:3 |
| World Series Watch! | 15 | - | 1:36 | 1:36 | 1:5 |
| Mickey Mantle: A Life in Baseball | 10 | - | N/A | T | N/A |
| Barry Bonds 756 | 1 | - | 1:36 | 1:36 | 1:5 |
| All-Star Stitches | 52 | - | 1:45 | 1:55 | 1:10 |
| All-Star Stitches Dual | 10 | 25 | 1:5600 | N/A | 1:490 |
| All-Star Stitches Triple | 10 | 25 | 1:5600 | N/A | 1:490 |
| All-Star Patches | 52 | 10 | 1:2500 | 1:N/A | 1:249 |
| Barry Bonds 756 Relic | 1 | 756 | 1:5145 | 1:5145 | 1:1400 |
| Mickey Mantle Reprint Relic | 1 | 54 | 1:73,000 | 1:10,800 | 1:67,200 |
| Generation Now Autographs | 188 | one-of-one | 1:11,000 | 1:10,800 | 1:5500 |
| Alex Rodriguez Road to 500 | 25 | one-of-one | 1:500,000 | ? | 1:33,500 |
| 2007 Highlights Autographs | 26 | - | varies | varies | varies |
| Barry Bonds 756 Relic Autographs | 1 | 20 | 1:278,000 | N/A | 1:67,200 |
T: Exclusive to packs sold at Target stores.
Checklist
Base Set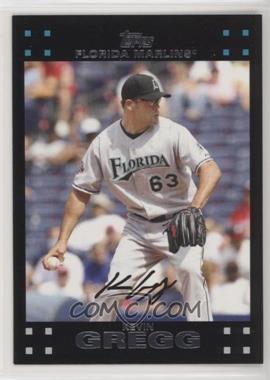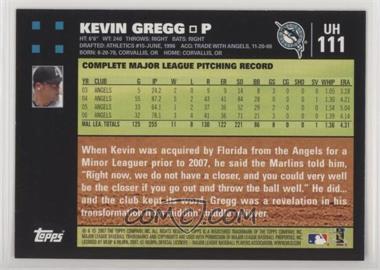 UH1 Tony Armas, Jr.
UH2 Shannon Stewart
UH3 Jason Marquis
UH4 Josh Wilson
UH5 Steve Trachsel
UH6 J.D. Drew
UH7 Ronnie Belliard
UH8 Trot Nixon
UH9 Adam LaRoche
UH10 Mark Loretta
UH11 Matt Morris
UH12 Marlon Anderson
UH13 Jorge Julio
UH14 Brady Clark
UH15 David Wells
UH16 Francisco Rosario
UH17 Jason Ellison
UH18 Adam Jones
UH19 Russell Branyan
UH20 Rob Bowen
UH21 J.D. Durbin
UH22 Jeff Salazar
UH23 Tadahito Iguchi
UH24 Brad Hennessey
UH25 Mark Hendrickson
UH26 Kameron Loe
UH27 Yusmeiro Petit
UH28 Olmedo Saenz
UH29 Carlos Silva
UH30 Kevin Frandsen
UH31 Tony Pena
UH32 Russ Ortiz
UH33 Hong-Chih Kuo
UH34 Paul McAnulty
UH35 Hiram Bocachica
UH36 Justin Germano
UH37 Jason Simontacchi
UH38 Jose Cruz
UH39 Wilfredo Ledezma
UH40 Chris Denorfia UER (Phillies)
UH41 Ryan Langerhans
UH42 Chris Snelling
UH43 Ubaldo Jimenez
UH44 Scott Spiezio
UH45 Byung-Hyun Kim
UH46 Brandon Lyon
UH47 Scott Hairston
UH48 Chad Durbin
UH49 Sammy Sosa
UH50 Jason Smith
UH51 Zack Greinke
UH52 Armando Benitez
UH53 Randy Messenger
UH54 Mark Teixeira
UH55 Mike Maroth
UH56 Jamie Burke
UH57 Carlos Marmol
UH58 David Weathers
UH59 Ryan Doumit
UH60 Michael Barrett
UH61 Shawn Chacon
UH62 Mike Fontenot
UH63 Cesar Izturis
UH64 Cliff Floyd
UH65 Angel Pagan
UH66 Aaron Miles
UH67 Tony Graffanino
UH68 Kevin Mench
UH69 Claudio Vargas
UH70 Jose Capellan
UH71 A.J. Pierzynski
UH72 Darin Erstad
UH73 Boone Logan
UH74 Luis Castillo
UH75 Marcus Thames
UH76 Neifi Perez
UH77 Esteban German
UH78 Tony Pena, Jr.
UH79 Adam Wainwright
UH80 Reggie Sanders
UH81 Kelly Shoppach
UH82 Rafael Betancourt
UH83 Tom Mastny
UH84 Kyle Farnsworth
UH85 Rick Ankiel
UH86 Kevin Thompson
UH87 Jeff Karstens
UH88 Eric Hinske
UH89 Doug Mirabelli
UH90 Julian Tavarez
UH91 Carlos Pena
UH92 Brendan Harris
UH93 Chris Sampson
UH94 Al Reyes
UH95 Dmitri Young
UH96 Jason Bergmann
UH97 Shawn Hill
UH98 Greg Dobbs
UH99 Carlos Ruiz
UH100 Abraham Nunez
UH101 Jayson Werth
UH102 Adam Eaton
UH103 Antonio Alfonseca
UH104 Jorge Sosa
UH105 Ramon Castro
UH106 Ruben Gotay
UH107 Damion Easley
UH108 David Newhan
UH109 Jason Wood
UH110 Reggie Abercrombie
UH111 Kevin Gregg
UH112 Henry Owens
UH113 Willie Harris
UH114 Pete Orr
UH115 Casey Janssen
UH116 Jason Frasor
UH117 Jeremy Accardo
UH118 John McDonald
UH119 Matt Stairs
UH120 Jason Phillips
UH121 Justin Duchscherer
UH122 Rich Harden
UH123 Jack Cust
UH124 Lenny Dinardo
UH125 Joe Kennedy
UH126 Chad Gaudin
UH127 Marco Scutaro
UH128 Brad Thompson
UH129 Dustin Moseley
UH130 Eric Gagne
UH131 Marlon Byrd
UH132 Scot Shields
UH133 Victor Diaz
UH134 Reggie Willits
UH135 Jose Molina
UH136 Ramon Vazquez
UH137 Erick Aybar
UH138 Sean Marshall
UH139 Casey Kotchman
UH140 Ryan Spilborghs
UH141 Cameron Maybin RC
UH142 Jeremy Guthrie
UH143 Jeff Baker
UH144 Edwin Jackson
UH145 Macay McBride
UH146 Freddie Bynum
UH147 Eric Patterson
UH148 Dustin McGowan
UH149 Homer Bailey (RC)
UH150 Ryan Braun (RC)
UH151 Tony Abreu RC
UH152 Mark Reynolds RC
UH152 Tyler Clippard (RC)
UH154 Jesse Litsch RC
UH155 Carlos Gomez RC
UH156 Matt DeSalvo (RC)
UH157 Andy LaRoche (RC)
UH158 Tim Lincecum RC
UH159 Jarrod Saltalamacchia (RC)
UH160 Hunter Pence (RC)
UH161 Brandon Wood (RC)
UH162 Phil Hughes (RC)
UH163 Rocky Cherry RC
UH164 Chase Wright RC
UH165 Dallas Braden RC
UH166 Felix Pie (RC)
UH167 Zach McClellan RC
UH168 Rick Vanden Hurk RC
UH169 Micah Owings (RC)
UH170 Jon Coutlangus (RC)
UH171 Andy Sonnanstine RC
UH172 Yunel Escobar (RC)
UH173 Kevin Slowey (RC)
UH174 Curtis Thigpen (RC)
UH175 Masumi Kuwata RC
UH176 Kurt Suzuki (RC)
UH177 Travis Buck (RC)
UH178 Matt Lindstrom (RC)
UH179 Jesus Flores RC
UH180 Joakim Soria RC
UH181 Nathan Haynes (RC)
UH182 Matthew Brown RC
UH183 Travis Metcalf RC
UH184 Yovani Gallardo (RC)
UH185 Nate Schierholtz (RC)
UH186 Kyle Kendrick RC
UH187 Kevin Melillo (RC)
UH188 Ryan Rowland-Smith
UH189 Lee Gronkiewicz RC
UH190 Eulogio De La Cruz (RC)
UH191 Brett Carroll RC
UH192 Terry Evans RC
UH193 Chase Headley (RC)
UH194 Guillermo Rodriguez RC
UH195 Marcus McBeth (RC)
UH196 Brian Wolfe (RC)
UH197 Troy Cate RC
UH198 Mike Zagurski RC
UH199 Yoel Hernandez RC
UH200 Brad Salmon RC
UH201 Alberto Arias RC
UH202 Danny Putnam (RC)
UH203 Jamie Vermilyea RC
UH204 Kyle Lohse
UH205 Sammy Sosa
UH206 Tom Glavine
UH207 Prince Fielder
UH208 Mark Buehrle
UH209 Troy Tulowitzki
UH210 Daisuke Matsuzaka RC
UH211 Randy Johnson
UH212 Justin Verlander
UH213 Trevor Hoffman
UH214 Alex Rodriguez
UH215 Ivan Rodriguez
UH216 David Ortiz
UH217 Placido Polanco
UH218 Derek Jeter
UH219 Alex Rodriguez
UH220 Vladimir Guerrero
UH221 Magglio Ordonez
UH222 Ichiro
UH223 Russell Martin
UH224 Prince Fielder
UH225 Chase Utley
UH226 Jose Reyes
UH227 David Wright
UH228 Carlos Beltran
UH229 Barry Bonds
UH230 Ken Griffey, Jr.
UH231 Torii Hunter
UH232 Jonathan Papelbon
UH233 J.J. Putz
UH234 Francisco Rodriguez
UH235 C.C. Sabathia
UH236 Johan Santana
UH237 Justin Verlander
UH238 Francisco Cordero
UH239 Mike Lowell
UH240 Cole Hamels
UH241 Trevor Hoffman
UH242 Manny Ramirez
UH243 Jake Peavy
UH244 Brad Penny
UH245 Takashi Saito
UH246 Ben Sheets
UH247 Hideki Okajima
UH248 Roy Oswalt
UH249 Billy Wagner
UH250 Carl Crawford
UH251 Chris Young
UH252 Brian McCann
UH253 Derrek Lee
UH254 Albert Pujols
UH255 Dmitri Young
UH256 Orlando Hudson
UH257 J.J. Hardy
UH258 Miguel Cabrera
UH259 Freddy Sanchez
UH260 Matt Holliday
UH261 Carlos Lee
UH262 Aaron Rowand
UH263 Alfonso Soriano
UH264 Victor Martinez
UH265 Jorge Posada
UH266 Justin Morneau
UH267 Brian Roberts
UH268 Carlos Guillen
UH269 Grady Sizemore
UH270 Josh Beckett
UH271 Dan Haren
UH272 Bobby Jenks
UH273 John Lackey
UH274 Gil Meche
UH275 Mike Fontenot / Khalil Greene CC
UH276 Alex Rodriguez / Russell Martin CC
UH277 Troy Tulowitzki / Jose Reyes CC
UH278 Jorge Posada / Derek Jeter / Alex Rodriguez CC
UH279 Chase Utley / Ichiro CC
UH280 Carl Crawford / Carlos Guillen CC
UH281 Cole Hamels / Russell Martin CC
UH282 Jonathan Papelbon / Jorge Posada CC
UH283 Carl Crawford / Victor Martinez CC
UH284 Alfonso Soriano / J.J. Hardy CC
UH285 Justin Morneau
UH286 Prince Fielder
UH287 Alex Rios
UH288 Vladimir Guerrero
UH289 Albert Pujols
UH290 Ryan Howard
UH291 Magglio Ordonez
UH292 Matt Holliday
UH293 Wilson Betemit
UH294 Todd Wellemeyer
UH295 Scott Baker
UH296 Edgar Gonzalez
UH297 J.P. Howell
UH298 Shaun Marcum
UH299 Edinson Volquez
UH300 Kason Gabbard
UH301 Bob Howry
UH302 J.A. Happ
UH303 Scott Feldman
UH304 D'Angelo Jimenez
UH305 Orlando Palmeiro
UH306 Paul Bako
UH307 Kyle Davies
UH308 Gabe Gross
UH309 John Wasdin
UH310 Jon Knott
UH311 Josh Phelps
UH312 Joba Chamberlain RC
UH313 Octavio Dotel
UH314 Craig Monroe
UH315 Edward Mujica
UH316 Brandon Watson
UH317 Chris Schroder
UH318 Scott Proctor
UH319 Ty Wigginton
UH320 Troy Percival
UH321 Scott Linebrink
UH322 David Murphy
UH323 Jorge Cantu
UH324 Dan Wheeler
UH325 Jason Kendall
UH326 Milton Bradley
UH327 Justin Upton RC
UH328 Kenny Lofton
UH329 Roger Clemens
UH330 Brian Burres
Gimmicks
100b Jacoby Ellsbury (RC)
312 Joba Chamberlain RevNeg
312 Joba Chamberlain ERR (Houston)
SQ1 Poley Walnuts
Parallels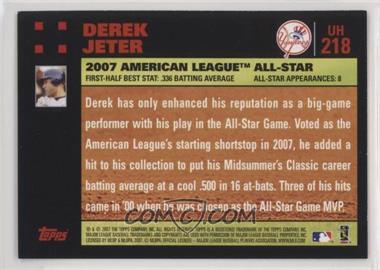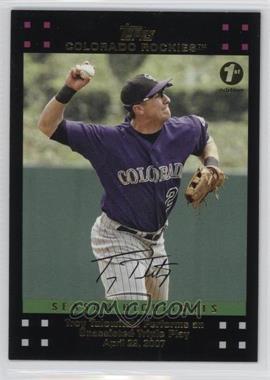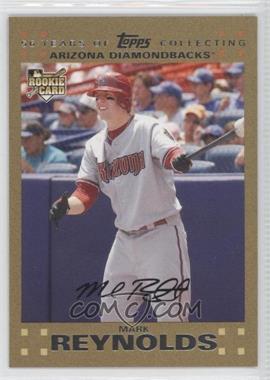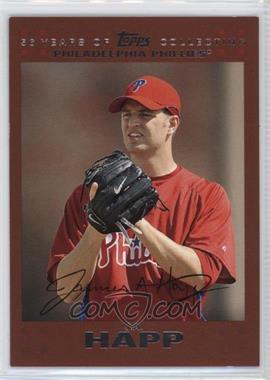 All 300 base cards are available in the following parallels.
Red Letters (two-per-pack, Hobby only)
1st Edition
Gold (serial-numbered to 2007 copies)
Copper (serial-numbered to 56 copies)
Platinum (one-of-one)
Printing Plates (set of four-for-each)
Chrome Refractor Rookies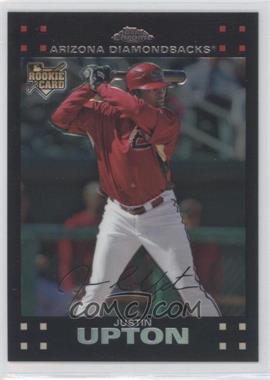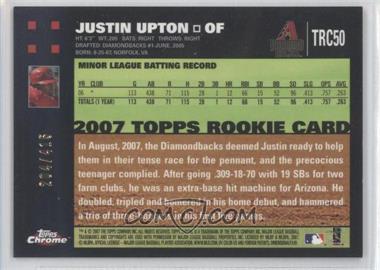 One individually-wrapped Chrome Refractor Rookie was inserted as a box-topper in each Hobby and HTA box. Each card is serial-numbered to 415 copies.
TRC1 Homer Bailey
TRC2 Ryan Braun
TRC3 Tony Abreu
TRC4 Tyler Clippard
TRC5 Mark Reynolds
TRC6 Jesse Litsch
TRC7 Carlos Gomez
TRC8 Matt DeSalvo
TRC9 Andy LaRoche
TRC10 Tim Lincecum
TRC11 Jarrod Saltalamacchia
TRC12 Hunter Pence
TRC13 Brandon Wood
TRC14 Phil Hughes
TRC15 Rocky Cherry
TRC16 Chase Wright
TRC17 Dallas Braden
TRC18 Felix Pie
TRC19 Zach McClellan
TRC20 Rick Vanden Hurk
TRC21 Micah Owings
TRC22 Jon Coutlangus
TRC23 Andy Sonnanstine
TRC24 Yunel Escobar
TRC25 Kevin Slowey
TRC26 Curtis Thigpen
TRC27 Masumi Kuwata
TRC28 Kurt Suzuki
TRC29 Travis Buck
TRC30 Matt Lindstrom
TRC31 Jesus Flores
TRC32 Joakim Soria
TRC33 Nathan Haynes
TRC34 Matthew Brown
TRC35 Travis Metcalf
TRC36 Yovani Gallardo
TRC37 Nate Schierholtz
TRC38 Kyle Kendrick
TRC39 Kevin Melillo
TRC40 Cameron Maybin
TRC41 Lee Gronkiewicz
TRC42 Eulogio De La Cruz
TRC43 Brett Carroll
TRC44 Terry Evans
TRC45 Chase Headley
TRC46 Guillermo Rodriguez
TRC47 Marcus McBeth
TRC48 Brian Wolfe
TRC49 Troy Cate
TRC50 Justin Upton
TRC51 Joba Chamberlain
TRC52 Brad Salmon
TRC53 Alberto Arias
TRC54 Danny Putnam
TRC55 Jamie Vermilyea
Inserts
Barry Bonds 756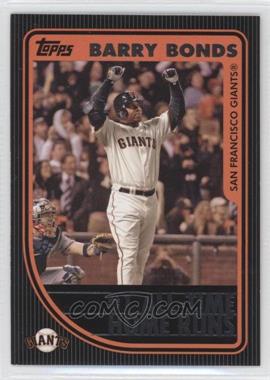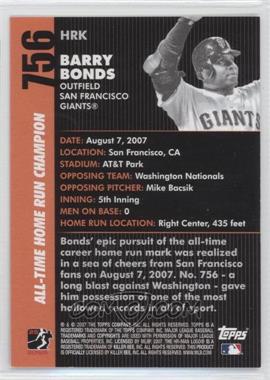 This single card commemorates Barry Bonds' record-setting 756th Home Run.
HRK Barry Bonds
World Series Watch!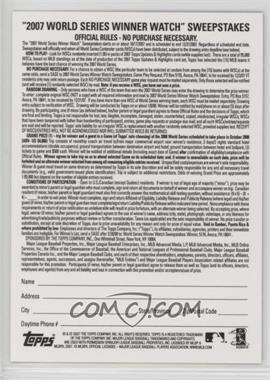 This set features the 15 MLB teams whom Topps believed had the best chance to win the 2007 World Series. Lucky collectors holding the winning team's card (Boston Red Sox), could send in their card and be entered into a drawing for tickets to the 2008 World Series.
Arizona Diamonbacks
Atlanta Braves
Boston Red Sox (winner)
Chicago Cubs
Cleveland Indians
Detroit Tigers
Los Angeles Angels
Los Angeles Dodgers
Milwaukee Brewers
New York Mets
New York Yankees
Philadelphia Phillies
San Diego Padres
Seattle Mariners
St. Louis Cardinals
Generation Now
Barry Bonds Home Run History
See 2005 Topps Barry Bonds Home Run History
Mickey Mantle Home Run History
See 2006 Topps Mickey Mantle Home Run History
A-Rod Road to 500
See 2007 Topps A-Rod Road to 500
The Mickey Mantle Story
See 2007 Topps The Mickey Mantle Story
Mickey Mantle: A Life in Baseball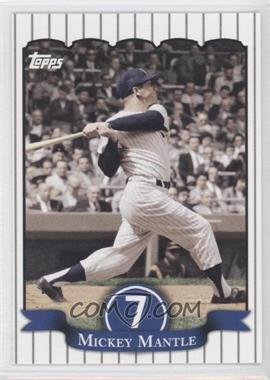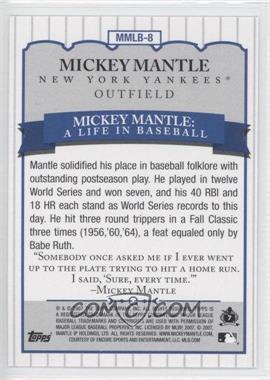 This 10-card set was exclusive to packs sold at Target stores. It is frequently referred to as the "Target" set.
MMLB1 Mickey Mantle
MMLB2 Mickey Mantle
MMLB3 Mickey Mantle
MMLB4 Mickey Mantle
MMLB5 Mickey Mantle
MMLB6 Mickey Mantle
MMLB7 Mickey Mantle
MMLB8 Mickey Mantle
MMLB9 Mickey Mantle
MMLB10 Mickey Mantle
Autographs & Game-Used
All-Star Stitches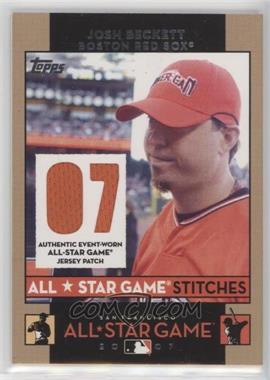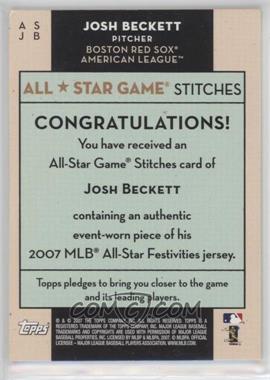 Each All-Star Stitch features a swatch (orange jersey or black jersey) from the respective player's 2007 MLB All-Star Festivities jersey. Each is also available in a Hobby wax and HTA Jumbo pack-exclusive Patch parallel, which is serial-numbered to ten.
AS AIR Alex Rios
AS AP Albert Pujols
AS AR Alex Rodriguez
AS ARR Aaron Rowand
AS BF Brian Fuentes
AS BJ Bobby Jenks
AS BM Brian McCann
AS BR Brian Roberts
AS BS Ben Sheets
AS BW Brandon Webb
AS CB Carlos Beltran
AS CC Carl Crawford
AS CH Cole Hamels
AS CL Carlos Lee
AS CS C.C. Sabathia
AS CU Chase Utley
AS CY Chris Young
AS DO David Ortiz
AS DW David Wright
AS DY Dmitri Young
AS FC Francisco Cordero
AS FR Francisco Rodriguez
AS FS Freddy Sanchez
AS GM Gil Meche
AS GS Grady Sizemore
AS HO Hideki Okajima
AS IR Ivan Rodriguez
AS IS Ichiro
AS JB Josh Beckett
AS JEP Jake Peavy
AS JH J.J. Hardy
AS JL John Lackey
AS JM Justin Morneau
AS JP J.J. Putz
AS JR Jose Reyes
AS JRP Jorge Posada
AS JRV Jose Valverde
AS JS Johan Santana
AS JV Justin Verlander
AS MH Matt Holliday
AS ML Mike Lowell
AS MR Manny Ramirez
AS MY Michael Young
AS OH Orlando Hudson
AS PF Prince Fielder
AS RH Ryan Howard
AS RM Russell Martin
AS RO Roy Oswalt
AS TH Torii Hunter
AS TS Takashi Saito
AS TWH Trevor Hoffman
AS VM Victor Martinez
Dual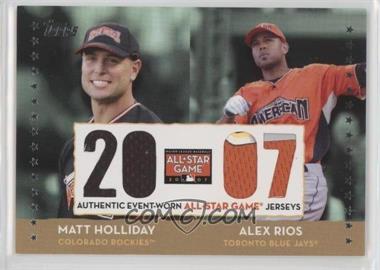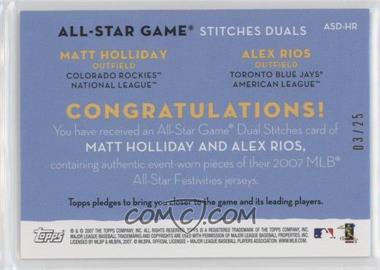 Each All-Star Stitches Dual is serial-numbered to 25 copies and exclusive to Hobby wax and HTA Jumbo packs.
ASD-CP Francisco Cordero / J.J. Putz
ASD-HR Matt Holliday / Alex Rios
ASD-HV Cole Hamels / Justin Verlander
ASD-MF Justin Morneau / Prince Fielder
ASD-MM Russell Martin / Brian McCann
ASD-PR Jorge Posada / Ivan Rodriguez
ASD-RO Alex Rodriguez / David Ortiz
ASD-UR Chase Utley / Jose Reyes
ASD-WH David Wright / Ryan Howard
ASD-YS Michael Young / Freddy Sanchez
Triple
Each All-Star Stitches Triple is serial-numbered to 25 copies and exclusive to Hobby wax and HTA Jumbo packs.
CRH Carl Crawford / Alex Rios / Matt Holliday
IPR Ichiro / Albert Pujols / Alex Rodriguez
MHS Justin Morneau / Torii Hunter / Johan Santana
MSS Victor Martinez / C.C. Sabathia / Grady Sizemore
ORB David Ortiz / Manny Ramirez / Josh Beckett
OVS Roy Oswalt / Justin Verlander / Ben Sheets
PYH Jake Peavy / Chris Young / Trevor Hoffman
UHH Chase Utley / Ryan Howard / Cole Hamels
VHW Jose Valverde / Orlando Hudson / Brandon Webb
WBR David Wright / Carlos Beltran / Jose Reyes
Barry Bonds 756 Relic
This commemorative relic card is serial-numbered to 756 copies. An autographed version of this card, serial-numbered to 20 copies, was inserted into Hobby wax and HTA Jumbo packs.
NOTE: Although this card is labelled as "Authentic Game-Worn Pants," some cards appear to have batting practice jersey swatches on them.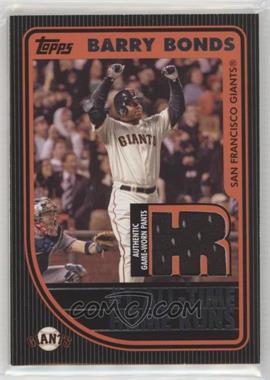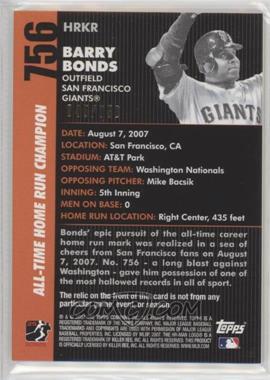 1954 Mantle Reprint Relic
This relic card, a reprint of Mickey Mantle's 1954 Topps card, is serial-numbered to 54 copies.
Generation Now Autographs
See 2007 Topps Generation Now.
A-Rod Road to 500
See 2007 Topps A-Rod Road to 500.
2007 Highlights Autographs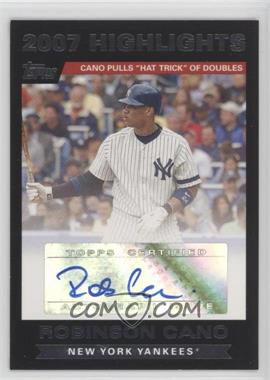 The odds of finding a specific 2007 Highlights Autograph are as follows.
Group A: 1:14,900 Hobby/retail; 1:252 HTA
Group B: 1:925 Hobby; 1:1165 retail; 1:19 HTA
Group C: 1:10,100 Hobby; 1:9700 retail; 1:165 HTA
Group D: 1:22,000 Hobby; 1:18,400 retail; 1:88 HTA
Group E: 1:7200 Hobby; 1:7605 retail; 1:125 HTA
Group F: 1:7000 Hobby; 1:7352; 1:123 HTA
Group G: 1:5025 Hobby; 1:6563 retail; 1:105 HTA
HA AC Asdrubal Cabrera G
AH AE Andre Ethier B
AH AG Alex Gordon B
HA AH Aaron Heilman B
HA AJ Andruw Jones A
HA AL Anthony Lerew B
HA AP Albert Pujols A
HA AR Alex Rodriguez A
HA AS Alfonso Soriano A
HA BB Brian Bruney B
HA CJ Conor Jackson B
HA CS C.C. Sabathia B
HA DE Damion Easley F
HA DW David Wright A
HA FC Francisco Cordero B
HA GS Gary Sheffield B
HA JR Jimmy Rollins B
HA JS Jarrod Saltalamacchia B
HA JT Jim Thome A
HA MC Miguel Cairo E
HA PF Prince Fielder B
HA RB Rod Barajas C
HA RC Robinson Cano B
HA RH Ryan Howard A
HA RW Ron Washington D
HA TT Troy Tulowitzki B